10 Must-Pack Travel Gadgets for Teaching English Abroad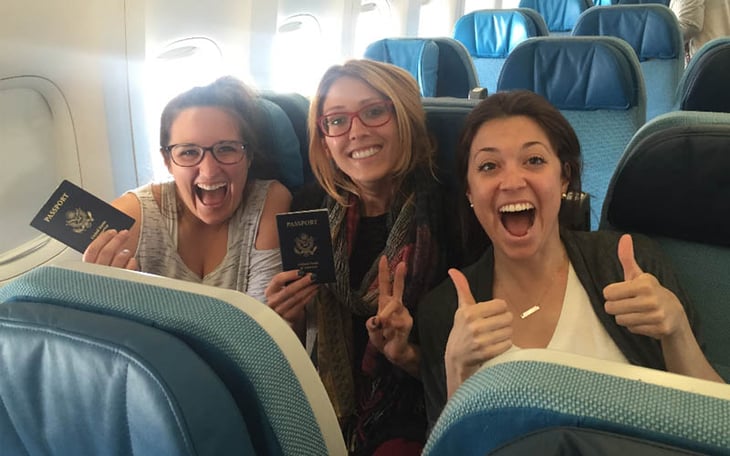 A note to my non-tech savvy friends: I feel your pain. As a self-proclaimed Generation X trapped in a Millennial's body, I was shocked the first time I traveled abroad extensively and saw just what I was missing! From universal chargers to portable wine bags- I could have saved some serious bag space. Below is my best attempt at explaining the techy benefits of my top ten list and why I picked them for my travels through Southeast Asia, Latin America, North Africa, Europe and more.
1. A Great Headlamp
Why It's a Must Have: Whether you're staying in a hostel with a "lights off policy," or you've just boarded an overnight bus and want to read your Lonely Planet, having a good quality head lamp will save you more headaches (and stubbed toes) then you probably realize. I found myself borrowing more of these little lights on my first trip to Asia then I ever thought imaginable.
Pro-Tip: You do not need the most expensive headlamp at REI to get good quality and battery length. For me, I think a good middle road option is perfect for travelers.
2. A Portable Tripod for Your Phone
Why It's a Must Have: Easy, you'll get a little more bang for your buck than with selfie sticks. Because it's more compact it's a no brainer to add to your suitcase. Their squiggly design make them ultra-light weight, and these days you can find them at any Big Box store.
Pro-Tip: Let's make 2017 the year where we bring back photos with backgrounds… not just faces!
3. A Wireless Portable Speaker
After a 2 week hiking trip in Spain last Fall, I'm a new found advocate for portable speakers. Seriously, there is nothing like a little Justin Bieber to get you through a long walk with friends. Portable speakers are also a really great resource to have while traveling with friends, since the party follows you!
Pro-Tip: If you're traveling alone, there is not better way to make hostel buddies than with the help of a great wireless portable speaker.
4. A Light-Weight Portable Charger
This might seem like an obvious pick, but its importance makes it impossible to leave off a top ten list. You may be surprised by how much battery you drain Googling directions to the Parthenon or listening to your favorite Bossa Nova playlist. Getting yourself a to-go charger is a fantastic way to stay out and see the sights, while not worrying about being late to meet your friends for Happy Hour if your phone dies!
Pro-Tip: I like the Quick Charge options, since they'll fully charge your phone in about 2 hours flat.
5. A Luggage Scale
No, not the kind that you have in your bathroom! These days there are really great mini-digital scales for weighing your carry on and checked bags. They simply clip onto the handle of your back in order to make sure your souvenirs don't make your bag overweight! It may seem like a silly investment at first, but think about paying $60 per carry on each way and you'll see the value.
Pro-Tip: You can find some really high quality and low cost options on Amazon for under $20.
6. Wireless Headphones (preferably noise cancelling)
While I'll admit these are a bit less of a necessity than a luxury item, they are totally worth the splurge. How great is the thought of never having to unravel headphone cords again? With options from headphones to earbuds, you can really find great and personalized options.
Pro-Tip: If you like to sleep with your headphones in I'd spring for ear buds. They are less heavy and more likely to stay put overnight.
7. Universal Plug Adaptor
My first couple times abroad were filled with buying converters off the side of major avenues, using them twice and promptly losing them. Why? Because they were $2. I finally invested in a universal adaptor and my life was changed. Now it sits in my "travel pile" permanently and I rarely travel without it.
Pro-Tip: Buy a nice one for $10 or $15 and you'll likely save yourself $100 over the years!
8. A Flash Drive
If you're planning to stay abroad for longer than a few weeks, it's essential that you bring some documentation with you. Having a copy of your passport is just one! I recommend adding all your valuable documents that you could ever possibly need in a pinch and upload them to your flash drive. It takes up no room (or weight) in your suitcase and could potentially save you in a crunch later.
Pro-Tip: Get this done in advance. No need to wait on this!
9. A Kindle (or something similar)
If there is one thing I learned from traveling extensively abroad, it's that you should be prepared for a lot of down time if you're budget traveling. There will be many long bus, plane and boat rides. It's a great plan to have a battery efficient device like an e-reader to chip away the hours with.
Pro-Tip: Download a couple novels when you have internet, that way you never go without your reading.
10. A Water Purifier
You might be thinking "but I'm going to teach in South Korea… can't I drink the water there?" Usually that is correct, but that doesn't mean you won't travel! Having a good water purifier is a great way to save money (and the environment) during your time abroad.
Pro-Tip: get a water purifier that's also a water bottle, that way you can grab water from anywhere!
A native of a one-stoplight town in Louisiana, Lauren packed a bag after graduating from college and traveled extensively throughout Asia before moving to South America to teach English in Argentina. There, she taught primarily business professionals and took advantage of her free time to explore Latin America.
Want to Learn More About Teaching English Abroad & Online?
Request a free brochure or call 773-634-9900 to speak with an expert advisor about all aspects of TEFL certification and teaching English abroad or online, including the hiring process, salaries, visas, TEFL class options, job placement assistance and more.