12 Reasons International TEFL Academy Is The Best Company To Work For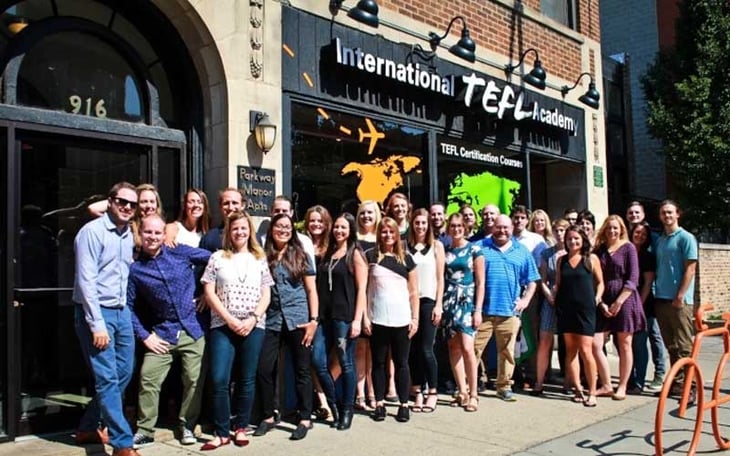 Making dreams come true every day? Check.
Promoting global travel & education? Check.
Kick-ass international colleagues who have traveled to 100+ countries? Yep.
Free beer, work-from-home policies & flexibility? Check, check, & check!
We firmly believe International TEFL Academy has the best company culture in the world. That phrase, 'best company in the world' actually comes out of our mouths fairly often. Not sure how many others can say the same about their 9 to 5.
From competitive benefits to ongoing professional development and an arguably ridiculous amount of vacation time, ITA has created what we like to call a 'super company' out to help people go see the world by teaching English abroad.
1. We Share a Common Goal: Helping Others Achieve Their Dreams by Providing the Best TEFL Certification for Teaching English Abroad
As the world's premier provider of accredited TEFL certification classes for teaching English abroad and online, we empower more than 6,000 people a year to realize their dreams of traveling and teaching abroad. (TEFL = Teaching English as a Foreign Language.) We do this by providing them with the highest quality training in addition to expert pre-enrollment guidance; lifetime job search guidance; and access to an internal alumni network of more than 30,000 graduates teaching English in 80 nations worldwide.
We all firmly believe that getting out and traveling the world is extremely important. Every member of our team has lived abroad and virtually all of of us would go as far as to say it was the best decision we ever made. We understand the challenges and rewards of living abroad and that drives our passion for helping others even more.
We are committed to providing our students with the best possible experience from the moment they call & request information to the day they return from abroad (& beyond!). We may not be perfect but we constantly strive to innovation & improve. Being part of that journey is one more reason why we love working at International TEFL Academy. Read our Vision Statement.
2. Surrounded by Fellow Travelers & Teachers
There's a unique bond shared between those who have an obsession for booking plane tickets and planning trips; and the same goes for educators. With an office full of world travelers and adventurous souls, there's never a dull moment and everybody has plenty of colorful stories and unique worldly perspectives. When we aren't helping our students get the TEFL certification training they need to teach English abroad, ITA team members are constantly bouncing new trip ideas off one another and sharing stories from past adventures. If you have an idea for an upcoming trip and need tips, there's an 100% chance someone in the office has been there and can give you the low-down on everything you'd possibly need to know.
3. Providing Flexibility & Convenience to Our Team
ITA is a company started by world travelers, so it's probably not a huge surprise that we also give our staff flexibility and we even encourage them to take time to travel abroad. Our staff is allotted a generous number of work from home days each month and we also have always been able to accommodate our staff that need to transition from our Chicago HQ to work remotely. Need to get out during the day and get a workout in? Great. Have to leave early for your spouse's work thing? No problem. We are constantly making sure that our staff maintains a healthy work-life balance.
4. Progressive & Open Work Environment
If you have an idea, bring it to the table. If you see something that isn't being run correctly or that you think could be executed more efficiently, management at ITA is always eager to learn, grow, and adapt to accommodate staff. We have a staff-led "Innovation committee," which encourages staff members to brainstorm new ideas and initiatives to make ITA better - anything from adding a garden to our roof, to new enrollment document procedures, this committee is meant for every 'crazy' idea. All unique values, viewpoints, and ideas are supported and encouraged at ITA. We are all looking to learn and grow together as a company.
5. We're Friends? Imagine That!
Seems obvious, no? We all sincerely respect one another. We are friends. Some of us even opt to spend (lots) of our free-time together outside of work hours, I know, believe it. Many of us even traveling internationally together. You spend more time with your coworkers than you do with most loved ones. That in mind, having a great relationship with the people you spend 40-hours a week with definitely doesn't suck. Yes, we have friends outside of the office so don't worry about it (remember the whole healthy work-life balance bit from above). But when all the staff gets together for a staff trip or anniversary party it has a way of feeling like hilarious family reunion.
6. Competitive Compensation
Had to bring this one up, but let's face it financial matters are an important consideration for just about anybody. We only hire the right people, and once we bring on new members, we want to keep them. From top to bottom our staff is competitively and fairly compensated with regular opportunities for bonuses, trip incentives, flight credit, and much more. Even a first-year employee earns enough and receives enough vacation time to take at least one international trip a year on their time off. We provide profit sharing at the end of the year, offer paid training opportunities for staff, paid paternity/maternity leave, and yes, much more.
7. Regular Fun Events
From Chicago sporting events to cocktail making and rock climbing, the ITA Fun Committee (real thing), is always trying to come up with unique ideas to bring the staff together and have a good time.
8. Investing in Professional Development
Ongoing training and professional development are also key elements of the company culture at International TEFL Academy. Whether it's internal staff trainings presented by a different team member each week, online educational courses, or attending world renowned conferences, education is a never-ending process at International TEFL Academy.
9. More Than Enough Vacation Time
Is this even possible? We actually think this (could be) true here at ITA. Again, we're all travelers and always will be. We urge our staff to get out of dodge and make sure to continue traveling, hence why first year employees start with 20 vacation days, and this number increases year over year. If you are sick – stay home! If you really just need a day to yourself – take a personal day! We believe it taking time to relax, recharge, and as a result show up to work focused, inspired, and ready to crush it!
10. Groovy International Office Vibes
Travel tchotchkes from all over the world line the walls, we've got those funky desks that go up & down, there's a stocked bar & fridge at all times, and best of all, you're surrounded by your friends/colleagues. You'll never have a hard time finding someone to brainstorm a new idea with, or vent about a rough day with, or to step outside with and go for a walk on a nice day. All departments at ITA help each other, sit amongst each other, and work together.
11. Charitable Contributions: Making a Difference at Home and Abroad
As global citizens we consider it our duty to leave the better world place and contributing to causes both local and global has been an integral part of our company culture from Day 1. In 2017, ITA as an organization donated more than $27,000 to various causes, including hurricane relief efforts in Puerto Rico & Louisiana. ITA's president , Bruce Jones, serves on Board of Directors member of a Chicago children's literacy charity, Reading in Motion, and staff members regularly commit their time to the organization's events. In addition, there is a matching program for individual staff donations and we provide free English classes in our community in Chicago. Read more about ITA's Charitable Contributions.
12. We're a Global Company With a Positive Mission
As mentioned, we all LOVE helping people go see the world. This career is a dream come true for everyone on staff. We take great pride in being able to work together and help people make a difference in the world by teaching English abroad. We will change more than 5,000 lives a year and have teachers in 80 countries across the globe. Kinda a big deal, no?
Want to join us? Check out our Employment Opportunities Page!
A journalism major at the University of Iowa, Jessie took the ITA Online TEFL Course and taught English in South Korea & Vietnam before joining the team. As one of ITA's most senior writers, Jessie is the author of numerous articles about teaching English abroad & TEFL certification, and she has spoken at various conferences about working & teaching abroad, including the Lessons from Abroad (LFA) symposiums in San Diego & Portland. Her articles have also appeared in such popular online publications as InternQueen.com.
Want to Learn More About Teaching English Abroad & Online?
Request a free brochure or call 773-634-9900 to speak with an expert advisor about all aspects of TEFL certification and teaching English abroad or online, including the hiring process, salaries, visas, TEFL class options, job placement assistance and more.