TEFL job
Top 12 Things to Think About During an ESL Job Interview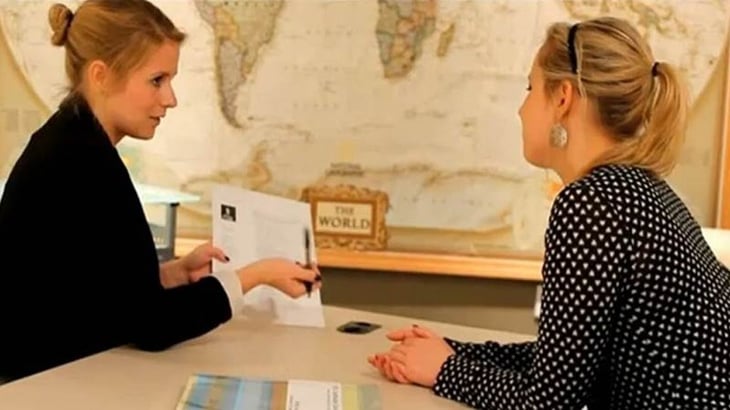 Finding a new job can be tricky, especially if you're new to the ESL community and don't know what you're looking for! You're a hot commodity, so don't sell yourself short in a job interview. There's always (or should always be) time for questions, but you need experience to know what to ask! Here's a break- down, based on the job market in Costa Rica, but relevant to us all.
1. In-Person or Online
Step one, do you want to join the online revolution or nah? This one's a biggie, and the grass is pretty green on both sides of the fence. Online jobs often pay better and don't tie you down, but! They usually require pretty good internet, so it does take some planning to live that manic pixie digital nomad lifestyle. They can also be stricter, and depending on your time zone, you might have 'morning person' thrust upon you. In person jobs offer a deeper connection with the country you live in, and instant community with students and other teachers. However, you will often sign a contract to live in one place for 3, 6 or 12 months and you might find yourself breaking even or eating into your savings. You can always be like Hannah Montana and have the best of both worlds!
2. Salary
What's the average salary for the country? Check out ITA's handy country comparison chart and their amazing job search guidance section! Flat hourly rate is one thing to consider, but some jobs will offer more if you're expected to travel to businesses (you have to pay for transport), some will increase your wage to match the length of time you've worked there, some will pay you extra to train new teachers, or offer bonuses, and some will increase their wages to match inflation. Still others will pay in USD, which can be more stable than the local currency, and others might pay you for training and development. Are you looking to make money or memories? It's not always about the numbers but feeling under appreciated can be rough.
3. Hours
Is there an opportunity to work full time? Are you a morning person or nah? Full time for an ESL teacher usually sits around 20 teaching hours, which leaves you with a lot of time off, but you will usually work very early in the morning or in the evening, when your students are free from work or school. I eventually stopped yawning in my 6-9pm classes, but it was a struggle initially! You won't always be given full time work initially either, class schedules open up slowly. You can definitely work at more than one school, it's nice to have options, but it's great to know if full time hours at your favorite school could be on the table.
4. Time Off Policy
Unless you teach English online, schools usually understand that you would like the occasional day off to travel in your new country! Some schools don't mind what you do, as long as someone teaches your class. However, some schools put a limit on the number of days off, or Saturdays off. Are you planning to go home for your best friend's wedding? Check if you will need approval before you take time off. Some schools will also have a restricted list of approved substitute teachers. This means that you might struggle to get a sub on popular days, I hope your forward planning skills are better than mine!
5. Language Classes
I'm really going to go out on a limb here and say that wherever you can teach ESL, English is probably not the first language. Do you want to learn the language? Some schools will offer you free language lessons! This might be a general group lesson, or for your specific level. They might even offer great discounts or exchanges for intensive language courses.
6. Professional Development
"You can't go to Costa Rica, you'll ruin your resume!" Not true, mom. Not only is international experience increasingly relevant, but some schools will offer opportunities to take on leadership roles, or work in a HR, or get involved in training new students. Six months of experience is solid for an ESL teacher, so these opportunities often come up much faster than they would at what mom calls 'a normal job'. Sorry, mom.
7. Cancellation Policy
What happens if no students show up to class? Or if they cancel less than 24 hours out? Some schools will pay you, some will pay you half, and some won't pay you at all. Are you expected to make these classes up? Also, what if you're 100% dying of the common cold, can you cancel? Add it to your list of questions.
9. Curriculum or Class Requirements
Some of us love guidance, some of us are a bit loosy goosey and like to make our students do the 5 love languages quiz for their own good. Some schools will give you all your lessons plans, homework and exams, and even tell you what to say. They might expect you to spend a lot of time marking homework, but you won't have to spend time planning lessons. Some schools will give you a textbook and then let you be a free- range chicken, so long as your students are happy. The best way to work out where you prefer to sit on this scale is to take the International TEFL Academy's TEFL course and challenge yourself to find your strengths as a teacher. Ask your schools about curriculum, textbooks and recommended schedules.
10. Location
Not only which country, but within the country. It might seem like a great idea to fully immerse yourself in a rural school and live in untouched jungle/beach paradise. But if the entire enormous ESL teacher community lives in the city, you might find yourself feeling isolated. Think about the things you loved most about the last place you lived. It's also worth thinking about your commute. 40km in Costa Rica takes at least three times longer to travel than it would in Australia. The general rule here is that if it takes more than 1 bus/train, question your choices.
11. Visas
Depending on how long you stay, most schools will support you financially or just logistically to get a work visa. Some schools would prefer you not to draw attention to all their staff working and flying under the radar. Some schools just haven't quite figured it out yet. Visas can also be expensive, and though border runs aren't cheap, a forced holiday every 3 months isn't that bad!
12. Red Flags
Remember that ex who had a suspicious habit of wearing odd socks? Yeah that was a red flag, and you should keep an eye out for them in job interviews too. I was once asked how I planned to 'deal with' my Australian accent in classes. I was offered the job but I'm glad I didn't take it because I don't know many teachers who worked for that company longer than three months. Other red flags include unanswered questions (never allow the language barrier to be an excuse at an ESL job interview), high teacher turnover rate, an 'alternative' teaching method that they swear by, a low percentage of foreign teachers, a management team composed entirely of men, a confusing or strict contract, and of course schools who don't have a coffee machine.
Luckily, if you take one of the International TEFL Academy's TEFL classes, they know most of the schools that are worth working for. During my course at ITA Costa Rica in January 2018, we were given a very knowledgeable run down on local schools and their philosophy, including some recruitment and Q & A sessions with the schools themselves. Whether you do the course online or in-country, ITA's Job Search Guidance is outstanding, and was part of the reason I chose ITA when I was researching TEL accreditation schools.
You could be happy wherever you choose to work - happiness is homemade. But you could find yourself very attached to your amazing students while gradually coming to resent your school for something that seemed unimportant to begin with. What are your deal breakers?
Teaching ESL is also an industry with a high turnover rate, which means the perfect job might open up if you just wait a week or two extra. Make sure you check out the country's peak hiring times, and work on that whole 'patience is a virtue' thing. Remember, you got this superstar!
Cara Stones is your standard millennial who hates that her travel photos will never sparkle like reality. She is a collector of places that she calls home, but home-home will always be her little country town in Victoria, Australia. You can follow along on Cara's adventures via her Instagram account, @carathecrocodilehunter!
Want to Learn More About Teaching English Abroad & Online?
Request a free brochure or call 773-634-9900 to speak with an expert advisor about all aspects of TEFL certification and teaching English abroad or online, including the hiring process, salaries, visas, TEFL class options, job placement assistance and more.