teach english online
Teaching Online & Young Learners Specialty Class Review with Bethany Pagliarini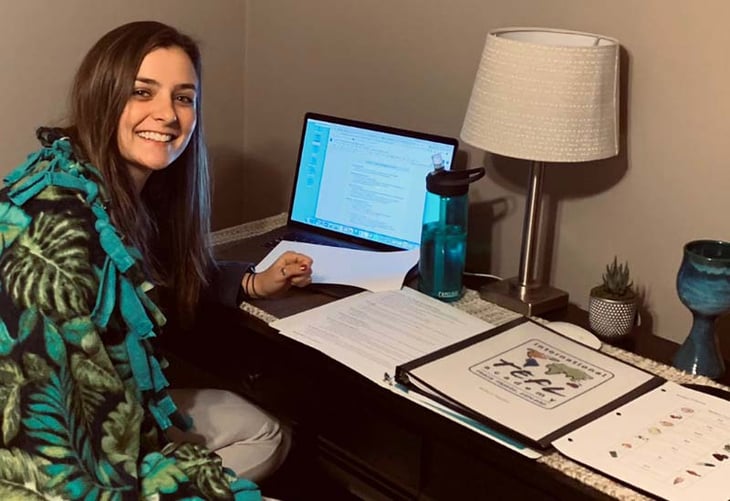 What is your citizenship and where are you from?
I'm a US citizen and I'm from Richmond, Rhode Island, USA.
How old are you?
23.
What is your education level?
Bachelor's Degree.
Which ITA Specialty Class did you take and when did you take it?
I took the 2-week Teaching English Online (TEO) and Teaching English to Young Leaners (TEYL) Specialty Classes in September and November of 2020.
What motivated you to enroll in these Specialty Classes?
I really enjoyed my TEFL course and wanted to keep learning! I still wasn't exactly sure what path I wanted to take with my certification. I didn't know which age group I wanted to work with, and I was still unsure of whether I wanted to travel or teach online. I saw these Specialty Courses as an opportunity to help me figure all of that out, and it really helped me!
What did you enjoy most about your Specialty Classes?
I liked having a different group of students and instructors to interact with other than the ones I had spent my initial TEFL course engaging with.
In the Teaching English to Young Learners course I really enjoyed how much it helped me understand how the mind of a developing child works, and at what stages. Being able to understand that made it very easy later on in my journey to make lessons specific to the student(s) based on things like their age, developmental state, and pace.
One things that I enjoyed most about the TEO class was how much time was spent on exploring useful resources if you were to do this on your own. Without this, I would have jumped into teaching English online completely blind, and the emphasis on all of the different platforms and websites has been a huge game changer for me and students!
What stood out to you in the Specialty Classes that set it apart from what you learned in your standard TEFL course?
I just really liked how specific the courses themselves were. The standard TEFL course is very general in terms of different cultures, ages, languages, and learning levels. By taking a Specialty Class on these topics, I found myself more successful in my assignments because I really understood the backgrounds of the students, their ages, and all of the available online resources. Even in only two weeks, I learned so much!
Did you take your Specialty Classes while taking your standard TEFL course or after?
I took my Specialty Classes after my TEFL course.
How many hours per week did you dedicate to your Specialty Classes?
I dedicated around 6-10 hours per week for each class.
Did you buy the textbooks for your Specialty Classes?
I am a very hands on person so I did purchase the text books. Although all of the readings are provided for you online, it made studying and referring back to the text so much easier than flipping through pages on the screen. I was able to highlight and make notes in the book, which always helps me. I still even refer back to it sometimes! It's nice to still have it after your course disappears online.
Did you find the weekly peer participation with your virtual classmates helpful?
It was really helpful! Seeing other students respond with their input on topics only made me learn more because I was seeing things that I would have never considered on my own. It was also a great space to bounce ideas off of other students in your class.
If you teach English online, where do you teach from?
I teach English online from home in the USA.
What company do you teach English online with?
During my practicum, I worked with a few English language learners from a local elementary school! Since finishing those hours, I still meet with them for online tutoring sessions!
Tell us about your online teaching job!
Currently I work with two fourth grade English language learners with cognitive processing disorders. One student is a native Spanish speaker and the other is a native Chinese speaker. I work with them online individually twice a week to improve their English writing, reading and speaking skills. Both students are motivated by computer games so I make our lessons fun! I have been with them since September 2020 and I am with them until the end of the 2021 school year!
Did you talk about your Specialty Class training during your job interview to help land your teaching job?
Yes, having Specialty Course experience in both of these areas helped me stand out. Course experience with teaching online and young learners definitely helped my case! It definitely will make you stand out.
Did the Specialty Classes you took help to prepare you for teaching English online?
Absolutely, I learned how to better adjust my teaching style in my TEYL class and cater it to younger students. This was completely different than how I formed my lessons in my standard TEFL course. I learned so much about the importance of positivity, facial expressions, voice tone, keeping children's attention spans, etc. Also, if it weren't for the TEO course, I would not have known how to keep their attention from a remote location. Some the resources that are explored are ones that I use weekly in my class that my students love! If I didn't have the knowledge of these platforms, I am not sure how I would have done it!
How has the knowledge from your Specialty Classes been incorporated into your teaching?
These courses helped me communicate and relate to my students. For example, my students are ten years old. This is an age I am very far removed from, and I initially had a hard time relating to them and making lesson plans that would keep them engaged. After learning what motivates younger students, it became a lot easier. At first it was hard to adjust my personality to one that was so different that my own, it took me a little while to come out of my shell. After some practice and some time, it became so natural for me!
What do you enjoy most about TEO?
One thing that I LOVE about teaching online is how creative you can be with your lessons! You have access to the whole internet while you teach, the students can see what you see, and there are endless opportunities for how you can creatively present your lessons! I love making cute cartoon animated lessons that my students can interact with from their computer!
Is there anything you wish you were made aware of prior to taking your Specialty Classes?
Honestly, no! I was really familiar with it because it operated exactly like the standard TEFL course. The structure was the same: reading, quiz, peer participation, and the writing tasks. The due dates are even the same so there is no confusion! If you plan on taking the TEO class, get comfortable with talking in front of a camera! I hadn't done this in a long time prior to this course so one assignment took me a little bit longer because I hadn't had much practice. But, the assignment is so fun and useful!
Would you recommend fellow ITA students/grads take the Specialty Classes?
Absolutely! I think that all TEFL students would benefit from these courses because of how much deeper you get to dive into TEFL without taking too much time. Especially if you aren't sure of what your TEFL journey might be, this might help narrow it down!
Bethany is a 23-year-old from little Rhode Island with a BA in English Communications. After spending some time working at her local news station, Bethany decided she needed a change in her life. Her TEFL experience led her to fall in love not only with her students but with teaching in general. As a result, Bethany switched her career path and is now working on earning her M.A in elementary and special education.
Want to Learn More About Teaching English Abroad & Online?
Request a free brochure or call 773-634-9900 to speak with an expert advisor about all aspects of TEFL certification and teaching English abroad or online, including the hiring process, salaries, visas, TEFL class options, job placement assistance and more.