teach english online
Teaching English Online Specialty Class Review with Anna Greenfield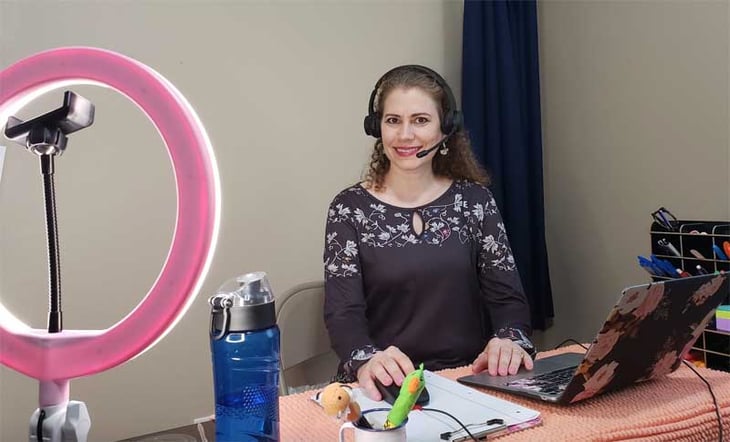 What is your citizenship and where are you from?
I'm a US citizen and I'm from Atlanta, Georgia, USA.
How old are you?
52.
What is your education level?
Master's Degree or higher.
Which ITA Specialty Class did you take and when did you take it?
I took the 2-week Teaching English Online Specialty Class (TEO) between December 2020 and January 2021.
What motivated you to enroll in this Specialty Class?
Although I had been teaching online for some time, I took this course to explore more tools and additional teaching methods specifically for an online teaching environment.
What did you enjoy most about your Specialty Class?
I enjoyed the Peer Participation very much. I learned what my classmates have experienced, their challenges, and ideas for teaching. It has reassured me that I am not alone in my experience as an online teacher and as a student in this Speciality Class.
What stood out to you in the Specialty Class that set it apart from what you learned in your standard TEFL course?
The TEO Speciality Class goes more in-depth about the different age groups of students, that is, young learners and adult learners. I've already applied examples of how to teach young learners and adults more effectively. It has given me more confidence in choosing materials and creating lesson plans for them.
Did you take your Specialty Class while taking your standard TEFL course or after?
I took my Specialty Classes after my TEFL course.
Do you have any advice for alumni that are considering taking their TEFL course and Specialty Class at the same time?
I would advise against taking the TEFL course and Specialty Class at the same time. The TEFL course served as a foundation for the Specialty Class. I greatly benefited from having that foundation.
How many hours per week did you dedicate to your Specialty Class?
15-20 hours each week.
Did you buy the textbook for your Specialty Class?
Yes, I bought the physical TEO Specialty Class textbook. I am more of a feeling-the-paper type of a person who prefers physical book over digital books.
I found it very useful, especially for reference from time to time. I appreciate the video links in the textbook. It's as close as you can get to a TEFL classroom or visiting an ESL class.
I have used the sample resources and activities in my online teaching. It has made the students' learning process quicker and rewarding.
Did you enjoy being able to virtually interact with your classmates?
Yes, I enjoyed interacting with my classmates thanks to the Peer Participation. We've been able to email each other some advice and encouragement. Now that the course has finished, I hope to continue our friendship.
If you teach English online, where do you teach from?
I teach English online from my home. My EFL students are from other countries such as Taiwan, France, and Japan.
What company do you teach English online with?
I teach as a freelancer through WyzAnt.com. I plan on offering my teaching services through my own website.
Tell us about your online teaching job!
Working with WyzAnt.com has been wonderful. With them, I set my own rate and agree on the hours directly with the students. The ages vary. If it is a child, I communicate with the parent regarding pay, scheduling, etc.
Did you talk about your Specialty Class training during your job interview to help land your teaching job?
I haven't had a job interview yet since taking my TEO Specialty Class, but when I do, I plan on bringing it up. This would show my versatility in different classroom settings and my willingness to adapt to new technology.
Did the Specialty Class you took help to prepare you for teaching English online?
I was already doing freelance teaching online, but this Specialty Class enhanced my teaching methods. My students love the extra value I was able to deliver.
How has the knowledge from your Specialty Class been incorporated into your teaching?
Two of several valuable things I took away from the TEO Speciality Class is introducing Padlet and Jamboard to my online teaching. On my own, I couldn't see how these apply to teaching, but this course guided me on how to apply them. After much practice, I use it all the time, and the students love them!
What do you enjoy most about TEO?
I enjoy making the students laugh with my finger puppet props. It's so nice to see the students' faces light up when I give them star rewards. Even adult students!
Where do you hope to teach English abroad from?
Tel Aviv, Israel!
Is there anything you wish you were made aware of prior to taking your Specialty Class?
No. I had taken the 11-week Online TEFL Course prior to the Specialty Class which had prepared me for the "rigors" of the Specialty Course. I would definitely advise others to take the TEFL course first, and not at the same time as the Specialty Course. However, if the applicant is already a teacher or has already been formally trained as one, then it wouldn't be absolutely necessary to take the TEFL course prior to the Specialty Course.
Would you recommend fellow ITA students/grads take the Specialty Class?
Yes. Taking this TEO Speciality Course reduces a lot of the uncertainty and questions a teacher may have while taking the journey in online teaching.
Anna Greenfield was an accountant before making a career switch to the education industry. She holds a BA and MBA degree from New York University and has a passion for teaching. She is traveling and teaching English online around the world from her home office in Atlanta, Georgia through Zoom!
Want to Learn More About Teaching English Abroad & Online?
Request a free brochure or call 773-634-9900 to speak with an expert advisor about all aspects of TEFL certification and teaching English abroad or online, including the hiring process, salaries, visas, TEFL class options, job placement assistance and more.