teach english online
Teaching English Online Specialty Class Review with Alexandra May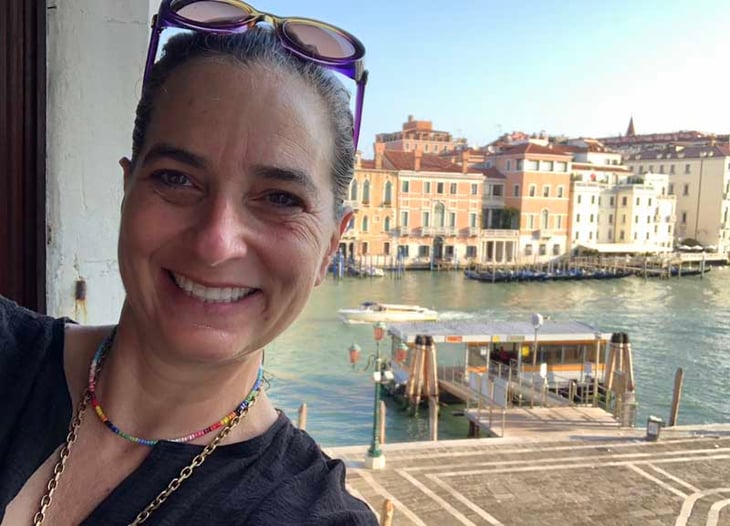 What is your citizenship and where are you from?
I'm a US citizen and I'm from Detroit, Michigan, USA.
How old are you?
54.
What is your education level?
Master's Degree or higher.
Which ITA Specialty Class did you take and when did you take it?
I took the 2-week Teaching English Online Specialty Class (TEO) in October of 2020.
What motivated you to enroll in this Specialty Class?
I had already decided that I wanted to teach English online, and I thought it could be useful to take the class.
What did you enjoy most about your Specialty Class?
There were definitely some tips and tricks that were useful as well as learning about the different online teaching opportunities and platforms.
What stood out to you in the Specialty Class that set it apart from what you learned in your standard TEFL course?
Similar to the answer above... I learned about the special online teaching options from language schools to marketplaces. I also learned about tools needed to set up my workspace and different ways to motivate/reward young learners. I also learned a lot about making my profile video. This was very useful.
Did you take your Specialty Class while taking your standard TEFL course or after?
I took my Specialty Classes during my TEFL course.
Was it hard managing the workload from your TEFL course with the workload of your Specialty Class?
I thought I had signed up to take it after but I was wrong. There was definitely a larger workload managing both classes, especially since the course requirements for the TEFL course increase towards the end of the course. It was manageable but it was a lot. Fortunately, I was not working full-time at that moment. I imagine it would have been too much if I had been working a full-time job.
How many hours per week did you dedicate to your Specialty Class?
I really don't remember. I was taking both the TEO Specialty Class and the TEFL course at the same time. I am unable to make a distinction in time for one vs. the other.
Did you buy the textbook for your Specialty Class?
I did not.
Did you enjoy the weekly peer participation with your online classmates?
Yes, it was good. I think the peer participation forces you to think through a topic and to really listen to what your peers are saying so you can give them positive feedback.
If you teach English online, where do you teach from?
I teach English online from my home in the USA.
What company do you teach English online with?
I teach with Preply and volunteer with Nevy's.
Tell us about your online teaching job!
I set my own hours and rate. I currently charge $30/hour. I teach children and adults. I probably teach about 25 hours a week right now. I have not been interested in adding more lessons to my schedule. I feel I am still learning the best way to manage my classes, and I am still exploring the best online teaching materials
Did you talk about your Specialty Class training during your job interview to help land your teaching job?
I did mention that I took the specialty class, but honestly I don't think that matters for Preply.
Did the Specialty Class you took help to prepare you for teaching English online?
I think that it helped me prepare my profile. Most of the teaching is one to one in Preply, and the learning materials are really different for online teaching. I think I have had to really explore the best materials available on my own even though I was definitely introduced to them in the course. I would say the course opens the door, and then you have to do the rest.
How has the knowledge from your Specialty Class been incorporated into your teaching?
I have incorporated lots of the tools and equipment and workplace setting.
What do you enjoy most about TEO?
I like helping my students learn, especially when they can see a change in their day-to-day lives.
Would you recommend fellow ITA students/grads take the Specialty Class?
Yes, probably. I am not sure it was that thorough, but since I am totally new to teaching it definitely opened my eyes to some things I needed to be aware of before starting.
Alexandra May is a 54-year-old mother of two from Detroit, Michigan. She took ITA's TEFL Course and Teaching English Online Specialty Class in October of 2020 and now teaches English online with Preply and volunteer teaches online with Nevy's.
Want to Learn More About Teaching English Abroad & Online?
Request a free brochure or call 773-634-9900 to speak with an expert advisor about all aspects of TEFL certification and teaching English abroad or online, including the hiring process, salaries, visas, TEFL class options, job placement assistance and more.