Trang, Thailand English Teaching Q&A with Marilia Lawson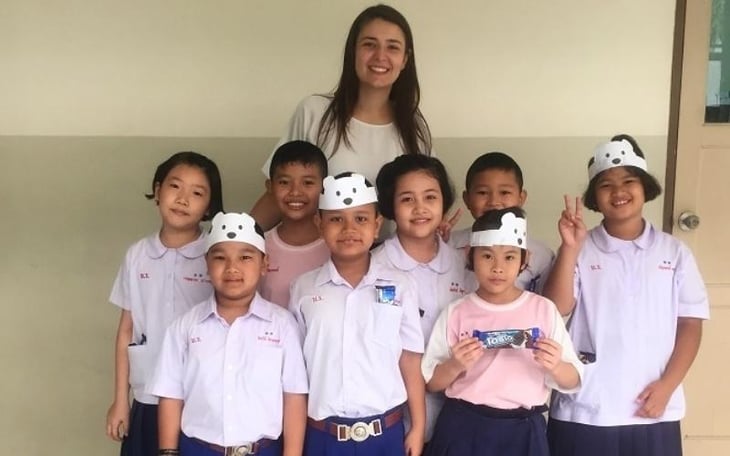 What is your citizenship?

England

What city and state are you from?

Newcastle-upon-Tyne

How old are you?

23

What is your education level and background?

Bachelor's Degree
Have you traveled abroad in the past?
Studied abroad

If you have traveled abroad in the past, where have you been?
Brazil, U.S.A., Italy, Singapore, Dubai, Czech Republic, Norway, Holland, Germany, France, Greece, Egypt, Tunisia
If you have studied abroad in the past, where did you study?

U.S. and Brazil

What sparked your interest in going to teach English abroad?

Traveling and living abroad has been a huge part of my life since I was very young, so I always knew that at one point in my life, I would want to live abroad in a country that was completely different to the culture I grew up in.

After doing a lot of research into the different ways I could make that wish come true, teaching English abroad seemed like the best and most exciting opportunity for me. It seemed to make sense that I'd use a skill I already had to fulfill my dreams of traveling and living abroad.

I knew Asia would be the place for me since it was completely different to everything I had ever been used to, and it would allow me to immerse myself in a fascinating culture that I had always wanted to learn more about. All the fantastic reviews and incredible pictures that I saw online led me to choose Thailand to spend the next six months.

What were some of your concerns before teaching abroad?

Adapting to the Thai culture, the fear of being home sick and not speaking any Thai.

What did your friends and family think about you moving and teaching abroad?

Everyone was extremely excited for me, but at the same time I would get the same reaction over and over again: "Oh, you're moving to.... Thailand?" and I could definitely feel the apprehension in their voices.
TEFL CLASS INFORMATION
Why did you decide to get TEFL certified and choose International TEFL Academy?

I knew that getting certified would open many doors for me when it came to deciding what country I wanted to teach in; I also knew it would increase my chances of getting those English teaching jobs.

To me it was a no brainer; I knew I would benefit so much from having the certification. Not to mention I was extremely apprehensive to come teach abroad, and I needed a lot of guidance and tips on what to do in a classroom.

When researching TEFL certifications online, I was extremely overwhelmed because there are so many schools out there to choose from, but when I found International TEFL Academy, I knew that they were amongst the best. I knew I'd learn a lot from them. Secondly, I knew I'd need the help and support to look for jobs after finishing the course that they provide.

Which TEFL certification course did you take?

Online TEFL Certification

How did you like the course?

I really enjoyed the course; the information was simple yet extremely useful. As I had very little teaching experience, I really needed all that information that they provide during the course such as how to plan lessons, what to do and what not to do during a class, teaching styles, and advice on how students learn best. The practicum [live practice teaching] really helped me put all that into practice, and I was able to get a lot of help and advice from the teacher at my local school. She taught me a bunch of different games and activities to use with the kids, all of which I use here in Thailand.

How has your TEFL training helped you in your current teaching position?

Lesson planning - the TEFL certification taught me how to lesson plan and how to write a lesson plan, both of which are crucial parts of my current teaching position.

LTTT - Limit teacher talking time. Probably the most useful tip especially because I teach children. It can be difficult to get young kids to stay focused the whole class, but when I limit the talking time and incorporate games and activities into the topic, they absolutely love it, and I definitely see that they learn much better that way.

Games - Using games, songs and activities to teach your students (especially children) will help them learn MUCH better. It is a fun and effective way to teach students.

Classroom management - Certainly a very important topic when you're teaching 45 8-year-olds like I currently am. Learning what to do in difficult situations and how to manage a classroom was another extremely helpful topic from the certification.

Culture shock - Despite not being directly related to teaching, this is a very important topic that sometimes we forget about. Culture shock is inevitable and learning how to best deal with it is extremely helpful.

Which city and country did you decide to teach English in and why?

I chose to teach English in Thailand in the city of Trang because of the culture and teaching opportunities.
How long have you been in this country and how long do you plan to stay?

I have been here for 3 months, and I am staying in Thailand for a total of 6 months

What school, company, or program are you working for?

I work at Buranarumluk school

During which months does your school typically hire?

October, March, and April

Did you secure this position in advance of arriving?

No. I found out I was moving here after orientation week.

How did you interview for this position?

In-person interview

What kind of visa did you enter on?

Work visa


Please explain the visa process that you went through.

I applied for a Non-B Immigrant visa in the U.S. (I live in the U.S.), and received it only a few days after applying. I got the single entry visa. Once I got my placement, the agent started working on my work permit and work visa. I just received my work permit last week, and I should be receiving my working visa in the next week (almost three months after arriving). Once I receive my working visa, it will extend my Non-B Immigrant single entry visa until the end of my contract (end of February)

What are the qualifications that your school requires for teachers? Please check all that apply

- Bachelor's degree
- TEFL Certification
- Native English speaker

What is the best way to apply?

Recruiter
Please include any application resources (website, email, etc.) or other information here:

My recruiter is BLS (British language school), and they work directly with schools in the Trang province.

Tell us about your English teaching job!

HOURS: I teach for 22 hours a week but have to stay in school nine hours per day (the time I am not teaching, I sit in the teacher's office and do lesson planning).

PAY: The pay is 30,000 which is approximately $900 USD.

SAVINGS: I have been able to save approximately half of my pay check with little traveling. If I travel a lot in a month, I can usually save 5,000-10,000 baht ($140 - $280 USD).

STUDENTS: I teach Kindergarten 2 (5-year-olds), kindergarten 3 (6-year-olds) and 2nd grade (8-year-olds).

VACATION: I don't get a lot of vacation time at this school, only two days for New Years.

How did you find somewhere to live and what is it like? Do you have roommates?

Once I arrived in Trang, my agent met me at the bus station and took me to look at a few apartments. Here in Trang it is uncommon for English teachers to live in houses; most apartment complexes are the same (one bedroom and bathroom). It is very similar to a hotel room (no kitchen, no living room). This situation is not ideal if you have a roommate, but it is doable. It is possible to find a house in Trang but it is somewhat difficult. I came to Thailand with my wife; therefore she is my roommate.

On a scale of 1 - 10 please rate your experience with this school. 10
COUNTRY INFORMATION -
Please explain the cultural aspects, public transportation, nightlife, social activities, food, expat community, dating scene, travel opportunities, etc...

CULTURE: The culture in Thailand is very unique and different to the British culture. There is an enormous amount of respect for the elderly, family, and people with certain careers (teachers being one of them). At the school where I teach, there are six English teachers (including myself), and all other teachers seem to have a lot of respect for us. They really seem to appreciate us being here.

NIGHTLIFE: The nightlife in Trang is almost non existent. There are a lot of bars, but people don't go out as often as British and Americans for example.

SOCIAL ACTIVITIES: I would say traveling is the most social activity here. Krabi is only a two hour bus ride from here, and we are very close to all the Southern islands.

EXPAT COMMUNITY: Trang is a somewhat big town but yet small enough. There are a lot of expats living here.

TRAVEL: This has to be one of the best cities to live when it comes to travel opportunities. Krabi is only two hours away; Phuket is a five hour bus ride away, and from both of those places it is possible to get ferries to the islands like Koh Phi Phi, Koh Lipe, Koh Kradan, Koh Samui, etc. Because these are so close, it is possible to travel a lot on weekends.
COUNTRY INFORMATION - MONEY
What are your monthly expenses?

RENT: 5,000 baht ($140 USD) + utilities are usually 1,500 baht ($40 USD) per month (with the A/C on all the time)

FOOD: it is possible to eat on the streets and the markets for 40 baht a meal (1 USD). Street food includes noodles, Pad Thai, soup, fried chicken, Som Tam, etc. If you eat at restaurants (especially Western food) it is a lot more expensive (approximately 200/300 baht $5-$7 USD).

TRANSPORTATION: I rent a scooter here (and it's very safe to drive a scooter in Trang) for 2,000 baht per month.

PHONE: A Thai sim card with 2GB of 4G data is 300 baht ($8.50 USD) per month.

TRAVEL: Traveling can be cheap or expensive depending on where you go and what you do. From Trang it is definitely possible to travel cheaply (100 baht minivan to Krabi for example), or you can go to the islands for a lot more (1,400 baht to Koh Lipe). Hotels in these touristy areas are usually 300 to 400 ($8.5 - $11 USD) baht a night.

How would you describe your standard of living?

Excellent

In your opinion, how much does someone need to earn in order to live comfortably?

30,000 baht ($850 USD) ensures a comfortable living with a lot of traveling but little savings. With no travels you could save 15,000 ($425 USD) a month.


ADVICE FOR PROSPECTIVE ENGLISH TEACHERS
What advice would you give someone planning or considering teaching abroad? Would you recommend teaching in your country?

I would 100% recommend teaching English in Thailand and especially at the school that I am currently at. All the teachers here love it and all the other teachers that I met at orientation are having a fantastic time too.

I would recommend that anyone teach English abroad; it is an experience of a lifetime and, it is so rewarding. Thai people are one of the most incredible people I have ever met; the food here is delicious (very very spicy though), and this country is the most beautiful country I have every visited. There is so much to do, see, and learn here; you will not regret one second of it.
Marilia is from England and took ITA's Online TEFL Course. She then moved to Trang, Thailand to teach English.
Want to Learn More About Teaching English Abroad & Online?
Request a free brochure or call 773-634-9900 to speak with an expert advisor about all aspects of TEFL certification and teaching English abroad or online, including the hiring process, salaries, visas, TEFL class options, job placement assistance and more.