diversity abroad
Teaching English in Nakhon Pathom, Thailand - Alumni Q&A with Anastashia Williams-Knight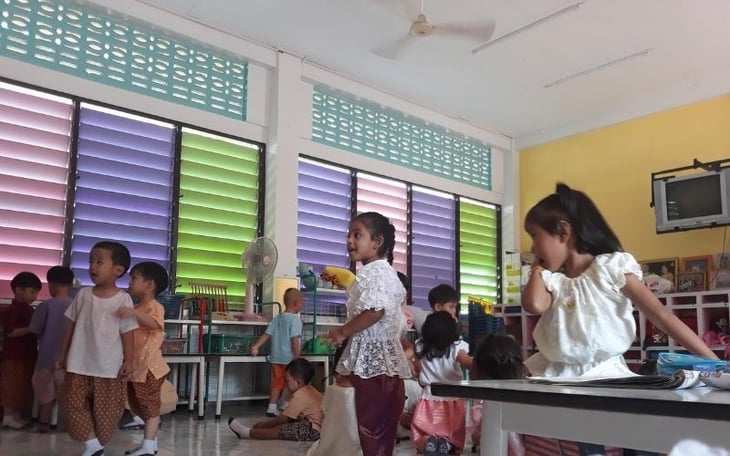 What is your citizenship?
United States
What city and state are you from?
South Chesterfield, VA, USA
How old are you?
29
What is your education level and background?
Bachelor's Degree.
Have you traveled abroad in the past?
Some international travel with family and friends.
Where did you travel to?
I went to Brazil for about 2 and half weeks for a missions trip.
What sparked your interest in going to teach English abroad?
I have wanted to move abroad since high school but I didn't know how or if it was possible. Fast forward to 2016, I was at a dead end job and unhappy. Bored at work and unable to go on any sites that didn't end in .gov, I ended up finding out about Peace Corps. I didn't feel I qualified for any sector other than youth/education which were mainly ESL teaching jobs. Long story short, I ended up not going into the PC but I fell in love with teaching ESL.
What were some of your concerns before teaching abroad?
What wasn't!? Money, how they would treat me as an a foreigner, being African American, would my teaching strategies work that I had used before, would I make any friends or find a church, etc.
What did your friends and family think about you moving and teaching abroad?
Initially, only my younger sister was supportive. They had their own ignorance about being across the world, teaching, and living abroad. Eventually, my family came around (also with me educating them and reassuring them) I've been here since January and my Dad finally said, he's approved of me leaving. Aha!
TEFL CLASS INFORMATION
Why did you decide to get TEFL certified and choose International TEFL Academy?
I wanted to have an upper hand on other teachers in the job market and people suggested ITA when I asked on Facebook.
Which TEFL certification course did you take?
I took the Online TEFL class.
How did you like the course?
I liked it a lot; always knew what to expect as far as assignments were concerned. At the time I had three jobs, so this was very convenient. I think having a practicum was invaluable because, now that I'm here there are sooo many "teachers" here with no obvious classroom experience. The assignments were relatable and even the history on language was suspicious. I also had an awesome teacher!
How has your TEFL training helped you in your current teaching position?
Using a template, creating lessons plans, and different types of teaching strategies for students who learn different types of ways.
How long have you been in Thailand and how long do you plan to stay?
I moved to Nakhon Pathom, Thailand at the beginning of 2019 and have been teaching here for 5 months. I plan to stay for as long as I can.
Why did you decide to teach English in this location?
I didn't to be honest. I used an agency and they placed me here, I wanted to go to Chang Mai.
What school, company, or program are you working for?
Anuban Pathi by way of BFITS through an agency.
During which months does your school typically hire?
I'm not too sure.
Did you secure this position in advance of arriving?
Yes and no, I technically didn't have one but, was guaranteed a job on arrival through the agency.
How did you interview for this position?
I had a Skype/Phone interview.
What kind of Visa did you enter on?
I am on a Non B Work Visa.
Please explain the visa process that you went through.
I had to submit my drivers license, background check, college transcripts, my degree (they wanted it notarized but no notary would do it), and some other documents that I have no idea what they were because everything was written in Thai. Eventually, I will also have to submit a medical record.
What are the qualifications that your school requires for teachers?
Bachelor's Degree
Native English Speaker
TEFL Certification
What is the best way to apply?
Through a recruiter. Tell them Ana sent you!
Tell us about your English teaching jobs!
25 teaching hours, pay is 35,000 baht ($1,100 USD). I have not been able to save AT ALL! I work at a Royal school teaching children P3 and P4. Very conservative dress, skirts/dresses only and must be mid shin length.
COUNTRY INFORMATION
Please explain the cultural aspects, public transportation, nightlife, social activities, food, expat community, dating scene, travel opportunities, etc...
Dating - nonexistent from my perspective
Nightlife - unless you're in a large city then it's a no
Food - spicy, small portions, bring your fav snacks
Cultural aspects - I like Thailand but being the land of Smiles doesn't make it exempt from being cheated, robbed, scammed, or discriminated against. Many places have a foreigner price.
What are your monthly expenses?
Rent - 7000 baht ($220 USD)
Water - 40 baht ($1.25 USD)
Phone - 400 baht ($12.50 USD)
Internet - 300 baht ($10 USD) and 1200 baht ($38 USD) for installation
Transportation - 1300 baht ($40 USD) a month
How did you find somewhere to live?
I found it through Renthub. Rent is expensive 7000 baht ($220 USD) a month in rent but it also required 2 months deposit. You might be reading this and converting saying, "Oh that's cheap," but get into the mindset that you are not making money in USD anymore.
How would you describe your standard of living?
Right now, it's meh.
In your opinion, how much does someone need to earn in order to live comfortably?
Max, roughly 45,000 baht ($1,400 USD).
ADVICE FOR PROSPECTIVE ENGLISH TEACHERS
What advice would you give someone planning or considering teaching abroad? Would you recommend teaching in your country?
Save save save, know the visa procedures. I don't have anything to compare to but it's not horrible.
Fed up with a dead-end job Anastashia Williams-Knight looked for ways to work overseas. After first considering the Peace Corps, she decided to get TEFL certified and headed for central Thailand, where she teaches in the city of Nakhon Pathom.
Want to Learn More About Teaching English Abroad & Online?
Request a free brochure or call 773-634-9900 to speak with an expert advisor about all aspects of TEFL certification and teaching English abroad or online, including the hiring process, salaries, visas, TEFL class options, job placement assistance and more.