Teaching English in Chachoengsao, Thailand: Alumni Q&A with Stephanie Evangelista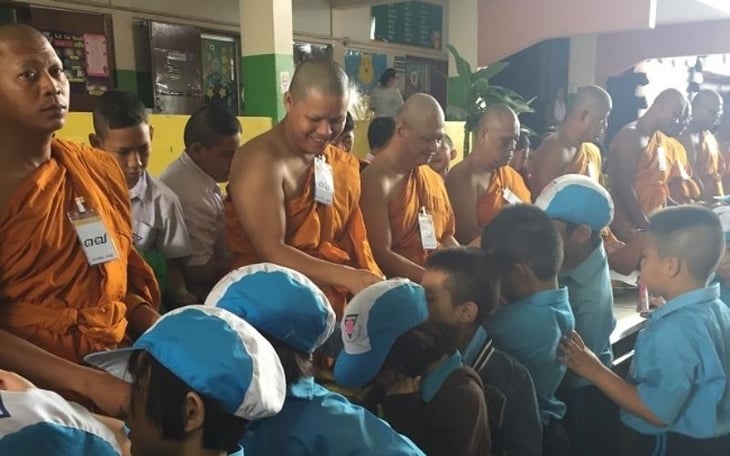 TELL US ABOUT YOURSELF
What is your citizenship?

United States

What city and state are you from?

Doylestown, Pennsylvania

How old are you?

24

What is your education level and background?

Bachelor's degree
Have you traveled abroad in the past?
Some international travel with friends, family, business, etc.

If you have traveled abroad in the past, where have you been?
South Africa, Australia, New Zealand, Italy, South East Asia, and Nepal
What sparked your interest in going to teach English abroad?

I've always been interested in teaching and traveling for as long as I can remember. When I went to college, I easily chose an Education major and loved it. However, after graduating from college, I had a really strong desire to travel and live abroad before settling down and teaching in America. I looked into what options I had to let me travel long term and found teaching abroad, which is the perfect combination of two of my passions.

What were some of your concerns before teaching abroad?

One of my biggest concerns was homesickness. I have a big Italian family, who I am extremely close to, and I worried how I would cope being so far away from for so long.

What did your friends and family think about you moving and teaching abroad?

I was fortunate in that most of my family was extremely supportive of my decision to move abroad. At first, I don't think people believed I would actually leave, but when they started to realize I was serious, most of the people close to me could see how excited I was and how much thought I'd put into my decision. Of course, there were some people who encouraged me to stay home, but once I moved to Thailand, and they could see how happy I was, they stopped asking me to come home.
TEFL CLASS INFORMATION
Why did you decide to get TEFL certified and choose International TEFL Academy?

I decided to get TEFL certified to try and prepare myself as much as possible before moving abroad. Although I have a Bachelors in Education, I thought that teaching abroad would be different than the experience I had at home, and wanted to prepare myself for the experience. I did quite a bit of research into different TEFL courses, and couldn't decide whether I wanted to do an online or in person course. Ultimately, I decided to do it online for financial reasons, and after speaking to some of the recruiters at ITA, I decided this course would be a good fit for me. One of the main factors that put ITA over other TEFL courses for me was the Job Search Guidance. After completing the course, I was able to speak to someone about teaching jobs in Thailand. ITA helped me prepare for interviews, and looked over my resume for me, and gave me specific pointers based on what Thailand looks for.
Which TEFL certification course did you take?

Online TEFL Course

How did you like the course?

I liked that the online course allowed me to work at my own pace. I was working full time while taking the course to save money before leaving, so I needed a course that would be flexible. The online course gave me the freedom to do each section at my own pace, and complete it when I was able to do it. However, within that freedom, there were weekly deadlines and tasks that needed to be turned in. I really liked that the course gave you weekly deadlines because it prevented me from procrastinating. I found it extremely rewarding to find a practicum experience in my community, and I really enjoyed the place where I did my practicum hours.

How has your TEFL training helped you in your current teaching position?

My TEFL training gave me some background knowledge about the thoughts of EFL students. It gave me a background knowledge of what types of lessons to plan for different levels of students. It also has given me ideas about what level of knowledge the students should be receiving based on their English level.

Which city and country did you decide to teach English in and why?

I decided to teach English in Thailand in the city of Chachoengsao because it is close to Bangkok, but it is still a Thai town. I wanted to be close to Bangkok so I could reach it easily for weekend trips, and have easy access to the airports. However, I didn't want to live in the city because I wanted to be able to interact with locals, and not be tempted by so many Western comforts.
How long have you been in this country and how long do you plan to stay?

I have been here for 14 months, and plan to stay for 4 more months.

During which months does your school typically hire?

The main hiring seasons are March/April and September/October.

Did you secure this position in advance of arriving?

No

How did you interview for this position?

Skype/Phone Interview

What kind of visa did you enter on?

Tourist Visa

Please explain the visa process that you went through.

I entered the country on a visa exempt stamp, which allowed me to stay in the country for 30 days. I was able to extend that visa to get 30 more days in the country for THB 1,900 ($57.50 USD). After the 60 days I needed to do a visa run, and went to Laos to get a new visa. In Laos I got a 60-day tourist visa, which my boss then converted into a Non-B visa, which granted me another 90 days in Thailand. During those 90 days my boss got my Work Permit, and I then extended my Non-B to allow me to stay here until the school year ended. It was a relatively painless process, where my boss did a majority of the work for me.


What are the qualifications that your school requires for teachers? Please check all that apply

Bachelor's degree

What is the best way to apply?

Apply online

Tell us about your English teaching job!

I work in the English Program at a government school. That means my students' parents pay extra money for their children to have both a Thai and Foreign teacher. I teach grade 1 students, who are learning all of their subjects in Thai and English. The foreign teachers teach English, Math, Science, Computer, Health, and Art to the students. I am required to be in school from 8:00 - 4:30 Monday to Friday, though I only have 20 teaching hours per week. The rest of the time is mine to plan lessons, grade, or get any other work done. I earn 33,000 THB per month (approximately $970) and am typically able to save at least 7,000 THB (approx. $200). As for vacation time, I got eight weeks off between March-May, three weeks off in October, and plenty of long weekends in between.

How did you find somewhere to live and what is it like? Do you have roommates?

The agency that hired me helped me find accommodation in my town. I live alone in a Thai apartment building, where I have a Thai style apartment. I have a double bed, a small couch, coffee table, TV, refrigerator, and a small table. I also have a Thai style bathroom, which means there is no designated shower area- the shower head is just on the bathroom wall.
COUNTRY INFORMATION - FUN!
Please explain the cultural aspects, public transportation, nightlife, social activities, food, expat community, dating scene, travel opportunities, etc...

Thailand is a Buddhist country, so the culture is very conservative. Despite it being a tropical climate, it is considered inappropriate to wear skimpy clothing. Thai people are some of the friendliest people I know, and the nickname "Land of Smiles" is definitely well earned. Most people in my town get around by using a motorbike, which they rent or buy. However, if you're too scared to drive a motorbike, there are plenty of motorbike taxis willing to take you somewhere for a small fare. There are quite a few bars in my town, and the expat community in my town can typically be found at one of the bars on any given Friday or Saturday night. Many of the male teachers have Thai girlfriends, though it is far less common for the female teachers to have Thai boyfriends. Traveling is easy, as Thailand is a country that has so much to offer, and is pretty well connected. You can cheaply get anywhere in the country, it just sometimes takes a bit of time.
COUNTRY INFORMATION - MONEY
What are your monthly expenses?

My monthly expenses in Thailand are very cheap.

My typical costs are:

Rent/utilities: 6,000 THB ($185 USD)
Food: about 4,000 THB ($120 USD) --I typically spend only 100THB/day (About $3 USD) during the week, but on the weekends will treat myself to nicer restaurants, or sometimes go to Bangkok for Western food, which is more expensive.
Social Activities: 3,000 THB ($95 USD) --This varies by month, but I would say I typically spend around 3,000.
Transportation: 1,000 THB ($30 USD) --I mostly walk everywhere, but I do take a taxi to school every morning, which costs me 20THB (60 cents US), plus occasional other taxis, and transportation into Bangkok.
Phone: 220 THB ($7 USD) for 4GB of 4G data and 20 minutes of air time
Travel: 6,000 THB ($185 USD)
How would you describe your standard of living?

I would say I have an excellent standard of living here in Thailand. I really don't have any complaints.

In your opinion, how much does someone need to earn in order to live comfortably?

If you are living outside of a main city, I would say you need to earn at least 30,000 THB ($900 USD) to live comfortably. You could probably live on less, but you would be pinching pennies a lot.


ADVICE FOR PROSPECTIVE ENGLISH TEACHERS
What advice would you give someone planning or considering teaching abroad? Would you recommend teaching in your country?

I would recommend just doing it!!! Even though it is extremely scary and you will be nervous, it's the most rewarding and life-changing experience. I was terrified I wouldn't be able to find work or friends, but I easily found work, and all of the people I met were extremely friendly. Someone told me, remember, if you go and you hate it, you can easily book a plane ticket home, but at least you won't wonder if you would've liked it.
Originally from Doylestown, Pennsylvania, Stephanie has been interested in teaching and traveling for as long as she can remember. In college, Stephanie chose an Education major and loved it. However, after graduation, she felt a strong desire to travel and live abroad before settling down and teaching in the U.S. She chose to teach English in Chachoengsao, Thailand, because she wanted to immerse herself in Thai culture while also having access to Bangkok, a world center of culture, commerce, and cuisine.
Want to Learn More About Teaching English Abroad & Online?
Request a free brochure or call 773-634-9900 to speak with an expert advisor about all aspects of TEFL certification and teaching English abroad or online, including the hiring process, salaries, visas, TEFL class options, job placement assistance and more.