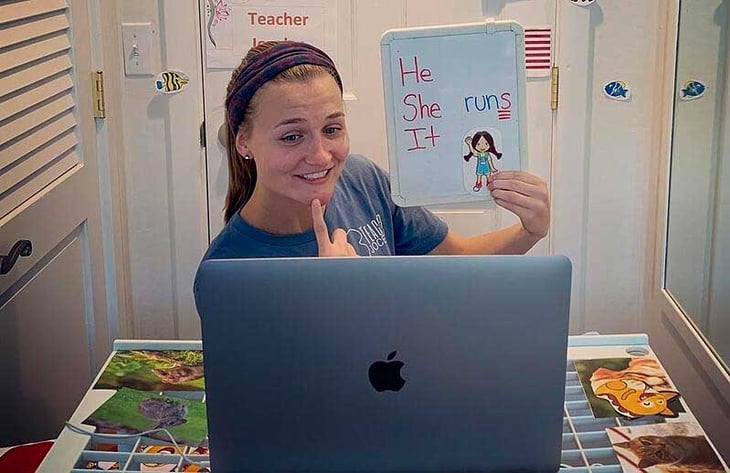 Teaching English Online from the USA: Q&A with Jocelyn Hellested
What is your citizenship?
United States
What city and state are you from?
Exeter, New Hampshire, USA.

How old are you?
25
What is your education level and background?
Bachelor's Degree
What sparked your interest in teaching English online?
I love to travel and teach and this form of teaching English online allows me to do both of these things.
Why did you decide to get TEFL certified and choose International TEFL Academy?
I decided to get TEFL certified because I desired to teach English both online and abroad. My TEFL certificate not only certifies my ability to teach English to future employers but the course also prepared me for this career; giving me the tools to be successful. I chose International TEFL Academy because their certificate is accredited through a third party, it is recognized internationally, they have an astounding alumni community that is ready to offer advice and support, and the structure of the online course is flexible and easy to complete while still working a traditional 9-5pm job.
Which TEFL certification course did you take?
I took the 11-week online TEFL course.
How did you like the course?
I enjoyed the course and felt that the information provided was presented in a clear and practical manner. My instructor responded to questions in a timely manner and was eager to offer clarification or guidance on assignments when needed. In particular, I liked that many of the assignments were designed to help us face challenges or tasks we'd see in the classroom. We designed lesson plans and came up with ideas on how to create relationships with our students and minimize challenging behaviors in the classroom. Each assignment gives students practical experience and prepares them to be an effective teacher.
How has your TEFL training helped you in your current teaching position?
My TEFL training has certainly helped me in my current online teaching position. It gave me insight into how to make classes engaging through realia, TPR, and props (all subjects that are discussed in the course.). The course also discussed different approaches and methods to take when teaching which has helped shape how I interact with English learners and how I present information to my students.
What company do you teach English online with?
I currently teach with VIPKID and Cambly.
What qualifications are required to teach English with VIPKID and Cambly?
Bachelor's Degree and a native English speaker. A TEFL certificate is not mandatory but since students are the one's who book your classes, having the TEFL certificate shows you are qualified and can make you more marketable.
Please briefly explain the application and hiring process for VIPKID and Cambly:
VIPKID has a 6-step application process that includes submitted your basic qualifications, conducting a demo class, teaching a mock class in front of current VIPKID teacher, getting certified in one of the main course levels (this is like a training course to prepare you to teach the VIPKID curriculum), taking a TEFL introductory quiz and then signing your contract and submitted your payment information.
On the Cambly platform you are required to submit your basic information and qualifications in addition to recording and submitting a short video to introduce yourself to students on the platform. After submitting these elements to Cambly they will review and respond with whether or not you are a good fit for the platform.
Do you teach from home or abroad?
I have taught online both from my home in the States and abroad in Central and South America.

If you have taught online from a country that is known to have unreliable/slow internet, what backup plan did you have in place?
It is always smart to have a backup plan. Upon arriving into a new country I would purchase a SIM card with a data plan that I could charge as needed.
How long have you been teaching English online?
I have been teaching online for just over a year now.
How many hours on average a week do you teach online and what is your time commitment outside of teaching classes?
I teach around 27 hours each week. I spend an additional 1 hour a week prepping and writing feedback for the VIPKID platform and an additional 2 hours a week creating lesson plans and planning activities for my Cambly lessons.
How much money do you make teaching online with VIPKID and Cambly?
I make roughly $1,600 a month from teaching online (before taxes).
Which age groups do you work with and what props/tools do you find most useful when teaching online?
I teach children aged 5-13 on the VIPKID platform and I teach adults and children on the Cambly platform. When I was traveling I used mainly 2D flashcards because they were light and travelled well. I also relied heavily on my small whiteboard as a teaching tool.
How do you consider cultural differences when teaching online? Does this influence your teaching style?
In general, my students culture, but more importantly their individual personality and learning style influence the way I teach them. I definitely consider cultural differences when teaching online but I also make an effort to expose my students to American culture since language and culture are closely linked. I will research different holidays that my students celebrate throughout the year and incorporate them into the lesson to demonstrate that I care for them and respect their traditions.
How does VIPKID and Cambly review your performance? Are there rewards for having great reviews?
Both of my platforms allow parents and individuals to give teacher feedback and rating. Occasionally there are rewards for having great reviews or obtaining a certain number of great reviews.
How has your ITA TEFL certification helped you with teaching online?
My ITA TEFL has helped me become an effective teacher by introducing me to different teaching techniques and exposing me to a variety of ways to present information to students from different backgrounds and ages.
What is your favorite thing about online teaching?
My favorite thing about teaching online is the ability to meet and interact with people from other countries. It is a beautiful thing to be able to teach a language that then allows the student to share their culture, thoughts, and ideas with you.

Would you recommend teaching English online to others? Why?
I would definitely recommend teaching online to others. It has allowed me to travel while earning an income, create my own work schedule and build relationships with individuals and families around the world. It is a very worthwhile experience!

Travel junkie and education enthusiast, Jocelyn obtained her TEFL certificate online with ITA in the summer of 2019 and hasn't looked back! She found her sweet spot when she began teaching English online and traveling Central and South American in the fall of 2019. This opportunity allowed her to fulfill a lifelong dream of traveling the world, improving her Spanish language skills, and building relationships with students across the globe. With the threat of COVID-19, she has since taken a hiatus from traveling but is looking forward to the day she can begin her next adventure.
Want to Learn More About Teaching English Abroad?
Request a free brochure or call 773-634-9900 to speak with an expert advisor about all aspects of TEFL certification and teaching English abroad or online, including the hiring process, salaries, visas, TEFL class options, job placement assistance and more.