non native english speaker
Teaching English Online from the USA - Q&A with Ewa Schmitz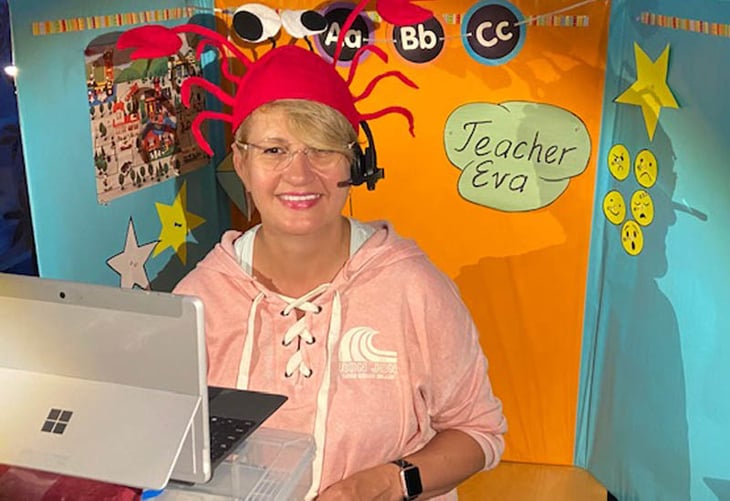 What is your citizenship?
Dual Citizenship - Polish and American.
What city and state are you from?
Jersey City, New Jersey , USA.
How old are you?
55.
What is your education level and background?
Master's Degree or above.
What sparked your interest in teaching English online?
My entire professional career has been in education. I have over two decades of experience as a teacher, college professor, and as college administrator. I started my teaching career in Poland when I was in college pursuing my master's degree in education. While I started as a special education and elementary school teacher, over the years, my experience expanded to working with students ranging from 6 to 60+ years old both online and in person.
I immigrated to the Unites Sates in 1994 and slowly made my way back into teaching. Through my personal journey with learning English as a second language and years of teaching experience, I believe my strengths are in being able to connect with other English Learners and in establishing a trusting and engaging learning environment.
A few years ago, my husband and drafted our five-year exit strategy with the goal of preparing ourselves to quit our corporate, demanding jobs and to be able to do what we love the most, which is traveling the world and experiencing different cultures.
We both needed to investigate different ways of generating income. While, for me the choice seemed to be obvious, I must admit that it took me a while to consider a TEFL certification program. I spent some time researching different options and ITA surfaced with the highest recommendations. My uncertainty was related to two factors; my age and the fact that I am not a native speaker of the English language. After a couple of conversation with the ITA admissions representative, I decided to give it a shot.
With the restrictions related to COVID-19, I needed to look into alternative ways of completing my practicum hours. ITA's recommendations were helpful. First, I was accepted as a volunteer tutor for the Paper Airplanes organization, and then I started the application process to teach English online with VIPKid and I was hired at the end of June 2020.
Why did you decide to get TEFL certified and choose International TEFL Academy?
I conducted some research about different TEFL programs and schools and chose ITA based on its reputation and recommendations. I wanted to enroll into a program that would allow me to learn the skills needed to become successful in teaching abroad and online. Additionally, I was impressed with the level of support provided throughout the journey including ITA's job search guidance.
Which TEFL certification course did you take?
I researched in-person programs in New York, but my full-time job would interfere with the class times. I took ITA's standard 11-week online TEFL course in February of 2020.
How did you like the course?
Since I was familiar with online learning and teaching, the online class was not a challenge and it fit well into my schedule. I was also happy to have another classmate who was close to my age. I enjoyed the class very much. The concepts introduced in weekly modules were structured like building blocks. I enjoyed working on all assignments beginning with simple activities, through the complete lesson plan and finally the Thematic Unit. My instructor kept us engaged through discussion questions and facilitated a few Zoom calls where we had a chance to interact with other classmates and ask questions related to our assigned tasks. I appreciated the detailed feedback on all assignments. It helped me think about what I could do better on my next assignment. The program offered additional resources and tools that I have been using in my one-on-one tutoring sessions and will be able to incorporate in my future teachings abroad. The program and the professors feedback helped me become more confident in my ability to teach English learners.
How did you like ITA's Teaching English Online 30-Hour Specialty Course?
The Teach English Online Specialty Class was very helpful. For me, the most beneficial was the review of different teaching platforms and recording my introductory video which I could later use to apply for online teaching jobs.
How has your TEFL training helped you in your current teaching position?
I continue teaching part-time for VIPKid. ITA's TEFL program provided a good foundation in terms of understanding different levels of English skills and adjusting teaching methodologies based on students' age and/or level. In my lower-level class with a 5-year-old, I typically use TPR and 2-D props, while the upper-level class with a 13-year-old calls for more reading, comprehension, grammar, and the use of realia. My journey with VIPKid started slowly. In the first month I had a few classes scheduled, but by November, my open slots were fully booked, and I had 11 regular students who booked my classes once or twice a week. Most of my students are in levels 4 and above. I also teach various supplementary classes such us story reading, vocabulary, grammar, or a free talk.
What company do you teach English online with?
I am a volunteer English tutor for the Paper Airplanes Organization and My Culture Connect in Taiwan. I also teach for with VIPKid
What are the qualifications required to be hired through your school?
TEFL Certification

Bachelor's Degree

Teaching Experience
Please briefly explain the application and hiring process for your school:
VIPKid's application process included the following steps: online application screening, recorded interview demo, and the certification process consisting of a mock class, feedback, and coaching.
Do you teach English online from home or abroad?
I currently teach English from my home in New Jersey.
How long have you been teaching online?
I have been teaching English online since June 2020.
How many hours on average a week do you teach online and what is your time commitment outside of teaching?
Since I teach part-time, I open a couple of hours early in the morning (6:00-8:00 am EST). My weekends slots starting with Friday night book very quickly. Sometimes, on Saturday evening, I teach eight back-to-back classes.
How much money do you make teaching online?
I make $14.00 an hour. The incentives are based on the number of finished classes. For me, it is a huge enjoyment and nice supplementary income. I can see how this income would be sufficient if I were to live aboard and teach full-time.
Which age groups do you work with and what props/tools do you find most useful?
Most of my students are in levels 4 and above. I also teach various supplementary classes such us story reading, vocabulary, grammar, or a free talk. I invested a lot of my time into various certifications within VIPKid. While I enjoy teaching all levels, I believe the students in the upper levels are the best fit for me. I enjoy using realia, teaching reading comprehension skills, grammar, and writing.
How do you consider cultural differences when teaching online? Does this influence your teaching style?
Yes, cultural differences are important in all teaching environments. Through my educational trainings and experience, I have gained a level of cultural competence. However, VIPKid offers free workshops about Chinese culture, language, traditions, and festivals which are helpful when preparing for classes. Right now, for example, most of my secondary rewards are based on Chinese New Year that is celebrated in February.
How does your school review your performance? Are there rewards for having great reviews?Performance is measured weekly and monthly. The stats include the percentage of finished classes, timely submission of feedback, and parents 5-apple feedback. Teachers earn tokens that can be redeemed in a variety of ways. Tokens can be earned also by obtaining new certificates, participating in trainings, workshop, events or simply checking in on the mobile app or taking a daily quiz. I redeemed my tokens for a discount on the ManyCam software that can be used to set up digital backgrounds and props.

How has your ITA TEFL certification helped you with teaching English online?
ITA's TEFL certification opened the door to many different teaching opportunities and equipped me with the skills and knowledge necessary to be successful. Also, the ITA students and alumni have access to ITA resources and their Facebook groups that are wealth of information exchange and support.
What is your favorite thing about teaching online?
I love teaching English online. I often tell my family and friends that my VIPKid classes are the most enjoyable time of my day. I feel motivated because each class and each student is different which requires a quick adjustment and different level of preparations. My students are polite and sweet. Teaching online provides the flexibility that I need with my current work schedule. Sometimes I am only available to open a few slots a week, but when my regular students send the request, I end up accepting the request.
Would you recommend ITA's TEFL certification program?
Yes, I would strongly recommend the program. In fact, I am trying to convince my husband to become certified. He is a native English speaker, so he would have even more opportunities to find a teaching job whether online or in-person. I think the program sufficiently prepares everyone for teaching English learners.

Ewa Schmitz was born and raised in Poland but has lived and worked in the USA since 1994. She received her MA in the Arts of Education and Doctorate in Management in Organizational Leadership and holds two standard teaching certificates in the state of New Jersey; one in elementary school teaching and the other in special education. She has over two decades of experience, both as an instructor and as a college administrator working with students ranging from 6 to 60+ years old, both online and in-person. Since she obtained her TEFL certification from ITA, her experience has expanded by tutoring adult students through the Paper Airplanes and My Culture Connect organizations as well as with VIPKid. In addition to teaching English, Ewa is a college professor teaching general education and business courses online.
Want to Learn More About Teaching English Abroad & Online?
Request a free brochure or call 773-634-9900 to speak with an expert advisor about all aspects of TEFL certification and teaching English abroad or online, including the hiring process, salaries, visas, TEFL class options, job placement assistance and more.