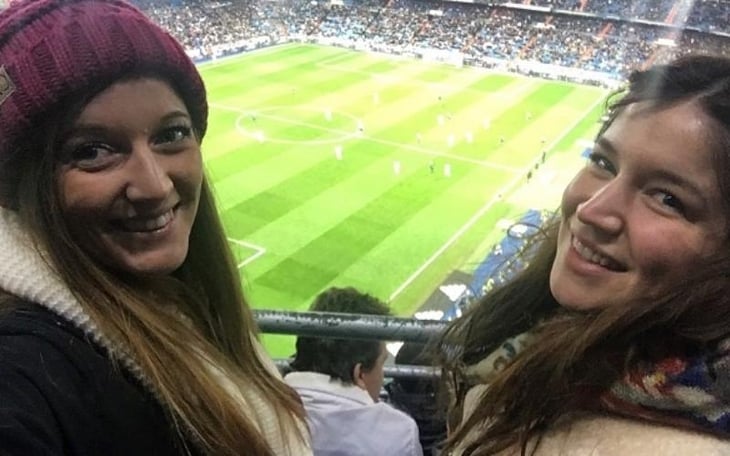 Teaching English in Madrid, Spain: Alumni Q&A with Amy Winters

What is your citizenship?

United States

What city and state are you from?

Penngrove, CA

How old are you?

25

What is your education level and background?

Some College
Have you traveled abroad in the past?
Some international travel with friends, family, business, etc.

If you have traveled abroad in the past, where have you been?
London, UK, and Corfu, Greece
What sparked your interest in going to teach English abroad?

After I traveled to Europe for vacation for my first time, I felt a drive within me to return. I knew I wanted to get back and travel as much as possible. I was also studying to be a teacher at my college, so this seemed like the perfect opportunity to test the waters before completing my studies.

What were some of your concerns before teaching abroad?

I have always lived within driving distance from my family, so being a minimum 20 hour flight away was a huge concern for me. Also, the fact that you are expected to come here without a job in advance and then find one once you're here made me nervous for financial reasons. After living here I learned that being so far away from family isn't so bad with today's technology, we are able to call and FaceTime often, and as far as a job, I was able to get one right away after sending out my CV!

What did your friends and family think about you moving and teaching abroad?

Almost everyone was very supportive and excited for me. There were a few people who didn't believe in me and some others who were more nervous for me than excited, but I couldn't let those people's negative attitudes slow me down. I knew what I wanted to do and I worked really hard to get here.
TEFL CLASS INFORMATION
Why did you decide to get TEFL certified and choose International TEFL Academy?

A friend of mine had the idea of teaching abroad (although she never did it) and had looked into TEFL Academy. I did some research and compared TEFL Academy with some other options, but this seemed to be the most reliable academy. I found the website easy to navigate and was able to find answers to many of my questions. Any questions I couldn't have answered through website research were answered directly by the TEFL Academy team; the whole team was so helpful from the beginning to the end of the process.
Which TEFL certification course did you take?

Online TEFL Course

How did you like the course?

I found the course structure very organized and efficient. Every week was a new chapter with tasks and tests to complete. The information in the course is very helpful, covering a wide range of topics such as parts of speech, your role as a teacher, lesson planning, grammar, classroom management, and dealing with culture shock. My instructor was very attentive and always responded to any questions within a timely manner.

How has your TEFL training helped you in your current teaching position?

TEFL training has helped me in many ways for teaching. The culture shock lesson prepared me for many aspects I hadn't thought of before. The lesson planning unit was probably the most helpful. It has helped me create organized and efficient lesson plans for my classes. The units on reading, writing, speaking, and listening address the importance of incorporating all of these into your lessons for ESL learners. The course was also very helpful for reviewing different grammar points.

Which city and country did you decide to teach English in and why?

I decided to teach English in Spain in the city of Madrid. I chose Spain because I wanted to improve my Spanish. I originally wanted to go to Barcelona, but I ended up in Madrid because the ITA Spain Student Visa Program provides two weeks of teacher training in a real classroom setting and I was able to take my Spanish classes through the same school. They were also extremely helpful in dealing with all the legal paperwork here.
How long have you been in this country and how long do you plan to stay?

I moved to Spain in August 2016, and taught until August 2017. Just one short year that flew by!

During which months does your school typically hire?

September

Did you secure this position in advance of arriving?

No

How did you interview for this position?

In-Person Interview

What kind of Visa did you enter on?

Student Visa

Please explain the visa process that you went through.

To obtain a student visa, it took a lot of preparation. I had to find the local Spanish Consulate (for me it was in San Francisco, CA), research all the necessary paperwork, obtain all of it (some government paperwork took weeks to deal with), and then make an appointment at the consulate. I recommend doing all of this sooner than later! I almost didn't get my appointment in time, but luckily got a spot because somebody else canceled their appointment.

After my appointment, I had to fix some of my paperwork that was done incorrectly, mail it back to the consulate, and then obtained my visa a few weeks after that. Then after arriving in Spain there was more paperwork and appointments I had to do in order to obtain my NIE card (a foreigners student residence card). My biggest piece of advice for this process: stay organized and don't put it off to the last minute!

What are the qualifications that your school requires for teachers? Please check all that apply

- TEFL Certification
- Native English speaker

What is the best way to apply?

Email

Tell us about your English teaching job!

Hours per week: 19

Pay: 860 euros per month (approx. $1000 USD)

Savings: I have not been able to save anything, but I travel almost every month.

Type of school: I work at a language academy in the evenings.

Schedule: I work from 5:30-9:30 Monday and Wednesday, 4:30-8:30 Tuesday and Thursday, and 4:30-7:30 on Friday. Each class is one hour long.

Type of students: I have a wide range of students. The beginning of my day starts with young children (about 5 years old) and my day ends with teenagers (17 years old) or adults (anywhere from 25-45 years old).

Vacation time: Spain has many bank holidays. There have been several days off for public holidays, two weeks off for Christmas and one week for Easter. I have asked for one day off work to travel, but it's not something a teacher should make a habit of.

Additional information: My pay rate per hour is a bit lower than most other teachers, but my academy provides all the materials. I also have the same salary regardless of public holidays or days off, so that helps for budgeting.

How did you find somewhere to live and what is it like? Do you have roommates?

I booked my room though spotahome.com. My apartment is very basic with 5 bedrooms, a small kitchen, and two bathrooms (but only one shower). There is no living room, which is a bit of a bummer, but I have a really big room that we use as a living room if we want to do a big dinner together. I've had a variety of roommates throughout the year, some better than others, but that is expected in this type of situation. I pay 405 euros ( (approx. $475 USD) per month with utilities included; for me it is worth it because I'd rather save money on rent so I can spend it on traveling!
COUNTRY INFORMATION - FUN!
Please explain the cultural aspects, public transportation, nightlife, social activities, food, expat community, dating scene, travel opportunities, etc...

Cultural aspects: Spain has been a great cultural experience for me. Some things were a bit of a shock at first though, such as siesta. Often times I would try to go to the grocery store or run other errands around 3:30 pm, only to find almost everything is closed. Also, in the month of August, the city is very quiet as most people are on vacation for the month. But there have been great parts as well, such as how friendly Spanish people are and how relaxed the culture is here.

Public transportation here is amazing; I use the metro and buses everyday. I have an "Abono Joven" card (public transportation card) and anyone 25 or younger gets unlimited access to public transport for only 20 euros ($23.50) a month.

Nightlife: The nightlife here is like a whole new world for me. You can start the night with tapas and drinks around 10, then head to a bar or pub until 2 or 3 am, and then head to the club and dance until the sun comes up!

Social activities: I have found Madrid to be a very social and diverse city. There are websites that offer different meet up events for people who want to try new things and meet new people. There is always something to do here such as picnic in the park, go to a street market, shopping on Gran Via, hiking outside of the city, public pools in the summer, skiing in the mountains in the winter, or just sitting on one of the many terraces and enjoying some Spanish wine tapas.

Food: The food here is fantastic! My favorite Spanish foods are tortilla (NOT like a Mexican tortilla, more like an omelette), toast with oil and tomato, croquetas, patatas bravas, fried cheese and gazpacho. Most places you order a drink they will bring you a plate of tapas. It is very common here to order a variety of tapas with friends and just share everything together. You can find all types of foods here, but I recommend embracing in the culture while you're here! Wine and beer here are good too and really cheap!

Friends/Expat community: Meeting people here is really easy; there are different Facebook pages that have people in the city who are all in the same position as you. It's a very diverse city, so you will meet other English speakers from many different parts of the world. For me, my friends here have become my "international family".

Dating scene: I wouldn't recommend dating here, especially if you don't plan to stay here permanently. If you get into a relationship with an expiration date on it, someone is bound to get hurt. It is better to just make new friends that you can hopefully visit in different parts of the world one day.

Travel opportunities: I have traveled so much since I have moved here; it's amazing! I have traveled to several different cities in Spain and throughout Europe. You will definitely have opportunities to travel, but it will all depend on how you choose to budget your money. For example, if you go out to eat every week and go shopping a lot, then you probably won't be able to travel as often as I have.
COUNTRY INFORMATION - MONEY
What are your monthly expenses?

Rent: 405 euros ($475 USD) per month, utilities included
Food: 80 euros per month
Social Activities: 100-200 euros ($115 - $230 USD) ;if I travel that month then probably even less than that
Transportation: 20 euros ($23.50 USD) per month
Phone: 20-40 euros ($23.50 - $47 USD) per month
Travel: 150-350 euros ($175 - $400 USD) - depending on where I go

How would you describe your standard of living?

My standard of living is very basic here. My room is big, with a bed, desk, chair and wardrobe. My apartment has a small kitchen with supplies provided (pots, pans, plates, etc.). I don't ever go shopping, I think I have bought maybe two items of clothing since I've lived here. But my quality of life is better--I travel more, see new places, and meet people with completely different backgrounds.

In your opinion, how much does someone need to earn in order to live comfortably?

I think about what I make now, 860 euros per month, is what's needed to live comfortably. I have booked a lot of my travel on my credit card, so the 860 per month is enough to live comfortably in the city with occasional travel.
ADVICE FOR PROSPECTIVE ENGLISH TEACHERS
What advice would you give someone planning or considering teaching abroad? Would you recommend teaching in your country?

Just go for it! I read on another TEFL Academy blog "fake it till you make it". I never forgot that piece of advice and it has helped me get through some uncomfortable situations here. But that's one of the best parts, getting out of your comfort zone and experiencing something completely different! Being out of your comfort zone means you are allowing yourself to experience new opportunities to learn, grow, and better yourself. I believe you are more likely to regret not doing something like this rather than if you just go for it.

I would highly recommend Spain for anyone considering going abroad. It's a beautiful country with wonderful people. You will have the opportunity to learn Spanish, meet new friends from around the world, and try some delicious foods and wines.
Amy is from California and took ITA's Online TEFL Course. Amy then moved to Madrid, Spain to teach English and participate in ITA's student visa program.
Want to Learn More About Teaching English Abroad?
Request a free brochure or call 773-634-9900 to speak with an expert advisor about all aspects of TEFL certification and teaching English abroad or online, including the hiring process, salaries, visas, TEFL class options, job placement assistance and more.