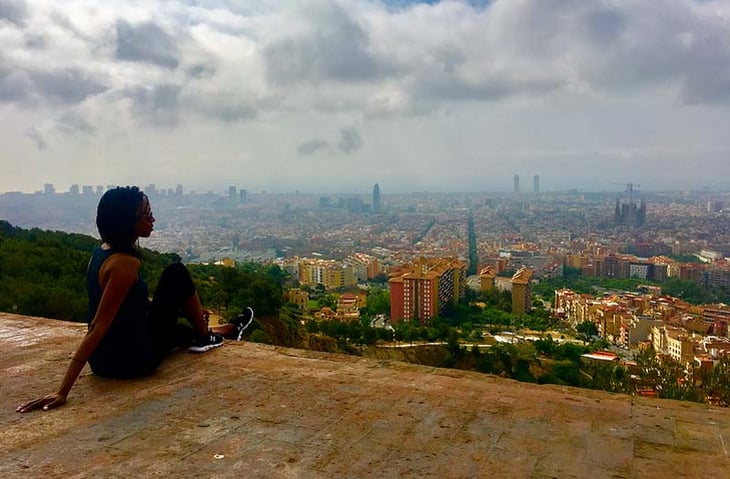 Teaching English in Barcelona, Spain: Alumni Q&A with Brandi Nelson
What is your citizenship?
United States
What city and state are you from?
Portsmouth, Virginia, USA
How old are you?
35
What is your education level and background?
Bachelor's Degree.
Have you traveled abroad in the past?
Some international travel with family and friends.
Where did you travel to?
Paris, Switzerland, Amsterdam, Dominican Republic, Jamaica, and I studied abroad in Guadalajara, Mexico.
What sparked your interest in going to teach English abroad?
I majored in Spanish in college with the intention of becoming a Spanish teacher. After lots of years working in a corporate job (not teaching), I decided it was time to get back to what I loved: language and teaching. I started volunteering at a Latin American community center assistant teaching English classes and one of the teachers there said to me one day, "You know, I could totally see you as an expat in a foreign country teaching English." I had never considered teaching English abroad until that very moment and I immediately knew that it was what I wanted to do.
What were some of your concerns before teaching abroad?
Deciding to teach English abroad is a huge leap of faith. I was going to a country that I had never been to, where I knew absolutely no one. I wondered if I would find friends, a job, a place to live, and if I would even like Spain. As unsure as I was about all of those things, the one thing I was sure about was that I had to try. If it didn't work out, the worst thing that could happen was that I would have to go back home, but at least I would know I tried.
What did your friends and family think about you moving and teaching abroad?
My family was super supportive and they definitely weren't surprised that I wanted to move abroad. I moved away from Virginia right after college and moved around to different states at least every 2 years. So they were used to me not staying in one place for too long. They also knew how much I loved the Spanish language, so they weren't surprised that I chose Spain either. Of course, there were the normal parental concerns like safety, where would I work and live, etc. but they know me and they trusted me to make the best decisions for myself. My friends were very excited for me (and maybe a little jealous also haha!).
Why did you decide to get TEFL certified and choose International TEFL Academy?
After doing some research, I felt the best starting point for me would be to get TEFL certified. I also felt having the certification would give me better job prospects once I moved. I chose International TEFL Academy because after my first conversation with an advisor I felt comfortable and at ease. The advisor was very patient and answered my many questions and hypotheticals. I felt that this was a place where I would get the support and guidance I would need to take the next step.
Which TEFL certification course did you take?
I took the Online TEFL class.
How did you like the course?
The course was very informative and I liked that there was an instructor assigned to each group with group discussions and posts online that made you feel like you weren't alone. The instructors provided constructive feedback that was helpful. I took this course after being out of college for about 10 years so getting back into reading, researching, and writing assignments took some getting used to again but I felt that the format of the course was clear and conducive to completing the course successfully.
How has your TEFL training helped you in your current teaching position?
In my opinion, when it comes to teaching, nothing beats experience but the TEFL course gives you a great foundation and starting point. I especially benefited from learning the different teaching methods, the different types of learners and teaching young learners sections of the course.
How long have you been in Spain and how long do you plan to stay?
I have been teaching in Barcelona, Spain for two years since 2017. When I arrived I had no plans for the future and didn't know if I would stay here or move to other countries to teach abroad. But now Spain is home and I have no plans of leaving.
Why did you decide to teach English in this location?
Since I majored in Spanish in college, I wanted to live in a country where I could speak Spanish. I also wanted to live in Europe for traveling purposes, so Spain seemed like the best choice.
What school, company, or program are you working for?
I teach online with VIPKID during the day and in the evenings I teach private classes.
During which months does your school typically hire?
VIPKID hires year round. Most students are looking for classes in September and January but you can pick up private students any time.
Did you secure this position in advance of arriving?
No.
How did you interview for this position?
I had a Skype/Phone interview.
What kind of Visa did you enter on?
I entered on a tourist visa.
Please explain the visa process that you went through.
I came on a tourist visa so there was no process. I was given a stamp that is good for 90 days just like any other traveler/vacationer when entering the country. I haven't had any issues traveling within the Schengen Zone with a tourist visa and I've also flown to the States and back with no problems. I've been here 2 years on a tourist visa but I recently did "Pareja de Hecho" with my boyfriend who is Spanish, so I am in the process of applying for Spanish residency!
What are the qualifications that your school requires for teachers?
Bachelor's Degree
Native English Speaker
What is the best way to apply?
Online at the VIPKID website.
Tell us about your English teaching jobs!
With VIPKID I teach children in China ages 7-13 and I have the flexibility to make my own schedule. I work as much or as little as I want and can take time off when I want. I usually work M-F 10a-3p (with breaks in between) and Saturday and Sunday 1-3 depending on how much money I want to make that month.
With my private classes, I work from about 5p-7:30p most evenings teaching children ages 9-12 after school in their homes. With those classes, I am also able to take off as needed but I try to make up any classes that I miss.
On average I work about 4 -5 hours every day. I love the flexibility that both jobs give me. These were the best options for me since I came here on a tourist visa and cannot legally work here. With both jobs, it is more than enough to cover my rent and other monthly expenses and have money left to save.
Please explain the cultural aspects, public transportation, nightlife, social activities, food, expat community, dating scene, travel opportunities, etc...
My favorite part about Spain is that everyone is so laid back. There is this whole "no pasa nada" (my best translation = "Hakuna Matata") vibe that I love. Everyone is doing their own thing and doing what makes them happy. It really is the simple life compared to living in the States.
To me, Barcelona is a very international city. I've met people from all over the world living here. There is something for everyone here - city, beach, mountains. I also feel it's easy to live here without knowing how to speak Spanish because most places you go, especially near the city center, people can speak English.
Public transportation here is great and easy to navigate. Flights from Barcelona to other countries can usually be found for a fairly low price if you plan in advance. The nightlife here has something for everyone and there are lots of specialty food restaurants and stores for different diets (vegan, gluten-free, vegetarian).
You can easily find people with similar interests as you as far as sports and fitness activities by joining different Facebook groups or using the Meetup app. There is tons of shopping and you can find most stores here that you would find in any other major city.
I don't know much about the dating scene in Barcelona. I met my boyfriend a month after arriving here, so I didn't really have much time to explore the dating scene. Overall, I have found the people here to be very welcoming and friendly.
What are your monthly expenses?
Rent/Utilities = 250 euros ($280 USD)
Phone = 15 euros ($17 USD)
Food = 150 euros ($170 USD)
Transportation = 43 euros ($48 USD)
Gym = 60 euros ($67 USD)
Social = 50 euros ($55 USD)
Health Insurance = 60 euros ($67 USD)
These are monthly expenses and certain things will vary by individual.
How did you find somewhere to live?
I currently live with my boyfriend but I found my first apartment on Idealista. There are a lot of apartment renting websites. I lived with 5 other girls from different countries in a 6 bedroom 2 bathroom apartment. It was a big change after living alone for so long but an overall fun experience and a great way to meet friends. Depending on when you are looking, it can take awhile to hear back from people about seeing apartments because so many other people are sending in requests as well.
My best advice when responding to ads for apartments is to make yourself stand out by including some personal things about yourself and your personality, what type of living situation you're looking for and I also included a link to my Facebook page just so they could get a feel for who I was.
How would you describe your standard of living?
Since Barcelona is such a tourist destination I feel my standard of living is very comfortable. It is probably a little more expensive in Barcelona than some other Spanish cities but I love that I can work so little and still afford to live here comfortably and do all the things I want to do.
As a woman, I feel very safe here. I've never worried about going out or walking alone at night. In heavy tourist areas you do have to watch out for pickpocketing, but just be aware of your surroundings and belongings and you will be fine.
In your opinion, how much does someone need to earn in order to live comfortably?
800-1000 euros per month ($890 - $1115 USD).
What advice would you give someone planning or considering teaching abroad? Would you recommend teaching in your country?
Do it!! It is by far the best decision I have ever made and it has completely changed my life!
Brandi majored in Spanish in college with the intention of becoming a Spanish teacher. After lots of years working in a corporate job, she decided it was time to get back to what she loved: language and teaching. Brandi started volunteering at a Latin American community center as an assistant teaching English classes. One of the teachers there said to her, "You know, I could totally see you as an expat in a foreign country teaching English." Brandi had never considered teaching English abroad until that very moment and she immediately knew that it was what she wanted to do. After getting TEFL certified, Brandi moved to Barcelona, Spain where she privately tutors students and also teaches English online.
Want to Learn More About Teaching English Abroad?
Request a free brochure or call 773-634-9900 to speak with an expert advisor about all aspects of TEFL certification and teaching English abroad or online, including the hiring process, salaries, visas, TEFL class options, job placement assistance and more.