non native english speaker
Ghatchhina, Nepal Volunteer English Teaching Q&A with Jimena Medina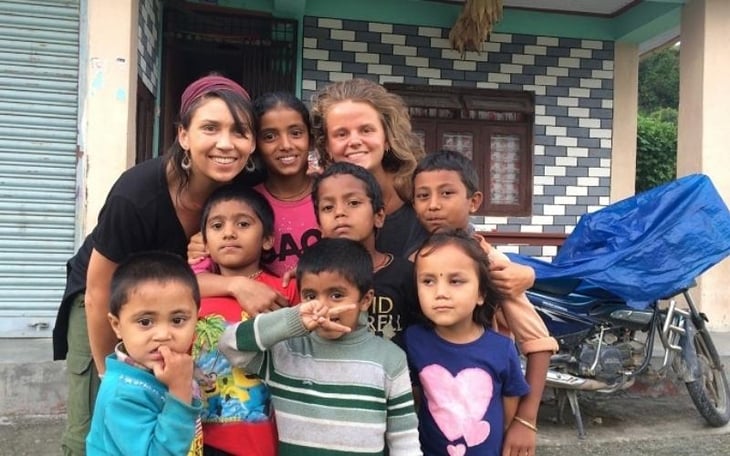 TELL US ABOUT YOURSELF
What is your citizenship?

Chile

What city and state are you from?

Temuco - Region de la Araucania

How old are you?

42

What is your education level and background?

Bachelor's Degree
Have you traveled abroad in the past?
Studied abroad

If you have traveled abroad in the past, where have you been?
Argentina, Brazil, Mexico, US, Canada, overall in Europe, Australia, India, Nepal, Thailand, Bali, and some countries in the Middle East and Africa.
If you have studied abroad in the past, where did you study?

Germany and the US

What sparked your interest in going to teach English abroad?

I am very passionate about education, teaching, and coaching, which I discovered while working for Procter & Gamble, an American multinational company. After working for over 15 years in the Sales and Market Research areas for this company, and following my enthusiasm for people development, I decided to change my career path towards the education field. I chose to teach English focused on EFL students, because that was my key enabler for a successful international career, and because I love learning new languages (I speak four languages and I'm keen on learning some more). Following my interest in foreign cultures and my previous experiences living and working in different countries, I decided to teach English abroad.

What were some of your concerns before teaching abroad?

The main concerns I had were linked to not speaking the local language, cultural barriers, and teaching styles, which vary a lot from country to country, specially in different continents.

What did your friends and family think about you moving and teaching abroad?

They were very supportive as I've been leaving abroad for the last 12 years, so this was not a new topic for my friends and family.
TEFL CLASS INFORMATION
Why did you decide to get TEFL certified and choose International TEFL Academy?

When I start a new challenge, I like to be well prepared for it, so getting certified was a must for me, especially considering that I'm not an English native speaker.
I did an intensive research in order to find the best academy, and I chose International TEFL Academy as I felt it was an internationally recognized academy, and I loved the fact that it provides job search support for life, which is priceless for me.

Which TEFL certification course did you take?

Online TEFL Class

How did you like the course?

I really enjoyed the course, despite I normally prefer face to face courses, but considering the fact that I was living in Switzerland at the time, this was my best option. I really liked having a lot of flexibility for studying and working on the different tasks, and I had good interaction with my instructor and some of my classmates. My instructor was available whenever needed; she joined all the weekly chats, and she was super responsive. I enjoyed working on the different tasks and the practicum was really helpful for bringing all the theory to practice.

How has your TEFL training helped you in your current teaching position?

The TEFL training is really helpful, since otherwise it would be super difficult to manage a class, especially if you get an undisciplined group of children speaking in a foreign language.

Knowing how to prepare a lesson, how to plan lessons long-term and how to manage a classroom are crucial for a successful teaching experience. The TEFL training gave me all the tools I needed to be able to successfully manage my class.

Which city and country did you decide to teach English in and why?
I chose to teach English in Nepal. I was teaching in a little village called Ghatchhina, which is one hour by bus from Pokhara, the second biggest city in the country.

I traveled to Nepal in 2013, and I loved the country and its people, so I decided to go back and teach there. I wanted to teach in a rural school, and I found the perfect place for that.

How long have you been in this country and how long do you plan to stay?

I stayed in Nepal for four months, as it was a volunteering teaching experience. Now I'm getting ready for my next teaching destination.

What school, company, or program are you working for?

I worked at the "Future Bright English Boarding School". I got there by myself and unfortunately they don't have a website.

During which months does your school typically hire?

This is a little school in a village, so they only accept volunteers and they don't hire foreigners. If you are interested in volunteering there, the school year starts in April after the Nepali new year.

Did you secure this position in advance of arriving?

I got in touch with the owner of a homestay where I lived during this time, and he secured my position in the school.

How did you interview for this position?

As I was volunteering, there was no proper interview, but I talked in person with the principal in order to clarify my role and the classes I was going to teach.

What kind of visa did you enter on?

Tourist visa

Please explain the visa process that you went through.

I got the three month tourist visa on arrival, and then I extended my visa for another month at the Immigration office in Pokhara.

What are the qualifications that your school requires for teachers? Please check all that apply

They didn't require any qualifications as they really need any volunteers willing to help them.

What is the best way to apply?

In-person

Tell us about your English teaching job!

SCHOOL: I was working for an English boarding school, which means that parents have to pay so their kids can go to school.

HOURS: I was teaching four modules per day (each module was 45 min.), six days a week (there's no weekend in Nepal, and the working week is from Sunday to Friday).

STUDENTS: I was teaching 3rd and 4th grade and each class had 6 to 8 students.

SALARY: As I was volunteering, I did not get any payment.

How did you find somewhere to live and what is it like? Do you have roommates?

When looking for a place where to volunteer the first thing I found was the homestay where I lived and they connected me with the school. In the homestay I was living with a local family and I had my own room. The living conditions were very basic, but it really helped me understanding how locals live. In the homestay I was paying for my room and all the meals.

On a scale of 1 - 10 please rate your experience with this school.

8
COUNTRY INFORMATION - FUN!
Please explain the cultural aspects, public transportation, nightlife, social activities, food, expat community, dating scene, travel opportunities, etc...

Talking about Nepal is one thing, and talking about the life in Ghatchhina is a completely different one, as life in a local village is always very different from the big cities. Here I'll focus on my life in the village, as this is where I had my teaching experience.

In Nepal the family is very important, and the elders live always with their son/daughter. The grandmother is normally the most important person in the family and everybody show a lot of respect to her.

Religion is part of their daily life, and there's always a puja (religious worship) happening at home or somewhere in town. There are a lot of religious ceremonies where the whole town participates, and it's a priceless experience to join them.

In my town we had only one bus per hour going to Pokhara (the closest city), and you could never miss it as it was always honking like crazy. It took always a full hour to get to Pokhara which was only 12 Km away, but the roads were in really bad shape, and it stopped wherever someone had to get in the bus. Still, the bus ride was a full experience, where you could easily find 80 people on the bus, including people hanging off the bus and people on the roof ... but they all had a smile in their faces, and we were all humming the Nepali song on the radio, or the old time movie on the old TV screen.

In the village life was over at 9:00 PM, as there was literally nothing to do, but I enjoyed the time with the other volunteers living in the guesthouse.

The food in Nepal is simple but very tasty. If you live with a local family you need to be ready to eat "dal bhat" (rice with lentil soup and some cooked vegetables) every day in the morning and in the evening. If you are craving food, you need to go to Pokhara during the weekend and delight yourself in some of the international restaurants where the expat community hangs out.

From my village you had a lot of different trekking trails, so trekking was the main activity after lesson planning and during the weekends. The views from the Himalayas are gorgeous, so the effort was really worth it.
COUNTRY INFORMATION - MONEY
What are your monthly expenses?

Room + Food: US$250 per month (when living in a homestay)

Social activities: US$70 per month (mostly dinners and drinks)

Transportation: US$10 per month as no transportation was needed in the village, and you just had to pay the bus to go to Pokhara or to other towns.

Phone/internet: I got a local SIM card for US$5, and then you just need around US$5-10 per month for internet navigation and calls.

Travel: Traveling is relatively cheap in Nepal. You can take a bus for less than US$10 and you need between US$15-20 per day to spend a day in the country (room + food).

How would you describe your standard of living?

It was very simple and basic, but I had all I needed to live. Still, you need to forget about hot showers, comfortable beds or washing machine, and electricity was only available some hours per day, which is the situation across the country.

In your opinion, how much does someone need to earn in order to live comfortably?

Since you won't be earning a salary, you need to bring the money with you. US$400-500 per month should be enough to live in a rural village while volunteering in Nepal. If working in a city you would need more money as costs are higher


ADVICE FOR PROSPECTIVE ENGLISH TEACHERS
What advice would you give someone planning or considering teaching abroad? Would you recommend teaching in your country?

When planning to teach abroad, it's important to first read and inform yourself about the country. Read about cultural aspects, teaching, living in the country, etc, since that helps a lot to reduce the cultural shock when arriving there. Don't expect to continue having the same lifestyle you have in your country when moving abroad ... be ready to adapt and adjust to the country you chose to teach, as this will help you learning a lot about the culture of this new country.

I would definitely recommend to volunteer in Nepal, it's an amazing country with beautiful people and landscapes. They will do all they can to make you feel at home, but you need to be open to everything, as you won't have the same living conditions you are used to; you won't have electricity 24/7; you won't have a hot shower or the food you are used to eating, and this will probably be the situation in the majority of the developing countries, specially if you choose to live out of the big cities.


Jimena is from Chile and took ITA's Online TEFL Course. She spent 15 years working in sales and market research before making a career change. She speaks 4 languages and is eager to help others learn English.
Want to Learn More About Teaching English Abroad & Online?
Request a free brochure or call 773-634-9900 to speak with an expert advisor about all aspects of TEFL certification and teaching English abroad or online, including the hiring process, salaries, visas, TEFL class options, job placement assistance and more.