Teaching English in Tetouan, Morocco: Alumni Q&A with Kathryn Stout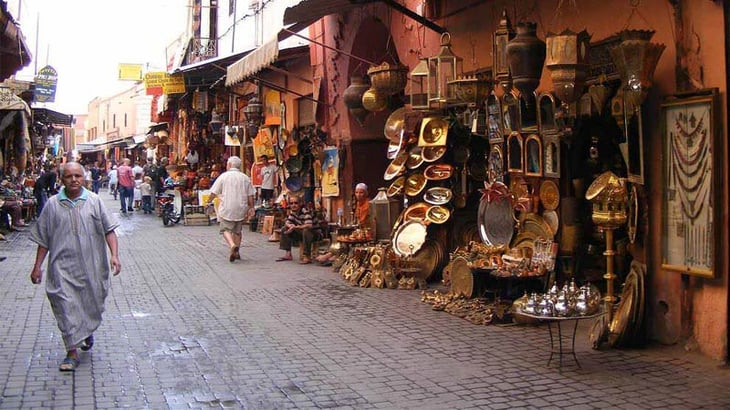 What is your citizenship?
United States
What city and state are you from?
St. Leonard, MD
How old are you?
23
What is your education level and background?
Bachelor's Degree
Have you traveled abroad in the past?
Namibia
If you have traveled abroad in the past, where have you been?
Taught English abroad previously
What sparked your interest in going to teach English abroad?
It was inevitable for me. My Foreign Service Officer grandfather bought me a National Geographic subscription, and after I opened the first page, I knew that I could never let my feet rest in just one place. The rest of my life has been finding ways to get around the world, and using teaching to connect with people in a deeply impactful way was my modus operandi of choice.
What were some of your concerns before teaching abroad?
Sanitation, safety
What did your friends and family think about you moving and teaching abroad?
Everyone was incredibly supportive.
Why did you decide to get TEFL certified and choose International TEFL Academy?
I started teaching a year before I graduated college, and after I finished my degree, I wanted to hit the road and see things while cooling off before graduate school. I began researching TEFL and CELTA programs, and found that the online ITA program coordinated perfectly with my then-teaching schedule at a community college nearby, and I joined the program.
Which TEFL certification course did you take?
Online TEFL Course
How did you like the course?
My instructor, Jan Kasik, was very communicative, knowledgeable, and responsive. He led a good course, and I felt like I actually received the personal attention of a physical classroom.
How has your TEFL training helped you in your current teaching position?
I currently occupy a TEFL course using Business English, which was a supplementary component of the ITA training, so there is a direct correlation to my work.
Which city and country did you decide to teach English in and why?
I chose to teach English in Morocco in the city of Tetouan. I liked the vibe from the school, which really supports teacher individualism rather than stringent pedagogy.
How long have you been in this country and how long do you plan to stay?
Nine months; not sure!
What school, company, or program are you working for?
Locus Englis
During which months does your school typically hire?
May-August
Did you secure this position in advance of arriving?
Yes
How did you interview for this position?
Skype/phone interview
What kind of Visa did you enter on?
Tourist visa
Please explain the visa process that you went through.
I contacted the school multiple times to apply for a visa, but because I joined the year halfway through, my anticipated period of stay was not, according to local Moroccan officials, valid for me to be eligible for a work visa. Evidently, I must be in the country longer than 9 months to qualify.
What are the qualifications that your school requires for teachers? Please check all that apply
- Bachelor's Degree
- TEFL Certificate
- Native English speaker
What is the best way to apply?
- Apply online
- Email
- In-Person
Tell us about your English teaching job!
HOURS: 21.5 hours/wee
SALARY: $450/mont
SAVINGS: If you have any financial obligations, you are not able to save at all. If you have no requirements and travel minimally, you can save 10-30% of your paycheck
SCHOOL: Independent private school
STUDENTS: Children to business professional
VACATION: 3 weeks non-paid vacation
OTHER: The local administration is fantastic to work with, but our boss was out of the country, so it made communication difficult to achieve consistency in plan changes and implementation. That should change this year, though.
How did you find somewhere to live and what is it like? Do you have roommates?
Housing provided with two other roommates. It is not a cultural norm for men and women to live together, but we were housed as two women with one man. Just be wary of community response.
On a scale of 1 - 10 please rate your experience with this school.
8
Please explain the cultural aspects, public transportation, nightlife, social activities, food, expat community, dating scene, travel opportunities, etc...
Rich, complex, confusing culture that deeply divides the old and the young, traditional and progressive. Islam is strong, and at times, militant with the desire to convert (it comes up a lot at the beginning of conversations).
Taxis are cheap and sometimes fast. Ride at your own risk--seatbelts are usually disabled or frowned upon if used. Door handles on the side facing the inside of the street are almost always intentionally broken off so you can't use them.
Nightlife...it's possible, usually in cafes or restaurants. Clubs are nonexistent, as they provoke public sentiment of foreigners visiting for hedonism.
Often, there are many different styles of the same kind of thing, but it is always worth it to visit someone's home if they offer to cook for you. You taste amazing stuff that way.
Dating is largely discouraged in Muslim Moroccan culture, but most youth date. Gay/lesbian relationships are not okay. There have been instances of violence. Sexual relationships are acceptable for men if they are very discreet, but women who engage in anything seen as non-traditional are usually mistaken for instigators of indelicacy.
Travel is easy and cheap. Easy flights to Europe and around Morocco, but hard for the rest of Africa and to the US. So many incredible places to visit, and it is all rather affordable.
What are your monthly expenses?
RENT/UTILITIES: None (provided by employer)
FOOD: Maybe $100 USD if you eat out a lot.
SOCIAL ACTIVITIES: Not so many, but cafes/restaurants might run you $100 USD if you eat out every day
OTHER: Teachers spend a lot of time together. It's easy to make friends in the community, as people love to talk with you. Students at the school are generous and engaged in getting to know teachers outside of class.
How would you describe your standard of living?
Lower end of average, but far above most people here.
In your opinion, how much does someone need to earn in order to live comfortably?
$300 USD
What advice would you give someone planning or considering teaching abroad? Would you recommend teaching in your country?
Take the time to create a back up plan for one year, three years, and five years into the future. Have cash stored up. Check ahead of time about visas and requirements. Make sure you have everything in the contract in writing before you go.


At a young age, Kathryn's Foreign Service Officer grandfather bought her a National Geographic subscription, and after she opened the first page, she knew that she could never let her feet rest in just one place. The rest of Kathryn's life has been finding ways to get around the world, and using teaching to connect with people in a deeply impactful way was her modus operandi of choice. This led her to teach English in Tetouan, Morocco to students ranging from children to business professionals.
Want to Learn More About Teaching English Abroad & Online?
Request a free brochure or call 773-634-9900 to speak with an expert advisor about all aspects of TEFL certification and teaching English abroad or online, including the hiring process, salaries, visas, TEFL class options, job placement assistance and more.