Teaching English in Rabat, Morocco: Alumni Q&A with Avery Little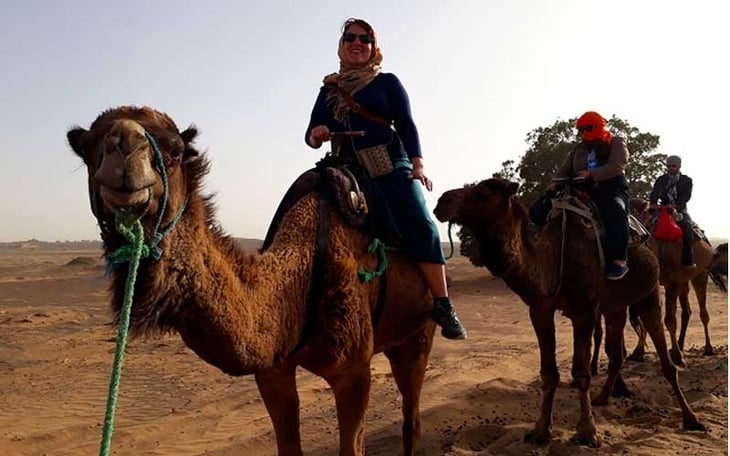 What is your citizenship?
United States
What city and state are you from?
Denver, CO
How old are you?
27
What is your education level and background?
Bachelor's degree
If you have traveled abroad in the past, where have you been?
Europe, Mexico, and Morocco.
What sparked your interest in going to teach English abroad?
I'm an English teacher by training - as in high school language arts, not necessarily English as a Foreign Language. I love teaching, but it's a high stress job, and I wanted to travel while I'm young. I also wanted to learn a language in an immersive environment, so the decision was easy.
What were some of your concerns before teaching abroad?
I was concerned about finding a job, an apartment, and dealing with the bureaucracy through a language barrier. I was also worried about my wardrobe, of all things.
What did your friends and family think about you moving and teaching abroad?
My friends were mostly excited and a bit jealous. My mother and father told me to be careful--especially my mother, who was concerned about my decision to move to an Islamic country in Africa. I promised to be careful, of course, and forged ahead!

Why did you decide to get TEFL certified and choose International TEFL Academy?
Since I already have a state certified licensure, which took 2.5 years on top of my bachelor's, I just needed a certification for this specific field. The online option was convenient and comparatively affordable for me, which was a selling point.

Which TEFL certification course did you take?
Online TEFL Course
How did you like the course?
I liked the flexibility. The course covered, in 11 weeks, a superficial version of what I had studied for two years in my education degree, but with some more specific strategies for EFL than I'd learned before. The instructor did have good experience based feedback on my tasks, which was helpful. I wasn't as keen on the obviously recycled material, but overall it was quite valuable.
How has your TEFL training helped you in your current teaching position?
I wouldn't have gotten this job without it! I do use some of the strategies I learned, especially from my practicum.

Which city and country did you decide to teach English in and why?
I decided to teach English in Morocco in the city of Rabat. I had briefly studied in Morocco, on a whirlwind tour with lectures in every major city, and Rabat felt the most livable. (I have discovered that my intuition was correct on this one--fewer tourists than Marrakech, less traffic than Casablanca, more of an international population than El Jadida, less harassment than Tangier).
How long have you been in this country and how long do you plan to stay?
I've been here for 10 months, and I've signed another contact for at least one more year. My quality of living is incomparable to how I lived in the United States, and the fruits and vegetables are super tasty.
What school, company, or program are you working for?
Amideast Rabat
During which months does your school typically hire?
Summer (June and July).
Did you secure this position in advance of arriving?
Yes.
How did you interview for this position?
Skype/Phone Interview.
What kind of visa did you enter on?
Tourist Visa
Please explain the visa process that you went through.
It took six months for ten Moroccan weeks to pass, but with the help of an administrative assistant at my school. It wasn't that bad, and it cost $15 USD. For my initial visa, I needed an apartment contract, a job contract, and a police background check. My school has an administrative assistant to help with everything - it would have been a nightmare without Othmane. Major thanks to that wonderful man.
What are the qualifications that your school requires for teachers? Please check all that apply
- Bachelor's degree
- TEFL Certification
- Native English speaker
What is the best way to apply?
Apply online.
Tell us about your English teaching job!
Hours: I teach 25 hours per week, and planning/heading takes another 10-15. We teach six days a week, mostly in the evenings, and most of us teach 6-9 hours on Saturdays, which is exhausting.
Students: We have age and level segregated classes (so I might teach 10 students, 9-12 years old, intermediate level, or Advanced Adults, not mixed!).
Salary: We are paid about $15 USD per teaching hour, which leaves us very comfortable. I have a very nice studio apartment for $500/month, and live on about $400 outside of that.
Culture: There are, of course, significant inconveniences. As a woman, I get a lot of harassment, and the store my coworkers call "the medina bed bath & beyond" covers maybe 1200 sq feet (it's one of the biggest, outside the supermarche). Some vendors are dishonest, and--frankly--life got much much easier when I began dating a Moroccan man, who helps me with a lot of things.
How did you find somewhere to live and what is it like? Do you have roommates?
My school has an administrative assistant to help with everything! I rented a studio, taking over a lease from another co-worker who was moving. I love my neighborhood, and even if the rent is exorbitant, the view is worth it.
Please explain the cultural aspects, public transportation, nightlife, social activities, food, expat community, dating scene, travel opportunities, etc...
Morocco is an Islamic country, but they'll accept a lot of things that encourage tourism and business with the West. Alcohol is available, but very expensive. There isn't much of a dining scene (a lot of pizza), but if you learn to cook Moroccan food, it can be amazing. Extramarital sex is illegal, especially for a non-Moroccan man with a Moroccan woman (a foreign woman with a Moroccan man gets a little less side eye), but most people pretend not to notice.
Transportation in the city is easy (taxis and tram), but you have to be brave to take on intercity buses. My school's schedule doesn't allow many travel opportunities, but I take a train to the "nice" beach at least twice a month.
My city in particular has a very tame nightlife. Just ask Wiz Khalifa.
What are your monthly expenses?
Life is cheap here. I spend 4800 dirham ($480 USD) on rent, and 120dh on utilities. My phone costs about 70dh (including 5GB of data), a tram pass is 250dh/month, and I also spend maybe 250-300dh on taxis. A simple meal is 15-40dh, but a draft beer in a restaurant is 50-60dh, and a bottle of decent wine in a liquor store is 70dh (which is very expensive).
How would you describe your standard of living?
I live very comfortably, especially compared to the locals. Life is easy, once you get used to certain constraints.
In your opinion, how much does someone need to earn in order to live comfortably?
The local average wage is 3000dh/month. To live very comfortably, 8000dh would easily cover a nice apartment in a good part of town, food (including a lot of restaurant eating), and all else. However, if you plan on drinking much, I would add another 1500-2000dh.

What advice would you give someone planning or considering teaching abroad? Would you recommend teaching in your country?
I would recommend teaching here if you're adaptable. You are going to have to deal with a lot of inconveniences, and being a single woman is not easy. However, if you're up to it, Morocco is beautiful. The people are generally genuinely nice and very helpful (which doesn't mean they won't take advantage of you in the market).


Avery is a high school language arts teacher by training. She loves to teach but acknowledges that it's a high-stress job. She wanted to travel the world while still young while learning a new language in an immersive environment, so getting TEFL certified was an easy decision for her. Having briefly studied in Morocco, Avery decided she wanted to go back to teach English there, and landed a job in Rabat teaching students ranging from children to adults.
Want to Learn More About Teaching English Abroad & Online?
Request a free brochure or call 773-634-9900 to speak with an expert advisor about all aspects of TEFL certification and teaching English abroad or online, including the hiring process, salaries, visas, TEFL class options, job placement assistance and more.