Teaching English in Puebla, Mexico: Alumni Q&A with Patrick Sullivan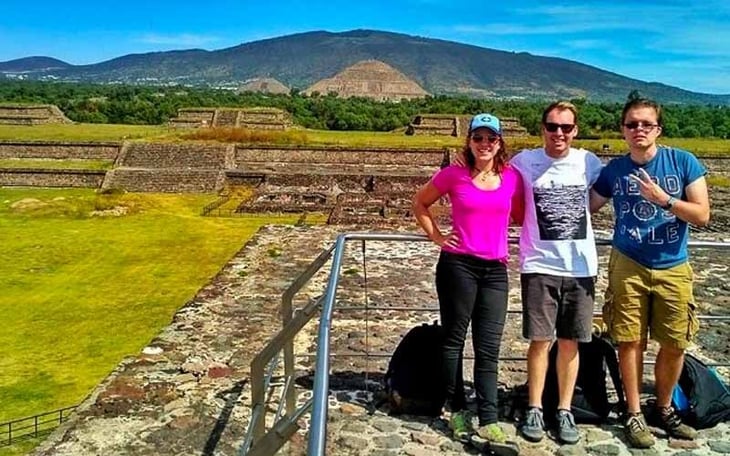 What is your citizenship?
United States
What city and state are you from?
Elmhurst, IL
How old are you?
31
What is your education level and background?
Bachelor's degree

Have you traveled abroad in the past?
I had never left the USA before teaching English abroad.

What sparked your interest in going to teach English abroad?
Living in Chicago for all of my life, I felt that it was time to break out of my bubble. I had challenged myself in different ways throughout high school and college, but never had I stepped foot outside of the US. It had developed a love for Mexican culture throughout my life, but I never quite had the courage to go.
One day while searching online, I came across the International TEFL Academy, and my imagination went wild with the thoughts of being able to travel while being able to sustain myself financially. I researched an area in Mexico where I had always wanted to travel, Puebla, and decided to make the big decision to enroll myself in the certification class and live my dream.
What were some of your concerns before teaching abroad?
Leaving home, I had a lot of concerns going abroad for the first time in my life. Concerns included eating different foods daily, following different laws, appropriating myself to a new culture, and especially not being with family or friends. Although these were big obstacles, they were all able to be overcome. After a year of teaching in Puebla, I found myself not wanting to return to the United States.
What did your friends and family think about you moving and teaching abroad?
When I first told family and friends about my decision to move and teach abroad, they were very concerned for my well being. Everyone was apprehensive of leaving the safe "bubble" of the United States, but none of them ever had the experience of living in another country. The day I left for Mexico was definitely a sad moment, leaving behind family and friends, but with resources like Facebook, FaceTime, etc., it would make it so much easier to stay in touch and reassure everyone that I was alright.
Why did you decide to get TEFL certified and choose International TEFL Academy?
I saw an ad online for International TEFL Academy, and it actually sparked my interest in studying abroad. Factors like price, location, and length of the course were very important in choosing International TEFL Academy, but the biggest reason for choosing the academy was because of the high remarks and reviews from past students who had attended the school.

Which TEFL certification course did you take?
USA - Chicago
How did you like the course?
The course was excellent. I had never had any type of teaching experience before, but the International TEFL Academy prepared me for literally any situation that was to come teaching abroad. Instructors were honest and direct with answering doubts or clearing confusion. The curriculum was very relevant to what I would one day have to undertake while teaching. And the practice lessons with real students were a great introduction into teaching and being comfortable teaching.
How has your TEFL training helped you in your current teaching position?
The TEFL training prepared me by giving me the framework to teach abroad. Obviously, every school will have different curriculum, but having the TEFL training gave me the background knowledge and experience to be confident in the position that I am in.

Which city and country did you decide to teach English in and why?
I decided to teach English in Mexico in the city of Puebla. I had always wanted to live in Mexico to learn the language, experience the every day culture, and meet new people. I had met some friends from Puebla while studying in college, and they had all encouraged me to come visit. However, I had never found a good reason to visit until I found the International TEFL Academy.
How long have you been in this country and how long do you plan to stay?
I taught in Puebla for three years. I moved back to Chicago this past year to give myself a chance to spend time with family. But my future plans are to return to Puebla and teach.
What school, company, or program are you working for?
Colegio Americano de Puebla
During which months does your school typically hire?
December-April.
Did you secure this position in advance of arriving?
Yes.
How did you interview for this position?
Skype/phone interview
What kind of Visa did you enter on?
Work visa.
Please explain the visa process that you went through.
The school is very prestigious and follows the Mexican laws very closely on securing a visa. The school accompanies teachers to the facilities where work visas are processed.
What are the qualifications that your school requires for teachers? Please check all that apply
- Bachelor's degree
- TEFL Certification
- Native English speaker
What is the best way to apply?
Email.
Tell us about your English teaching job!
Hours: I worked in the primary school for three years. In those three years, I had worked from 8 am- 2 pm with the option of after school tutoring for extra money.
Salary: The school paid 15,000 pesos per month plus 4,000 pesos for living expenses.
Savings: I was typically able to save about 2,000-3,000 pesos per month. The school also gives an "aguinaldo" in December which gives one month pay as a type of Christmas bonus. Also, there is a "fondo de ahorro" in which the teacher has 500 pesos taken out of each paycheck and put into a savings account that the school matches, and then is given at the end of every school year.
School: Colegio Americano de Puebla has a preschool, grade school, middle school, and high school for which they look for teachers in each.
Vacation: Typical Mexican government holidays were given off as well as two weeks during Christmas/New Years, two weeks during Easter, and about a one month summer vacation.
Other: The school also offers health insurance, which covers very well. (I had two trips to the hospital and didn't have to pay anything).
How did you find somewhere to live and what is it like? Do you have roommates?
The school has an administrator who is always attentive to international teachers' needs. He will get into contact with teachers a few months before arriving and figure out housing arrangements. Using the 4,000 peso stipend, you can either choose to live alone or with roommates. The town is very safe, and there is a lot to do. It is in central Mexico, and there are plenty of options for travelin
Please explain the cultural aspects, public transportation, nightlife, social activities, food, expat community, dating scene, travel opportunities, etc...
Culture: Mexico is very similar to the United States. One of the biggest differences, though, is that punctuality is not as important as it is in the USA.
Public transportation is widely used. There are buses that are very economically sound to get around the city. There are also buses that can take you to other parts of the country that are reasonably priced.
Social Activities: Puebla is a big city and is entertaining for any type of person. There is a college town nearby (Cholula), which is good for partying. The centro of Puebla is beautiful and filled with architecture and history. There are pyramids nearby. And plenty of quaint places to discover.
Food: If you enjoy Mexican food, Puebla is filled with all types of delicacies. For those who miss food from home, many American chains have made their way down there, including places like Applebees, Papa Johns, McDonalds, etc.
Expat community: Many of the teachers at the school are foreigners also. While I was there, my closest friends were the international teachers. Sometimes it is hard to create great friendships with the people of Puebla, although they are very kind. The other international teachers helped to create a family atmosphere.
Dating is a possibility in Puebla. To be fair warned, Mexican families are very traditional and sons and daughters often live with parents until marriage. To date a Mexican is also to date their whole family.
What are your monthly expenses?
The school offered a stipend of 4,000 pesos per month. Living with a roommate usually helped this money stretch into paying for rent plus utilities. Food is very cheap, but can have high costs if eating at nicer restaurants. There is a supermarket near the school. Traveling can be expensive going to beaches. Staying in the city and taking day trips is relatively cheap. Buses are a very cheap way to go distances, and Uber is available. Buying a phone with a plan costs about 400 pesos a month. Whatsapp is widely used in Mexico, and most plans give free use of Whatsapp.
How would you describe your standard of living?
Higher middle class. You could afford to travel on the weekends and live in a nice apartment or house. Nothing luxurious, but enjoyable.
In your opinion, how much does someone need to earn in order to live comfortably?
The amount that the school pays allows teachers to live comfortably.

What advice would you give someone planning or considering teaching abroad? Would you recommend teaching in your country?
I would recommend to do your homework and understand as best you can what you are getting in to. Ask questions of the school so they clear up any questions and concerns. I would highly recommend teaching at Colegio Americano.


Patrick had lived in Chicago his whole life and felt that it was time to break out of his bubble. He had developed a love of Mexican culture despite never having stepped foot outside of the USA. One day, while searching online, he came across International TEFL Academy and discovered that getting TEFL certified would allow him to travel while being able to sustain himself financially. Patrick took the plunge and secured himself a job teaching English at a prestigious school in Puebla, Mexico.
Want to Learn More About Teaching English Abroad & Online?
Request a free brochure or call 773-634-9900 to speak with an expert advisor about all aspects of TEFL certification and teaching English abroad or online, including the hiring process, salaries, visas, TEFL class options, job placement assistance and more.
"I was also blown away by positive reviews from alumni. And the job assistance has proven invaluable. I love that ITA offers so many resources, manuals, and webinars that make the job search process a lot less scary."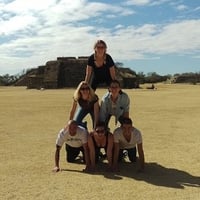 - Caroline Cassard
Teaches English in Mexico