teach english online
Teaching English Online from Guadalajara, Mexico: Q&A with Rose London-Hinman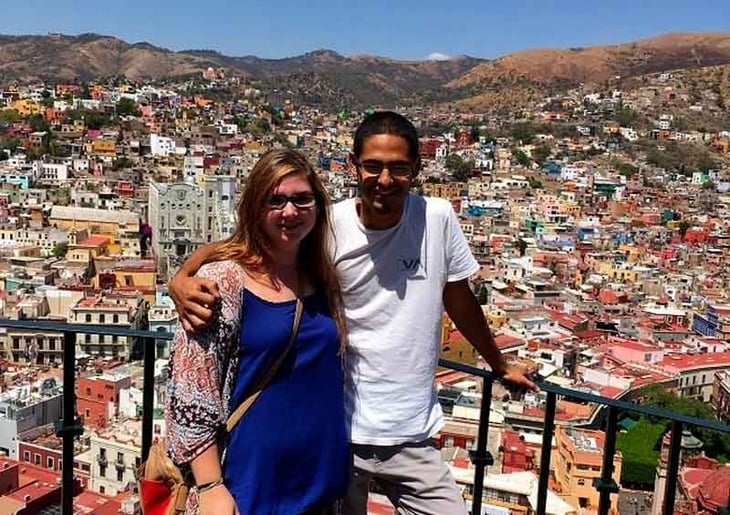 What is your citizenship?
United States
What city and state are you from?
Burlington, Vermont
How old are you?
25
Do you teach English online from within the USA or abroad? If abroad, where are you located? I teach English online from Guadalajara, Mexico.
What is your education level and background?
I have a Bachelor degree from the University of Vermont in Environmental Studies

Have you traveled abroad in the past? If so, where have you been?
I have traveled abroad a lot in the past few years. I've done a few backpacking trips through Europe and work exchanges in Spain, Ireland, and England. I also backpacked in Mexico before deciding to move here and teach English.

If you have studied abroad in the past, where did you study?
I studied abroad in Oaxaca, Mexico, while I was in university.
What sparked your interest in going to teach English abroad?
After backpacking and traveling on and off for a few years, I wanted to settle more permanently in another country. I didn't want to loose my freedom to travel when I wanted, but I also wanted to live in another culture at the same time. Teaching English online seemed like the perfect opportunity to balance those desires. I am able to live in Mexico and travel to other cities or nearby countries, fulfilling my travel dreams while making a life for myself in a foreign city.
What were some of your concerns before teaching abroad?
My biggest concern was the one-to-one interaction. I had some experience teaching English in a classroom and really valued the students learning from each other. I didn't know how well I would be able to keep one student engaged with me for the length of their lesson. After a few weeks of trying different activities, I got the hang of it and figured out what works best for me to teach online.
What did your friends and family think about you moving and teaching abroad?
I was the first of any friends to move abroad and teach, but they were excited for me and since more have gone to do the same thing. My family was mostly supportive. They knew of people who have also taught English abroad but didn't know the details of the experience.

Why did you decide to get TEFL certified and choose International TEFL Academy?
I decided to get a TEFL certification because it was the most common requirement for teaching in the region I thought about going to. I chose ITA because of the incredible support the advisors provide. From the first email when I wasn't even sure where or when I wanted to get TEFL certified, I got clear information and follow up calls and emails to help guide me to a decision.
Which TEFL certification course did you take?
I took the course in Guadalajara, Mexico.
How did you like the course?
I liked the course a lot. At first it was overwhelming, but none of the work was too challenging, and overall I learned a lot and had fun. The practicum in our partner school was great for making me feel comfortable in a classroom and preparing me to teach any lesson.
How has your TEFL training helped you in your current teaching position?
My TEFL training helped me to get creative with activities and lessons. The training also taught me how to adjust my teaching to fit the needs of each particular student and their English level.

Which city and country did you decide to teach English in and why?
I chose to teach English online from Mexico because it is not too far from the United States, and the cost of living is very low comparatively. If I need to go to my home state for any reason, it isn't too difficult and because it is close, there is no excuse for my family and friends not to visit! I am also learning Spanish and the Mexican accent is fairly neutral.
Why do you teach English online?
I teach English online because I have the flexibility to decide my schedule, teach from anywhere with reliable Wifi, and continue my travels.
How did you learn about teaching English online?
I discovered opportunities for teaching English online while I was in my TEFL course.
Which company do you teach English online with?
I teach with Cambly.
Please outline any specific requirements to teach English online with this company (i.e.: Bachelor degree required, teaching experience required, minimum Internet upload/ download speed, etc).
The main requirement for Cambly is that you are a native English speaker or speak at a native level. That being said, most tutors on the platform have their bachelor's degree and a teaching certificate like a TEFL certification. While they aren't required, they are preferred. It is also required to have a good, reliable internet connection and teach from laptop/computer.
Briefly explain the application and interview process.
All tutors fill out an online application and submit a video. Cambly seems to hire tutors in waves, so sometimes it takes a few days to hear back and sometimes a few weeks. After you are accepted, you can immediately fill out your tutor profile and start teaching!
Is there a minimum number of hours you have to work per week/month, or is scheduling completely flexible and up to you?
Cambly is great because the scheduling is completely flexible! I can take as many students as I want, or if I am traveling I can clear my availability and let my regular students know when I will be back.
Is this your full time job, or a side hustle?
Currently this is the only way I am supporting myself.
How many hours per week do you teach English online?
I average 20-25 hours a week.
How much do you earn?
Cambly pays according to the time that you are on a call ($0.17/minute or $10.20/hour). With the amount I work, I am able to live very comfortably and save some.
What do you love about teaching English online with this company?
I love the flexibility. Because Cambly has students from all over the world, the platform functions 24 hours/day. No matter where I am in the world, I can work without worrying about time zones. I also love that the platform is worldwide because I am able to meet a variety of students and learn about their cultures.
How long have you been in this country and how long do you plan to stay?
I have been in Mexico since January 2018 and plan to stay at least another year.

During which months does your school typically hire?
All year.
Did you secure this position in advance of arriving?
No.
What kind of Visa did you enter on?
Tourist visa
Please explain the visa process that you went through.
I am in Mexico on a tourist visa that lasts 180 days. After the visa has finished, I just need to cross the border and enter again with another tourist visa.
What are the qualifications that your school requires for teachers? Please check all that apply
Bachelor's and TEFL certification not required but preferred.
What is the best way to apply?
Apply online.
How did you find somewhere to live and what is it like? Do you have roommates?
I used this website to find a room in Guadalajara. I live with my boyfriend, and our room has a bathroom and kitchen (think small studio). We are located downtown but in a residential area.
Please explain the cultural aspects, public transportation, nightlife, social activities, food, expat community, dating scene, travel opportunities, etc...
Public transportation in Guadalajara can be a nightmare. The most common method is the bus system. It goes throughout the entire city, but their routes and schedules are difficult to learn. Once you know the bus to take and where to find it, the system works and is very affordable. There are two metro lines (a third is being built now) that are reliable and clean, but they reach a small part of the city. Recently I have been using the great public bike system here. It is affordable and there seem to be hundreds of stations to dock and pick up bikes. Uber and taxis are popular and affordable as well.
Nightlife is great. One popular area is called Chapultepec and it is lined with restaurants, bars, clubs. The other option is downtown for more authentic food and bars.
Social activities: There is a lot to do in Guadalajara, and it isn't difficult to find an event to go to.
Food: The food is amazing and inexpensive! Mexican food throughout the country is great but Jalisco has something special that I never knew existed.
Expat community: I am just now starting to get into the expat community, and my impression is good. There are a lot of Europeans studying and working in Guadalajara, and recently I am noticing more people here from the United States.
Dating scene: Dating here is similar to where I am from in the United States. Everyone I have met is very friendly and the younger generation seems open-minded.
Travel opportunities: Guadalajara is a great base for seeing other parts of Mexico. The beach is about a 4 hour drive, and there are comfortable buses that go there for an affordable price. Other smaller cities such as Guanajuato, Querétaro, and San Miguel de Allende are about a 4-5 hour drive as well.
What are your monthly expenses?
Rent: 3700 MXN ($194 USD)
Food: 4000 MXN ($210 USD)
Phone: 200 MXN ($11 USD)
Internet: 450 MXN ($24 USD)
Social Activities: 1500 MXN ($78 USD)
Travel: Depend where/how long
How would you describe your standard of living?
I am able to live on less. I can afford to go out more often for food/drinks. I live a modest lifestyle, but I feel less worried about money here.
In your opinion, how much does someone need to earn in order to live comfortably?
I think to live comfortably, about 10,000-12,000 MXN ($525 - $630 USD) per month is enough
Does earning $USD from teaching English online (in oppose to earning in the local currency) mean you can afford to live a little more extravagantly in the country you are located?
Yes, earning USD is a great benefit to teaching English online in Mexico. I work about half as much as a full time English teacher in a language school and make the same, if not more.
If you are a digital nomad that solely teaches English online while traveling - does teaching English online sufficiently support this type of lifestyle?
I don't consider myself a digital nomad. Currently I have my home base in Mexico where I am living and working most of the time, and I can take shorter trips from here.

What advice would you give someone planning or considering teaching English online? Would you recommend teaching English online from the country you are located?
If teaching English online is going to be your only source of income, and you don't have a safety net for the first few months, I would recommend starting from home while you are working another job. It can take time to build a full schedule and make the amount you want.
Finish this sentence: You should teach English online if you… (i.e.: This is a really awesome option for teachers private tutoring in Spain who don't want to be commuting all over town… etc).
…want to work from the comfort of your home…with pajama pants on! No, really you should teach English online if you need a flexible working schedule and value teaching one-to-one classes.
After backpacking and traveling on and off for a few years, Rose wanted to settle more permanently in another country. She didn't want to lose her freedom to travel when she wanted but she also wanted to live in another culture at the same time. Teaching English online seemed like the perfect opportunity to balance those desires. Rose is now able to live in Mexico and travel to other cities or nearby countries, fulfilling her travel dreams, while making a life for herself in a foreign city and supporting herself by teaching online.
Want to Learn More About Teaching English Abroad & Online?
Request a free brochure or call 773-634-9900 to speak with an expert advisor about all aspects of TEFL certification and teaching English abroad or online, including the hiring process, salaries, visas, TEFL class options, job placement assistance and more.
"I was also blown away by positive reviews from alumni. And the job assistance has proven invaluable. I love that ITA offers so many resources, manuals, and webinars that make the job search process a lot less scary."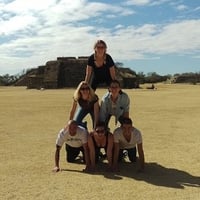 - Caroline Cassard
Teaches English in Mexico