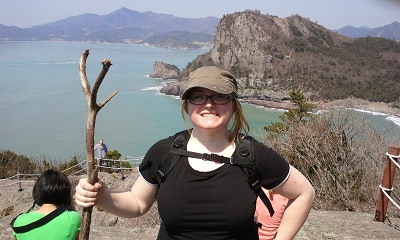 South Korea Engish teaching Q and A with Christie Halstead
TELL US ABOUT YOURSELF!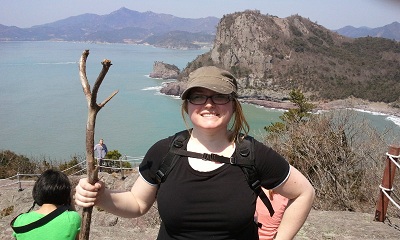 What is your citizenship?
United States
What city and state are you from?
Stanley, NC
How old are you?
29
What is your education level and background?
Bachelor's Degree
Have you traveled abroad in the past?
I previously studied abroad in Germany
If you have traveled abroad in the past, where have you been?
Costa Rica and Germany
What sparked your interest in going to teach English abroad?
When I went to Germany on a school trip, I took a dictionary with me and stared to pick up the language rather quickly (especially for just one week). A couple on the trip suggested I "do something with languages," so I looked into teaching overseas when I got back home. Some of the teachers I worked with had been suggesting I go overseas for a few years anyway.
TEFL CLASS INFORMATION
Why did you decide to get TEFL certified and choose International TEFL Academy?
It looked like a good choice and it had a discounted price. I already have my teaching certification, but I know you can make more money with a TEFL certification, and I could use it to teach in the the US in the future as well.
Which TEFL certification course did you take?
How did you like the course?
I liked the information in the TEFL course and I have heard the things I've learned being referred to at my school, which is pretty cool. My teacher was very patient, kind, and knowledgeable.
How has your TEFL training helped you in your current teaching position?
My TEFL training helped me to understand learners at all levels, especially business and kindergarten. I've heard some of the terms referred to and helped my coworkers understand them and come up with ideas for their classes.
TEACHING ABROAD IN SOUTH KOREA
Which country did you decide to teach English in and why?

South Korea, friends there, and it pays the best.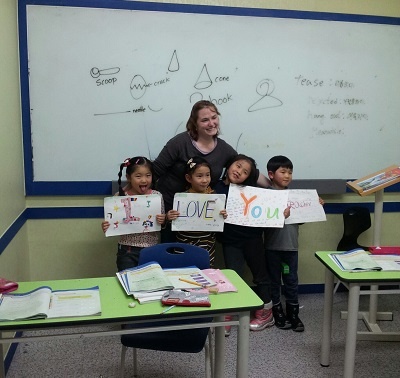 How long have you been in this country and how long do you plan to stay?
1 year and I just signed for another year. My time is indefinite.
How did you secure your English teaching job?
How did you get your work visa? If you didn't get a work visa, please elaborate on working under the table without a work visa.
Wow. I had to get fingerprinted so I could get a background check. I waited two months on that. Then I had to send it to DC with my Bachelor's Degree to get apostilled. That took about a week. Then I had to send all my documents with a medical form and passport pictures to Korea. Then I got a visa issuance number, more pictures, and sent them and my passport to the Korean consulate in Atlanta. I overnighted it there and they lost it for a few days. It literally came back two days before my flight, and that's just because they changed the day.
Tell us about your English teaching job!
I work about 8 hours power day (2-10 pm, M-F) with a dinner break and five minute breaks between classes, which add up to nothing because I have to change rooms. I have a light schedule of classes on Tuesdays and Thursdays.
I get paid above average (2.3 million krw) because I am a certified teacher and I have a TEFL certificate. I can't save money because I live in a rural area and I spend all my money on transportation. The last bus comes 30 minutes before I get off work, so I always have to take a taxi home. I also don't live close to the subway or any decent grocery stores. Next year, i'll be living in a better location and making more money, so I anticipate being able to save more.
I taught ages 4-16 in addition to a few adults and a business class.
We got ten days vacation (4 were prearranged) and all national holidays. I wound up using my last two for bereavement, but they were reluctant to let me leave. I didn't always get paid on time, but I did eventually get paid.
How did you find somewhere to live and what is it like? Do you have roommates?
My school provided my housing. It is the cheapest apartment in the area and it's horrible. They turned off our gas three times in the dead of winter. It's the main reason I'm changing to a different school.
However, floor heat is an amazing thing!
COUNTRY INFORMATION - FUN!
Please explain the cultural aspects, public transportation, nightlife, social activities, food, expat community, dating scene, travel opportunities, etc. about your country:
Culture: Eastern culture is group centered, whereas Western culture is all about the individual. Korea has its roots in Buddhism and shamanism, so people are very different. Also, they are one of the biggest drinking counties in the world. People don't often say excuse me; they just shove you out of the way. It's not ladies first; it's old men first.
Transportation: There are taxis and buses everywhere, though they are harder to find in rural areas. The subway runs through most of the country, except again in some rural areas. Transportation is cheap, though cab drivers often try to trick foreigners. Busesstop around 10:30 and the subway shuts down at 12:30.
Nightlife: Young people go to bars, clubs, and coffee shops. Coffee shops stay open until 1 or 2, and are where people often go on dates. They also have DVD rooms and noraebangs (singing rooms) that are open late. I've never been to a dvd room, but the noraebangs are a lot of fun to go to with your friends, and usually involve drinking.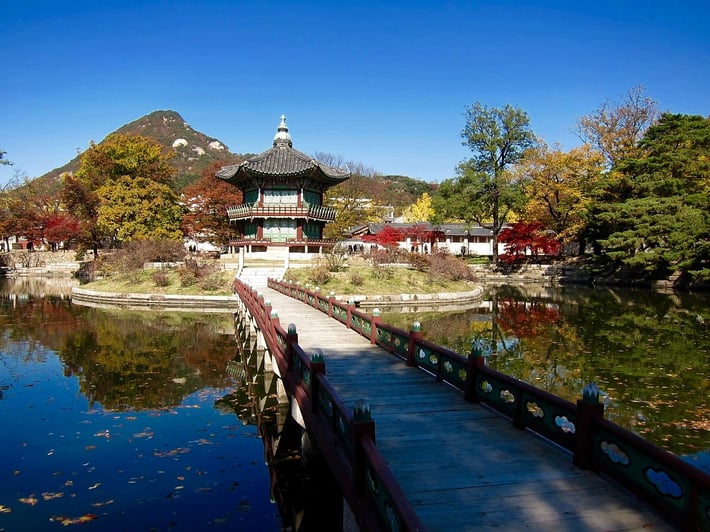 Social activities: Lots of social activates are available on meetup.com and facebook. I'm a very actice member
of Seoul Hiking Group and go places almost every weekend with them, on my own, or with friends. I'm also in a women's boxing club. We do a lot of social activities that are alternatives to the bar scene. I've met my most genuine friends from these two groups. You can also join swimming or yoga, etc, but they will be in Korean.
Food: The food is spicy. There are foods that aren't spicy, but the majority is spicy. Expect meat, kimchi, and rice and lots of free sides with most meals. You have to try bulgogi, samgyeopsal, bibimbap, kimbap, mandu, and japchae.
Expat community: Expats are all over facebook. Lots of groups to be a part of as well as foreign bars and some small English churches.
Dating: Don't expect to date another foreigner. It happens, but it doesn't seem to happen often. You may date a Korean, but the culture is very different and they are all about keeping the blood pure. I'd suggest reading up on it on people's blogs.
Travel: I already mentioned travel. Travel as much as you can. There is so much worth seeing, and you'll make great friends.
Korean English is not that good. They really aren't exposed to many foreigners, so don't look for perfection and expect less than average from most people who do speak English. Those who speak the best have traveled abroad.
COUNTRY INFORMATION - MONEY
What are your monthly expenses?
Rent is free. Utilities vary by month, but I paid over 200 in winter and only about 60 in summer.
Food is cheap. You can pay just a couple dollars and get a full meal. Beef is expensive. Veggies and fruits are too. Expect $4 for an apple as it is imported (buy local food and live cheap).
Social activities are very reasonable. Just pay for your good and transportation. The hiking groups keep costs down too. I spend a lit because I go somewhere every weekend.
Transportation is cheap unless you take the fast train or first class, or you live in a rural area. But it does add up. I spend hundreds.
Smart phones cost hundreds and hundreds if dollars. Very few text messages, so install kakaotalk to chat with your friends for free. Plans are kind of high, depending on what you want. Internet is super fast and cheap.
How would you describe your standard of living?
Middle class/similar to student because I don't have a car.
In your opinion, how much does someone need to earn in order to live comfortably?
1.8 Million Won (about $ 1,500 USD) is enough if you live in the city and don't want to save.
ADVICE FOR PROSPECTIVE ENGLISH TEACHERS IN SOUTH KOREA
What advice would you give someone planning or considering teaching abroad? Would you recommend teaching in your country?
Observe kids as much as possible. Spend time in a classroom. ALWAYS ask for advice. Don't be afraid to try.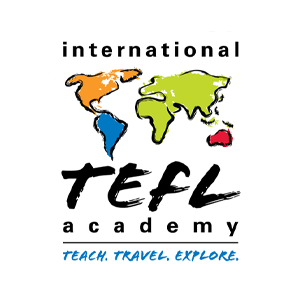 Founded in 2010, International TEFL Academy is a world leader in TEFL certification for teaching English abroad & teaching English online. ITA offers accredited TEFL certification classes online & in 25 locations worldwide and has received multiple awards & widespread recognition as one of the best TEFL schools in the world. ITA provides all students and graduates with lifetime job search guidance. ITA has certified more than 25,000 English teachers and our graduates are currently teaching in 80 countries worldwide.
Want to Learn More About Teaching English Abroad?
Request a free brochure or call 773-634-9900 to speak with an expert advisor about all aspects of TEFL certification and teaching English abroad or online, including the hiring process, salaries, visas, TEFL class options, job placement assistance and more.