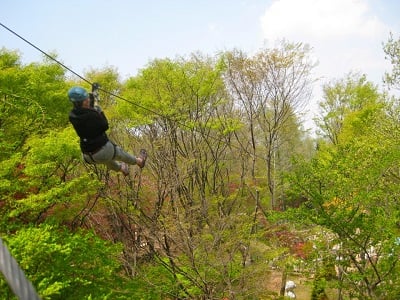 Daejeon, South Korea English Teaching Q and A with Jessica Montgomery
TELL US ABOUT YOURSELF
What is your citizenship?

United States

What city and state are you from?

Michigan

How old are you?

26

What is your education level and background?

Bachelor's Degree
Have you traveled abroad in the past?
Some international travel with friends, family, business, etc.

If you have traveled abroad in the past, where have you been?

Scotland, Australia, Bermuda

What sparked your interest in going to teach English abroad?

I'd always wanted to travel, but unfortunately funding my dream was an issue. That was until I met a friend who had studied at International TEFL Academy who happened to be leaving in the coming months to teach English in Korea. Once she told me about her opportunity, I never looked back and knew that I had to do this with my life.
What were some of your concerns before teaching abroad?

Being lonely and away from family and friends

What did your friends and family think about you moving and teaching abroad?

They were a little nervous, of course, as good friends and family are. But, they were incredibly supportive.



TEFL CLASS INFORMATION
Why did you decide to get TEFL certified and choose International TEFL Academy?

I researched a few different online options, but International TEFL Academy seemed to have the best course for the best price. And! I was referred by the friend mentioned above. I'm very happy I went with this program.
Which TEFL certification course did you take?

Online TEFL Class

How did you like the course?

It was structured nicely, over-prepared me (which is what I wanted!), and the online instructor and fellow classmates were incredibly helpful and supportive.

How has your TEFL training helped you in your current teaching position?

It over-prepared me for my Elementary English teaching position I was to acquire in South Korea post-certification. But! I was more than happy to feel that way. I've since moved on to teach adults and I still fall back on the notes and knowledge taken during the course. Extremely helpful.

Which city and country did you decide to teach English in and why?

Daejeon, South Korea: best pay and benefits, also I knew a few people out there

How long have you been in this country and how long do you plan to stay?

I was in South Korea for two years.


How did you secure your English teaching job?

International TEFL Academy suggested I work with the recruiter EduCon in order to secure a public school teaching job. They were very helpful and kept me on task.

What school, company, or program are you working for?

EPIK (English Program In Korea): public school government program

How did you get your work visa?

My recruiter, EduCon, helped me acquire my work visa. They sent me the paperwork, I filled them out, sent them back, and voila!


Tell us about your English teaching job!

I worked from 8:30AM-4:30PM, Monday-Friday. I typically had all of my classes in the morning before lunchtime and had the rest of the day to lesson plan.

My pay was great! (My pay was bumped up because I had my TEFL certificate) I was able to save appx. $12,000 USD before leaving South Korea. And that excludes all of my traveling I did in and around Asia. Since I worked for the public school system, I had many, glorious, vacation days.
I bonded with many of my students and some of my coworkers and I still talk to this day. I loved my coworkers and came to call them my Korean Family.

How did you find somewhere to live and what is it like?

EPIK provides all their teachers with housing or a housing stipend, if you choose.
COUNTRY INFORMATION - FUN!
Please explain the cultural aspects, public transportation, nightlife, social activities, food, expat community, dating scene, travel opportunities, etc...

Korean culture is an amazing thing. The people are warm, inviting, love their country, their food, their customs, and are often curious about yours as well.

The nightlife is unlike anything I'd experienced before. It's a constant swirl of drinking, and neon, and dancing, and singing. It's incredible. And the expat community slips into this mix beautifully. I met and made so many friends while in Korea. We all keep in contact and help each other constantly.

I was able to travel unlike any time of my life before while living in Korea. You are centrally located in Asia with so many incredible countries only a few hour flight away. I was able to travel to: Japan, China, Cambodia, Thailand, Malaysia, Borneo, Australia, and Vietnam.
COUNTRY INFORMATION - MONEY
What are your monthly expenses?

Rent was payed for by my school but heating and electricity was not. I lived in a more expensive area of town, so my bills were the highest among my friends. I payed anywhere from $160USD - $300USD per month, depending on the season.

Western food is becoming more and more common in Korea. If you live in a city, there's no doubt you'll find a pizza place or something similar to curb a "home-craving".

Transportation and travel is so easy and cheap in South Korea. It was rare if I had a weekend free from train travel to and from another area of the country worth exploring.

How would you describe your standard of living?

Middle class +

In your opinion, how much does someone need to earn in order to live comfortably?

Lower middle class



ADVICE FOR PROSPECTIVE ENGLISH TEACHERS
What advice would you give someone planning or considering teaching abroad? Would you recommend teaching in your country?

Yes. If you are planning on teaching abroad for the first time, South Korea is the place for you. It was the best decision of my life. Don't be scared. GO FOR IT!


For more on Jessica's adventures, check out her blog: www.thetickettheride.com

Jessica's other ITA contributions:
Articles: Teaching English Abroad: I Did It, You Can Too!
Founded in 2010, International TEFL Academy is a world leader in TEFL certification for teaching English abroad & teaching English online. ITA offers accredited TEFL certification classes online & in 25 locations worldwide and has received multiple awards & widespread recognition as one of the best TEFL schools in the world. ITA provides all students and graduates with lifetime job search guidance. ITA has certified more than 25,000 English teachers and our graduates are currently teaching in 80 countries worldwide.
Want to Learn More About Teaching English Abroad?
Request a free brochure or call 773-634-9900 to speak with an expert advisor about all aspects of TEFL certification and teaching English abroad or online, including the hiring process, salaries, visas, TEFL class options, job placement assistance and more.