Teaching English in Bucheon, South Korea: Q&A with Elizabeth Feyh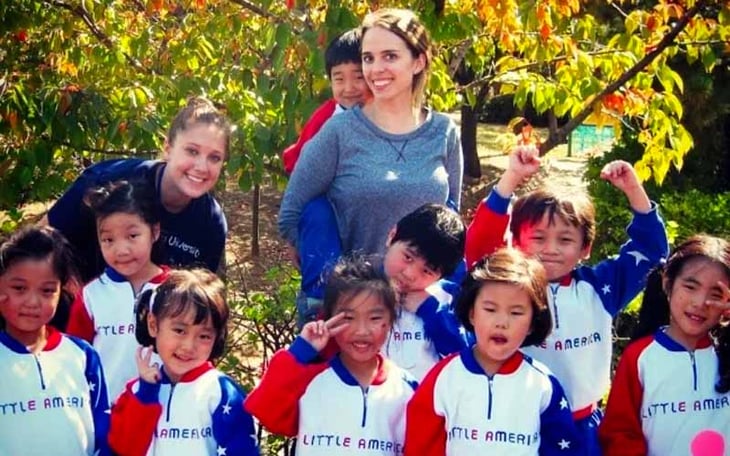 What is your citizenship?
United States
What city and state are you from?
Lewisburg, WV
How old are you?
27
What is your education level and background?
Bachelor's Degree
Have you traveled abroad in the past?
Taught English abroad previously
If you have traveled abroad in the past, where have you been?
Cuba, Mexico, Belize, Bahamas, Italy, Germany, Austria, Hungary, Romania, Japan, Thailand, Vietnam, Laos, Cambodia, Indonesia, Nepal.
What sparked your interest in going to teach English abroad?
My best friend told me about an opportunity to teach in Korea.
What were some of your concerns before teaching abroad?
Did I need a TEFL certification?
What did your friends and family think about you moving and teaching abroad?
Apprehensive and concerned. A few were excited
Why did you decide to get TEFL certified and choose International TEFL Academy?
I chose to get TEFL certified because I want to eventually teach outside of Asia. I figured being certified, as well as having a few years of experience, would make me more marketable in more competitive job markets. I chose ITA because it seemed like the overall best program. I would be taught how to teach, given an arsenal of techniques to make English fun, get practicum feedback, and receive a 190-hour certification. I chose to do the in person class because I needed the accountability, and I chose Chicago for financial reasons.
Which TEFL certification course did you take?
USA - Chicago
How did you like the course?
I wish I could take the course over and over again. My instructors were amazing and extremely knowledgeable. They were always willing to help improve lesson plans or brainstorm ideas. The idea of a practicum made me nervous at first, but ended up being one of my favorite parts. I really appreciated all of the feedback I received. It really helped me improve each time.
How has your TEFL training helped you in your current teaching position?
I started teaching without a TEFL certificate, and the difference from where I started to where I am now is astounding. I find teaching easier and more enjoyable. I have more ways to make learning fun that I didn't know about before.
Which city and country did you decide to teach English in and why?
I chose to teach English in South Korea in the city of Bucheon because that's where I got a job offer.

How long have you been in this country and how long do you plan to stay?
15 months down 15 months to go.
What school, company, or program are you working for?
Little America Language Institute.
During which months does your school typically hire?
May for August openings; October for February openings.
Did you secure this position in advance of arriving?
Yes
How did you interview for this position?
-Skype/phone interview
What kind of visa did you enter on?
Work Visa

Please explain the visa process that you went through.
I had to obtain an FBI background check, get transcripts from my school, notarize and apostille my diploma and documents, and take all of my documents to the consulate in D.C.
What are the qualifications that your school requires for teachers? Please check all that apply
Bachelor's Degree

What is the best way to apply?
-Email
-Recruiter
Tell us about your English teaching job!
HOURS: 8-9 hours/day (includes 3-4 hours of planning)
PAY: 2,300,000 KRW (typical starting pay before taxes) per month
SAVINGS: Yes. $10,000 - $15,000 USD per year
TYPE OF SCHOOL: Hagwon (an after-public-school academy)
STUDENTS: Kindergarten - 1st year middle school
VACATION: 10 days + all national holidays
HOUSING COSTS: No housing costs outside of utilities
How did you find somewhere to live and what is it like? Do you have roommates?
Housing provided by boss. No roommates
On a scale of 1 - 10 please rate your experience with this school.
8
Please explain the cultural aspects, public transportation, nightlife, social activities, food, expat community, dating scene, travel opportunities, etc...
CULTURAL ASPECTS: Multiple cultural experiences especially with country specific holidays.
TRANSPORTATION: Best public transportation I have ever experienced.
NIGHTLIFE: Active nightlife in various areas within Seoul and Incheon
SOCIAL ACTIVITIES: Many tour groups that focus on foreigners traveling in Korea (trips every weekend).
FOOD: Korean food is amazing; BBQ, seafood, noodles, spicy deliciousness.
EXPAT COMMUNITY: Huge expat community throughout Incheon, Seoul, and Busan (sparse in the countryside).
DATING SCENE: Many expats date expats... easier for male expats to meet Korean girls.
TRAVEL: Easy to travel to any other Asian country; relatively inexpensive.
What are your monthly expenses?
SUMMER UTILITIES: ~70 USD / winter utilities ~ 100 USD
FOOD: ~300 USD
TRANSPORTATION: ~100 USD
PHONE: 80 USD
How would you describe your standard of living?
Very comfortable
In your opinion, how much does someone need to earn in order to live comfortably?
Min 2,000,000 KRW before taxes if you also want to save. (At time of writing, this is about $1700).
What advice would you give someone planning or considering teaching abroad? Would you recommend teaching in your country?
Do your research. Korea is a great option. There is a strong support system here.

Elizabeth Feyh is 27 from Lewisburg, WV with a BA in Social Sciences from Florida State University in 2010. She was a jack of all trades with no future aspirations before deciding to fly off to Bucheon, South Korea, to teach English.
Want to Learn More About Teaching English Abroad & Online?
Request a free brochure or call 773-634-9900 to speak with an expert advisor about all aspects of TEFL certification and teaching English abroad or online, including the hiring process, salaries, visas, TEFL class options, job placement assistance and more.