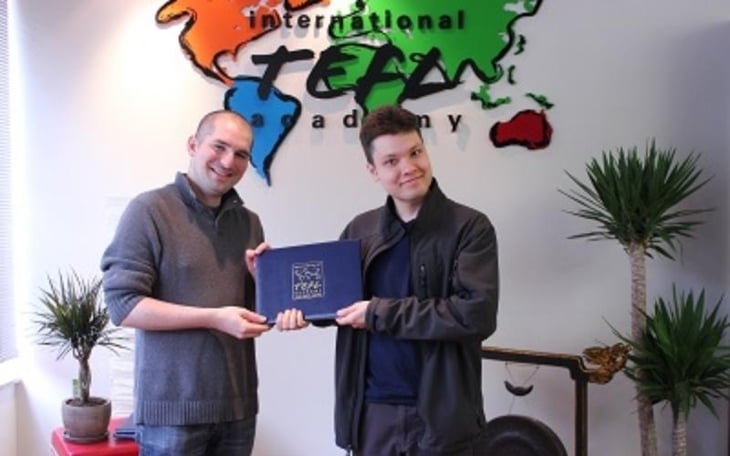 Nara, Japan English Teaching Q and A with Gustavo Olivares
TELL US ABOUT YOURSELF
What is your citizenship?
United States
What city and state are you from?
Chicago, Illinois
How old are you?
26
What is your education level and background?
Bachelor's Degree
Have you traveled abroad in the past?
Some international travel with friends, family, business, etc.
If you have traveled abroad in the past, where have you been?
Toronto, Canada
What sparked your interest in going to teach English abroad?
I have always had a fascination with different cultures. I also wanted the independence and sense of accomplishment that comes with the experience of living abroad. I didn't just want to visit a foreign country as a tourist, I wanted to completely immerse myself in a different culture and form relationships with new people. It is truly a once in a lifetime experience.
What were some of your concerns before teaching abroad?
Not knowing the language, I was also unsure of how I would cope.
What did your friends and family think about you moving and teaching abroad?
They were understandably concerned, but at the same time excited that I was living out one of my dreams. They were very supportive.
TEFL CLASS INFORMATION
Why did you decide to get TEFL certified and choose International TEFL Academy?
Being an English teacher is one of the more effective ways of finding employment abroad. I chose to get TEFL certified because it would provide me with much needed experience and make many more employment opportunities available to me. I chose the International TEFL Academy because it was affordable and has a good reputation.
Which TEFL certification course did you take?
How did you like the course?
It was definitely one of the most challenging courses I've taken in my life.
There was absolutely no shortage of work for me to do over the entire month that I was there. The instructors were obviously very experienced and well qualified, having both earned PHDs in their fields. The practicum and the tasks were a real learning experience. I learned how to manage a classroom and ways to best communicate with my students. I also learned how to structure my lessons so that the students can learn more effectively.
How has your TEFL training helped you in your current teaching position?
Everything that I mentioned in question number 3 comes into play. I think that everything I learned when I obtained my TEFL certification gave me an advantage when I first started teaching. It gave me my own structure to effectively implement in the classroom. I think the result was better lessons early in my employment.
TEACHING ABROAD IN NARA, JAPAN
Which city and country did you decide to teach English in and why?
I am currently based in the city of Nara in Japan. I decided on teaching English in Japan because I have had a keen interest in Japanese culture longer than any other. I'm living in the Kansai area because that is the region that my company assigned me to.
How long have you been in this country and how long do you plan to stay?
I have been living in Japan since September 2013. My current contract expires in March 2015, but I may extend it.
How did you secure your English teaching job?
I filled out an online application for iTTTi Japan, did a couple of phone interviews and had a final face to face interview in Toronto.
What school, company, or program are you working for?
I work for a company called iTTTi. They run multiple eikaiwa around Japan.
How did you get your work visa? If you didn't get a work visa, please elaborate on working under the table without a work visa.
iTTTi sponsored my work visa. The process took a few months, but it was well worth it.
Tell us about your English teaching job!
- I'm usually scheduled to work five days a week with 20-22 teaching hours a week. My schedule may change occasionally to include staff meetings and special lessons, such as summer school.
- About ¥250,000 a month, minus ¥50,000 for rent if you decide to go with company housing. The company reimburses all computing expenses and refunds payments for National Health Insurance. Also, employees receive an ¥80,000 after their first year and ¥130,000 in the years after.
- I am able to save a fair amount each month, ¥6,000-8,000, but I often find myself spending much of it on travel during my time off.
- I'm working for the third largest eikawa chain in Japan. Teachers are assigned 3-4 classrooms and teach at a different classroom per week.
- My students range from young children to seniors in high school.
- There is a decent amount of vacation time. Teachers get most national holidays off, including a week off in April, a week off in July or August, and two weeks off for Christmas and New Years. Teachers receive five paid vacation days after the first six months, with the number of vacation days increasing for each subsequent year.
- iTTTi actually has a pretty a good system of support for its teachers when compared to other eikawa chains. They provide two weeks of training, help you get settled, tax assistance, and assistance in returning home once you decide to leave.
How did you find somewhere to live and what is it like? Do you have roommates?
The company asks for placement requests during the application period and attempts to get you as close to your requested placement as possible. I requested Osaka or the general Kansai area because a number of Japan's major cities and historical sites are located in that region. It is also a convenient travel hub.
I'm exactly where I want to be. The company provided me a decent apartment. Also, no roommates except during the two week training period.
COUNTRY INFORMATION - FUN!
Please explain the cultural aspects, public transportation, nightlife, social activities, food, expat community, dating scene, travel opportunities, etc. about your country:

I was lucky to have been placed in Nara, Japan's original permanent capital. There is a lot to see and travel to Osaka and Kyoto takes less than 40 minutes by train. My apartment is literally within walking distance of a palace, shrines, and multiple royal tombs. An Emperor is buried across the street from where I do my groceries. This region has a ton of history and is in many ways the cradle of Japanese civilization.
Japan can be a little pricey, but it's fine as long as you stick to a budget and make any plans for travel and fun ahead of time. Like I said before, the Kansai region is very convenient to get around. It is a hub for multiple rail companies that can take you anywhere. Travel by bus is also efficient.
The people of the Kansai region are very down to earth and friendly. You'll find no shortage of people wanting to have a friendly conversation. As a result there a multiple social groups, and international parties are frequently held. The big cities of Kobe, Osaka and Kyoto give plenty of opportunities to hang out with locals and other expats. These cities also have have the best nightlife in the region. More than enough bars, clubs and other entertainment venues to hang out with friends, go on dates or perhaps meet a potential date.
I love the food here. Japan seems to be a nation of foodies. The big cities, Osaka especially, not only offer some of the best local cuisine, but also many ethnic restaurants. This includes many Chinese, Thai, and Indian establishments. Culinary choices are not limited to just Asia. You'll also find good Italian, Mexican, American and German eateries. You can also get good, freshly made meals from convenience stores, oddly enough. No shortage of selections.
Traveling outside of Kasai is convenient as well. Aside from the trains that can get you to most places in the country, there is also the Kansai International airport that makes both international and domestic flights a convenient choice. I understand there are also some ferries that can take you to places like South Korea, China and Russia.
COUNTRY INFORMATION - MONEY
What are your monthly expenses?
I spend a little over half my check on rent, utilities, food, phone and commuting. My commutes to work are always reimbursed. My utility and phone bills usually come around to ¥250,000 a month. Foods varies from month to month depending on how much I decide to eat out or cook for myself. Going out with friends or just to see the sites can also put a dent in your wallet if you're not careful, so I always try to plan the exact amount I'm going to spend. I've saved a decent amount. There have also been unexpected expenses such as doctor's visits, which were affordable due to Japan's National Health Insurance.
How would you describe your standard of living?
I'd say just as good as it was in the US, maybe a little healthier.
In your opinion, how much does someone need to earn in order to live comfortably?
I'd say ¥200,000-250,000 a month can give you a fairly comfortable lifestyle.
ADVICE FOR PROSPECTIVE TEACHERS IN JAPAN
What advice would you give someone planning or considering teaching abroad? Would you recommend teaching in your country?
I would definitely recommend living in Japan. It has a good standard of living and effective social welfare programs. You can expect a decent amount of culture shock due to the language barrier and cultural differences, but you'll still find it to be very accommodating to English speakers.
Before deciding to pack up everything and leave, give yourself plenty of time to plan ahead and save enough money for the move and the first couple of of months of living expenses, $5,000-8,000 is my recommendation. Also, determine if you're more comfortable teaching adults or kids, as it may make for a less stressful work environment.
Gustavo is originally from Chicago, Illinois and took the Chicago TEFL Course at ITA's headquarters. Gustavo then went on to teach English in Nara, Japan.
Want to Learn More About Teaching English Abroad?
Request a free brochure or call 773-634-9900 to speak with an expert advisor about all aspects of TEFL certification and teaching English abroad or online, including the hiring process, salaries, visas, TEFL class options, job placement assistance and more.