40+ teachers
Teaching English in Erbil, Iraq: Alumni Q&A with Edward Bassett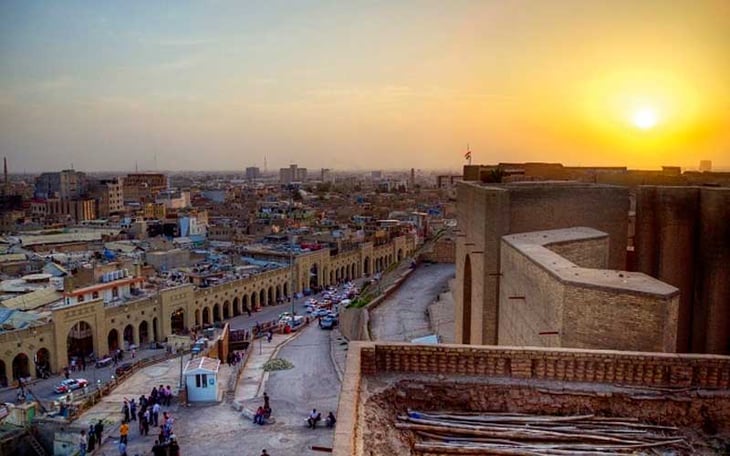 What is your citizenship?
United States
What city and state are you from?
Beaufort, South Carolina
How old are you?
51
What is your education level and background?
Master's degree or Higher

If you have traveled abroad in the past, where have you been?
Ireland and New Zealand.
What sparked your interest in going to teach English abroad?
I have over 15 years of experience teaching writing, literature, and philosophy at the university level in the United States. I've enjoyed that work tremendously, but I was ready for a different set of challenges and experiences. I knew I wanted to teach English as a foreign language, hopefully in a non-Western environment.
What were some of your concerns before teaching abroad?
I didn't have any major concerns. Mostly I was concerned with the transition from teaching native speakers to non-native speakers.
What did your friends and family think about you moving and teaching abroad?
When I decided to take a position in the Kurdistan region, which is located in northern Iraq, many people were concerned about my physical safety. What a lot of people don't realize is that the Kurdistan Regional Government provides excellent security here. While things were a little uneasy a few years ago when ISIS initially took Mosul (which is about 90 minutes from Erbil), today I feel quite comfortable living here. The rest of Iraq is terribly unsafe, but Kurdistan is very different. One has to be smart and careful, but daily life here involves very little risk-taking.
Why did you decide to get TEFL certified and choose International TEFL Academy?
I found ITA's website easy to navigate and very informative. The online course appeared to be comprehensive and substantive. The recruiting staff were accessible, enthusiastic, and provided lots of helpful information. It was a very easy decision to make!
Which TEFL certification course did you take?
Online TEFL Course
How did you like the course?
I find the course incredibly helpful. The course material is rich, engaging, challenging, and illuminating. It gave me a well-rounded preparation for TEFL instruction. The course instructor Melanie Johnson was very helpful. Her assignments were well developed and gave me many opportunities to apply and better understand the course material. Her assessments helped me to better comprehend the material as well. It was a true pleasure to work with her. My practicum (live practice teaching) - working with adult learners - confirmed that I'd made the right decision to change my career.
How has your TEFL training helped you in your current teaching position?
I have found the training particularly helpful in three ways:
1. It gave me a useful template for literally every lesson I prepare for every class, which has helped me enormously to focus and streamline my efforts;
2. It introduced me to key elements of cultural sensitivity and integration I have relied on in many ways since arriving in Kurdistan;
3. It helped me prepare for the transition to living abroad--it's discussion of the culture shock many TEFL teachers experience has been enlightening.

Which city and country did you decide to teach English in and why?
I decided to teach English in Iraq In the Kurdistan Region in the city of Erbil. I wanted to live in the Middle East, for one thing. Kurdistan is a Muslim-majority nation, but it has a long history of cultural and religious toleration, so I felt it would be easier to live here than in other parts of the region. I also wanted to contribute to the development of a Kurdish professional class as the Kurds move, I hope, toward independence.
How long have you been in this country and how long do you plan to stay?
I've been here for six months. I plan on remaining for at last another 18 months.
What school, company, or program are you working for?
The University of Kurdistan Hewler.
During which months does your school typically hire?
Year-round.
Did you secure this position in advance of arriving?
Yes.
How did you interview for this position?
Skype/phone interview.
What kind of visa did you enter on?
Work visa
Please explain the visa process that you went through.
The university took care of the paperwork for me. I had to take a blood test and pay moderate fees. That was it.
What are the qualifications that your school requires for teachers? Please check all that apply
- Master's degree/PhD
- TEFL Certification
What is the best way to apply?
Apply online
Tell us about your English teaching job!
I work with two categories of learners:
Adult learners who need to improve their English for employment or advanced study purposes

UKH students, who either are taking foundation courses to prepare them for university work, or are already admitted to the undergraduate program.
I have a 40-hour work week, with about 18 in-class hours per week. It can be challenging, especially at the beginning and end of every semester.
My salary is tax-free and is approximately $ 42,000 a year. The university provides housing and transportation back to the United States each year. Food costs are low, but many other items can be a little pricey. Nevertheless, I'm presently able to save half my monthly salary. We receive about five paid weeks off a year.
How did you find somewhere to live and what is it like? Do you have roommates?
The university provides a large, free apartment. I share it with one another UKH faculty member.
Please explain the cultural aspects, public transportation, nightlife, social activities, food, expat community, dating scene, travel opportunities, etc...
Erbil is by Middle East standards a modernizing city with many amenities. There are many Western-style restaurants, bars, cafes, and shopping malls. There are also numerous local small shops to frequent. The nightlife is a little limited--there's not a lot of public performances of music or other forms of art. Bars and restaurants do a lively business. But a lot of the city will seem underdeveloped to many Westerners. There are a lot of green spaces and open markets to enjoy. The expat community typically is made up of security personnel or workers in the energy field. There are many great travel opportunities. Several flights a day take you to either Istanbul or Dubai, and from those airports you can easily reach many locations in all directions, via flights that are surprisingly affordable.
What are your monthly expenses?
I pay no rent. Taxis are plentiful and cheap. You pay for phone by SIM card, which can be very inexpensive if you don't do a lot of international calling. If you're careful and know where to look, food can be plentiful and inexpensive. Western style clothing can be overpriced and not of very good quality, especially in the big shopping malls.
How would you describe your standard of living?
I'm very comfortable here. The apartment is very basic and some of the construction is shoddy by Western standards, but it's not a problem in terms of safety or hygiene. I would be solidly middle class in most parts of the US.
In your opinion, how much does someone need to earn in order to live comfortably?
This is hard to say, since I don't pay for an apartment and don't know much about the rental market here. I would say at least $2,000 USD a month is needed for a single person if they have to pay rent.

What advice would you give someone planning or considering teaching abroad? Would you recommend teaching in your country?
Trust your impulse to live abroad.

Research the countries and jobs you're interested in thoroughly. Don't be afraid to ask lots of questions.

But accept that you'll never be fully prepared. At some point, you just have to decide to jump.

Understand that you'll be surprised over and over, in good and bad ways. Embrace it all and don't give up. As for teaching here, if you understand the history of the Kurdish people and if you want to be here during a pivotal moment in that history, this can be a fascinating and stimulating place. This is not easy work and this is not an easy place to live. But being here even six months has shown me so much. I don't regret my choice at all.



With over 15 years of experience in teaching writing, literature, and philosophy at the university level in the United States, Edward was in need of a change. Although he'd enjoyed his work tremendously, he was ready for a different set of challenges and experiences and knew that he wanted to teach English as a foreign language in a non-Western environment. After taking ITA's Online TEFL Course, he landed a job teaching English at The University of Kurdistan Hewler in Erbil, Iraq.
Want to Learn More About Teaching English Abroad & Online?
Request a free brochure or call 773-634-9900 to speak with an expert advisor about all aspects of TEFL certification and teaching English abroad or online, including the hiring process, salaries, visas, TEFL class options, job placement assistance and more.