Volunteer English Teaching in Dharamsala, India: Q&A with Magda Ksiazak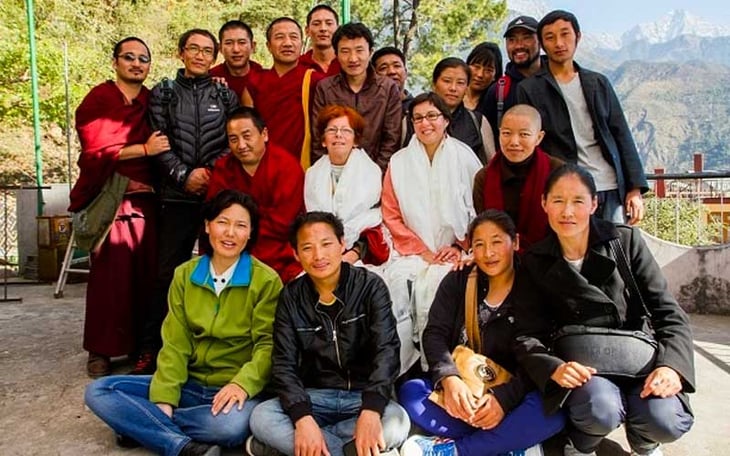 What is your citizenship?
USA
What city and state are you from?
Braidwood, IL
How old are you?
29
What is your education level and background?
Bachelor's Degree
Have you traveled abroad in the past?
I had never left the country

What sparked your interest in going to teach English abroad?
I had never even been to Mexico or Canada, and I was beginning to feel stifled by American life. I knew I needed a change -- I was too comfortable and I wanted to know what it was like to live in a less privileged society. Additionally, I had undergone some major changes (tough breakup and the loss of a loved one), so I decided it was time to get my act together and go someplace far away.
What were some of your concerns before teaching abroad?
Not knowing the local language, safety.
What did your friends and family think about you moving and teaching abroad?
Some were concerned, but mostly excited.
Why did you decide to get TEFL certified and choose International TEFL Academy?
ITA's program seemed more legitimate than a lot of the others I found online. I wanted to travel, and teaching English seemed like a way to do it while making a bit of money instead of just spending it. The fact that the class was also offered near me, in Chicago at a good price helped make my decision.
Which TEFL certification course did you take?
Chicago TEFL Class.
How did you like the course?
The TEFL course was great, but definitely a challenge. I met a lot of cool people and have kept in touch with most of my classmates. The instructors were fantastic; very knowledgeable and always willing to help if you took the time to ask. The small class size meant we got a lot of individualized attention.
How has your TEFL training helped you in your current teaching position?
I use the skills we practiced in class and I have pulled from the activities we did at ITA. I adapt to new classroom situations more easily because of my training.
Which city and country did you decide to teach English in and why?
Dharamsala, India, because it was a 4-month volunteer teaching position instead of a year-long contract. I wasn't ready for a super long commitment for my first trip abroad.
How long have you been in this country and how long do you plan to stay?
I was there about 4.5 months.
How did you secure your English teaching job?
I found a posting on Dave's ESL Cafe and emailed with the school.
What school, company, or program are you working for?
Tibet Charity.
How did you get your work visa? If you didn't get a work visa, please elaborate on working under the table without a work visa.
It was a volunteer position, so I went on a tourist visa. It was easy to get; in fact, Americans can get a 10-year, multiple-entry visa to India!
Tell us about your English volunteer teaching position!
I worked on average 4-5 hours a day teaching two 2-hour classes and a conversation class. I was not paid, it was a volunteer position. We received a free lunch every week day. Obviously, I was not able to save money; however, India is a very inexpensive place to live, so I also didn't spend a whole lot.
The school is run by a charity dedicated to educating Tibetan refugees. Most of my students were adults, many of them Buddhist monks and nuns. They were Elementary/Pre-Intermediate level.
Since it was a volunteer position, all we had to do in order to take time off was make sure there was another teacher available (and willing) to cover our classes and we could leave at any time.
How did you find somewhere to live and what is it like? Did you have roommates?
My contact at the charity helped me find a place to stay. The accommodations were simple - a small room with a bathroom, a bed, and a dresser. Most rooms have a tv but only basic programming. There are plenty of options as far as guest houses and hotels; I paid 2000 rupees a month (about $100 USD) for rent, but I stayed in a pretty basic place. Other guest houses that offer nicer amenities can cost anywhere from 9000 rupees a month on up.
Please explain the cultural aspects, public transportation, nightlife, social activities, food, expat community, dating scene, travel opportunities, etc. about your country:
Public transportation is huge in India - where I was staying, autorickshaws and taxis were the main modes of travel. Local and cross-country buses also run; trains are a good option if you're going on a long trip. Taxis can get pricey but local buses and rickshaws are cheap.
The food varies, like anywhere else. Expect lots of traditional Indian (rice, dal, chapatti, subji
(veg), and lots and lots of tea) and Tibetan (soups, dumplings) foods. Dharamsala and McLeod Ganj ("Upper Dharamsala," the touristy part of town) has a lot of Italian restaurants and some pretty good pizza, too.
There are one or two clubs in town where you can go dancing. Watching soccer or cricket at a restaurant is a favorite way to spend an evening with friends. Usually we hung out over dinner.
There are many local sights to see and activities to do. Day trips can be organized to forts, palaces, and other historical/cultural points of interest.
Dharamsala is full of expats. Most shopkeepers and taxi drivers speak at least a little English, many of them speak it fluently, so it's not too hard to get around.
What are your monthly expenses?
Rent: 6000 rupees a month (about $100 USD). My accommodations were pretty basic, though.
For something nicer expect to pay at least 50% more.
Food: I was able to keep it to around 300 rupees a day, but it varies. A really good, fancy meal usually doesn't go over about 500 rupees.
Social Activities: This usually was tied in with the food. I guess I spent a hundred dollars, give or take, on trips each month.
Transportation: Varies depending on how much traveling you do. I walked everywhere locally, which was the bulk of my travel. Taxis cost a few hundred rupees per trip, unless you're crossing state lines -- then you can pay a few thousand rupees, but you often get the taxi driver for the duration of your weekend trip, for example.
Phone/communication: Internet is very spotty and unreliable. The nicer restaurants and hotels often offer it to guests, but even then it's not like being in the west. Take an old Nokia that you can put a SIM card in if you want a local phone. The SIM card will cost about 200 rupees, but half of that is given to you in minutes that you can use.
Travel: Varies widely depending on where you go. Expect to spend a few thousand rupees per trip if you're taking a taxi.
How would you describe your standard of living?
Simple, very basic. If you want the comforts of home, India is not the place to go unless you want to spend as much as you would at a nice hotel at home.
In your opinion, how much does someone need to earn in order to live comfortably?
If you take about $500 with you for every month you plan to stay, you should be pretty comfortable.
What advice would you give someone planning or considering teaching abroad? Would you recommend teaching in your country?
I'd definitely recommend teaching in India, although don't expect to get paid much. It's more about the experience. I met some truly amazing people and learned SO much from my students, many of whom I keep in touch with.
Do your research. Don't be too intimidated by the media coverage of the country you want to travel to; try to find other expats who have made the trip before you and get their take on it. Just be smart about things and be aware of your surroundings at all times.
Magda had never even been to Mexico or Canada and was beginning to feel stifled by American life. She knew I needed a change - she was too comfortable and wanted to know what it was like to live in a less privileged society. After a tough breakup and a loss of a loved one, Magda decided it was time to get her act together and go someplace far away. She took ITA's Chicago In-Person TEFL Course before volunteering to teach English in Dharamsala, India for four months.
Want to Learn More About Teaching English Abroad & Online?
Request a free brochure or call 773-634-9900 to speak with an expert advisor about all aspects of TEFL certification and teaching English abroad or online, including the hiring process, salaries, visas, TEFL class options, job placement assistance and more.