Georgia English Teaching Q and A with Gwen Jeffrey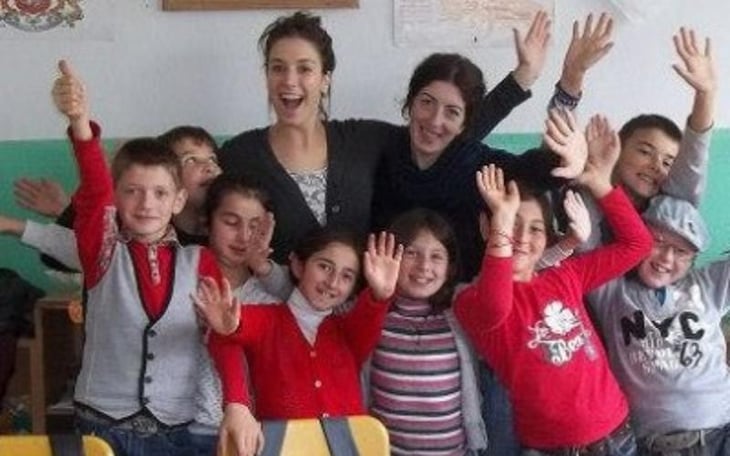 TELL US ABOUT YOURSELF
What is your citizenship?
United States
What city and state are you from?
Duluth, Minnesota
How old are you?
23
What is your education level and background?
Bachelor's Degree
Have you traveled abroad in the past?
Taught English abroad previously
If you have traveled abroad in the past, where have you been?
Georgia (teaching) and Mexico (traveling)
What sparked your interest in going to teach English abroad?
I have always had an intense desire to travel. As for teaching, I had never much considered it until I worked an internship that involved teaching a course to 4th graders. I loved it. This lead to the possibility of teaching abroad and, after doing some research, I wound up in Georgia teaching English. A wonderful experience.
What were some of your concerns before teaching abroad?
Safety of the country, living with a language barrier (host family).
What did your friends and family think about you moving and teaching abroad?
Mostly supportive...but somewhat concerned.
TEFL CLASS INFORMATION
Why did you decide to get TEFL certified and choose International TEFL Academy?
I was hired to teach English in Georgia through Greenheart Travel. Going through the recruitment process with them really gave me so much respect and trust for Greenheart. When I came back to the States and was attempting to select the right TEFL course for me, Greenheart suggested ITA so I signed up!
**Editor's Note: Please note that Greenheart Travel is one of ITA's partner organizations. However, they no longer recruit for the Teach and Learn with Georgia program. If interested, you can apply to the Teach and Learn with Georgia program directly.
Which TEFL certification course did you take?
How did you like the course?
I thought the online TEFL course was great. I learned so much and feel prepared for my upcoming teaching position in Georgia.
TEACHING ABROAD IN GEORGIA
Which city and country did you decide to teach English in and why?
I chose to teach English in Georgia. It intrigued me because it is somewhat of a road less traveled. The more I read about the country, the people, and the hospitality the more excited I became to experience it firsthand.
How long have you been in this country and how long do you plan to stay?
I lived and worked in Georgia for 6 months but am now back in the States until my next teaching position.
How did you secure your English teaching job?
Through Greenheart Travel and Teach and Learn with Georgia.
How did you get your work visa? If you didn't get a work visa, please elaborate on working under the table without a work visa.
US Citizens traveling to Georgia for 360 days or less do not need a visa, just a valid passport.
Tell us about your English teaching job!
I lived in a village and worked approximately 25 hours a week. This included lessons and preparation. We were paid a living stipend of approximately $300/month and were required to give our host families $65 dollars for room and board each month as well.
I was not able to save but I understood that the country paid us what they could afford and expenses were fairly low. Additionally, the company paid airfare upfront which was a great perk. I worked in a public school and taught grades 1-6 with two local co-teachers and we had various holidays off and vacation time between semesters.
How did you find somewhere to live and what is it like? Do you have roommates?
I was placed with a host family; a mother, a father, a brother, and a sister. Living with a local family you were able to experience authentic culture first hand. It was so interesting.
COUNTRY INFORMATION -
Please explain the cultural aspects, public transportation, nightlife, social activities, food, expat community, dating scene, travel opportunities, etc. about your country:
The culture varied quite a bit from Western culture but the people were very hospitable and friendly. We all joked about something called "GMT" time (Georgian Maybe Time) because there really wasn't much of a time frame for anything.
The public transportation mainly consisted of van-like vehicles known as marshutkas. They were packed and a bit scary at times due to the driving. Very inexpensive way to travel, though.
The cities offered much nightlife but most of us were in villages so we participated in village parties known as "supras" with lots of food and homemade wine. The expat community was great and very tight knit. There was group on Facebook where people could communicate with one another, set up places to meet up, to answer questions, etc.
Lastly, as for travel opportunities, the country bordered Armenia, Turkey, Azerbaijan, and Russia and they were all very accessible.
COUNTRY INFORMATION - MONEY
What are your monthly expenses?
We were required to pay $65 (out of the $300 stipend) to our host families for room, board, and food. If you wanted to travel on the weekends the expense was up to you to cover. Transportation was very inexpensive. You could travel across the country for less than $20. As for phone and internet, I probably paid around $30 each month. Hostels and food when traveling were quite cheap as well. I would stay at a hostel in the capital for roughly $10 a night.
How would you describe your standard of living?
Fair
In your opinion, how much does someone need to earn in order to live comfortably?
The stipend will definitely cover living expenses but you won't be able to travel much.
ADVICE FOR PROSPECTIVE TEACHERS IN GEORGIA
What advice would you give someone planning or considering teaching abroad? Would you recommend teaching in your country?
I would definitely recommend teaching in Georgia but I would stress the need to be open minded. The country is still in the developmental stages and you will find yourself without many of the comforts of developed, Western countries. If you can look past this, however, and open yourself up to some new (and strange) experiences you will have a wonderful time.
Gwen is from Duluth, Minnesota and took ITA's 11-Week Online TEFL Course before moving overseas to Georgia to teach English. Gwen taught through the program called Teach and Learn with Georgia.
Want to Learn More About Teaching English Abroad & Online?
Request a free brochure or call 773-634-9900 to speak with an expert advisor about all aspects of TEFL certification and teaching English abroad or online, including the hiring process, salaries, visas, TEFL class options, job placement assistance and more.