Prague, Czech Republic English Teaching Q&A with Cassondra Lopez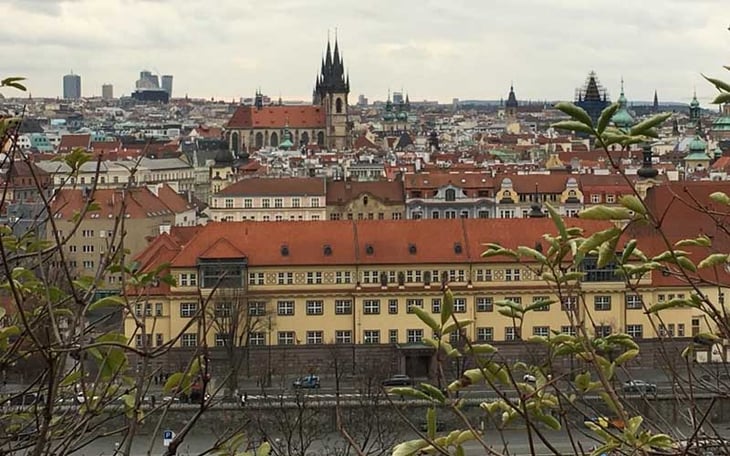 TELL US ABOUT YOURSELF

What is your citizenship?

United States

What city and state are you from?

Albuquerque, New Mexico

How old are you?

29

What is your education level and background?

Master's degree or Higher
Have you traveled abroad in the past?
Some international travel with friends, family, business, etc.

If you have traveled abroad in the past, where have you been?
I have been to England, France, Belgium, The Netherlands, Germany, Switzerland, Luxembourg , Italy, Spain, UAE, Mexico, Canada
What sparked your interest in going to teach English abroad?

My interest was sparked because of the opportunities I would be given to live abroad and meet other people. Ever since my first time to Europe 13 years ago, I had the itch to live and explore more than the average tourist does. What I didn't expect was to love it as much as I have and be welcomed so kindly into people's lives.

What were some of your concerns before teaching abroad?

My biggest concern was the money. I knew I wanted to have flexible schedule and not work at a typical elementary school Monday through Friday. This meant I wouldn't have a consistent income since private lessons leave a lot of inconsistencies.

What did your friends and family think about you moving and teaching abroad?

My friends and family have been completely supportive. I was lucky to have my apartment before my arrival, so that eased a lot of my family's concerns. They were all so excited to see me live a life that would hopefully help me grow and find my happiness. The most commonly used words when I told people I was moving to teach English were: happy, proud, excited. It gave me energy to shoot for the stars and go.


TEFL CLASS INFORMATION
Why did you decide to get TEFL certified and choose International TEFL Academy?

I chose to get TEFL certified because it was a requirement. It was simple. I wanted to teach abroad and the certificate would allow me the opportunity to do that. I chose International TEFL Academy because I had a friend who had completed her certificate program with them and it was highly recommended. From the first moment of contact, I felt supported by my advisor and had no doubt that they would provide me all the information and help I needed.
Which TEFL certification course did you take?

Online TEFL Course

How did you like the course?

I enjoyed the online course. I did feel at times that an in person course would have benefited me more, but it just wasn't an option at the time. The course online provided me a lot of real world experience, and it also helped me understand what would be expected. The most helpful part was the instructors feedback because it made it more realistic. The tasks were challenging but doable. They were applicable to the course and I never felt as though I was wasting my time. The practicum was the best part. This, in my opinion, was also the most important part. I loved my practicum because I got that real world experience I needed. Being able to work with students and participate in their learning really put all the methods from my lessons into perspective.

How has your TEFL training helped you in your current teaching position?

My TEFL training has helped me immensely in my current teaching position. It helped me understand the various learning levels and how to truly assist each student differently. I took the business and kids extra training, and since my youngest student is five and my eldest is 56, I feel the training has allowed me to adapt my teaching adequately.

Which city and country did you decide to teach English in and why?

I decided to teach English in the Czech Republic in the city of Prague for a few reasons. First, I knew someone from here. Second, the demand is high for English teachers. I had a job with a school and five private lesson students in my first week. Third, the location and the beauty of the Czech Republic is undeniable. Lastly, the cost of living is amazing. You can save money and you can travel easily.
How long have you been in this country and how long do you plan to stay?

I have been in the Czech Republic for 9 months, and I will be here for the entire year. I wish I could stay longer but it just isn't in the cards for me.

During which months does your school typically hire?

August, September, January, June

Did you secure this position in advance of arriving?

No

How did you interview for this position?

In-person interview

What kind of visa did you enter on?

Tourist visa

Please explain the visa process that you went through.

I had a contact from my friend who had lived here for two years. I prepared for it before leaving home. You want to have bank documents before you leave verifying your savings. When arriving you need to have documentation signed by your landlord, so make sure you have a landlord willing to sign it. The woman that helped me walked me through the entire process. It included bank documents, proof of accommodation, a criminal background check, an interview with a Czech Embassy outside of the CZ, a visit to the forei police and the ministry of interior. It wasn't the easiest process, but it was worth it. Read more about the process of getting a work visa in Czech Republic here.

What are the qualifications that your school requires for teachers? Please check all that apply

TEFL Certification

What is the best way to apply?

Apply online
Tell us about your English teaching job!

I teach with two language schools and I also have private lessons. I work anywhere from 20-30 hours a week and the pay is always better when it's a private lesson. For a 60 minute lesson with a school you will make around 250-300 czk and with a private lesson you can earn up to 400-500 czk. I was able to save around 1000 czk a month, but that's only because I was super cheap when in Prague. The children always take the school and bank holidays off, so that is the best time to travel and they are super flexible when you need/want time off. I think when you plan to move abroad you have to know what your goal is. Is it to travel as much as possible, or to live here, have a consistent income and travel like normal, on the weekends and around the holidays? Private lessons have not been the easiest because they are inconsistent earnings, but I know without a doubt I wouldn't have been as successful in my travels if I went the elementary teacher route. Penny pinching was worth the financial struggles.

How did you find somewhere to live and what is it like? Do you have roommates?

So I was lucky and knew someone who had a flat she needed to find a lease for. I love living in my flat. It is a great location and close to transit and grocery stores. My landlord is great, sometimes they like to take time on repairs but I have no complaints otherwise. I have one roommate and we both have a river view with big rooms.

On a scale of 1 - 10 please rate your experience with this school.

10
COUNTRY INFORMATION - FUN!
Please explain the cultural aspects, public transportation, nightlife, social activities, food, expat community, dating scene, travel opportunities, etc...

The Czech people are extremely kind. They have a lot of patience for expats and are very welcoming as students. The public transportation is amazing. It is on time, extremely cheap, and very easy to use. While I don't go out much, nightlife is great, and my favorite place is naplavka. It's along the river and a great place to relax while you watch the sunset. Prague has five or six events every weekend. This city is so alive with things to do. You can't be bored; food is cheap and from all over the world, so the variety is never ending. I have to admit that I have not met many locals other then my students, but they have become like family. We talk like friends, have birthday celebrations, and they make me feel so welcome. As I mentioned before, you can travel very easily from Prague. E trains and buses leave here all the time and they take you all over Europe. The only question is, where are you going next?
COUNTRY INFORMATION - MONEY
What are your monthly expenses?

Monthly expenses are around 15,000 czk so around $700.
Per month:
Rent - 10,000 (approx. $450 USD)
Phone - 520 ($24 USD)
Internet - 250 ($11.50 USD)
Groceries - 2,000 ($95 USD)
Social activities - 2,000 ($95 USD)

How would you describe your standard of living?

My standard of living is very simple. I buy as I need instead of thinking ahead. I don't like to have a pantry full of stuff because I end up wasting it. I like to be smart with my money and enjoy things to the fullest. The standard of living here is amazing. Enjoy a sunny day, get out and explore.

In your opinion, how much does someone need to earn in order to live comfortably?
To live comfortably you want to earn anywhere from 20,000 to 25,000 ($925 - $1150 USD).
To save you want to shoot for 30,000 ($1385 USD).
ADVICE FOR PROSPECTIVE ENGLISH TEACHERS
What advice would you give someone planning or considering teaching abroad? Would you recommend teaching in your country?

My advice would be to do what feels comfortable. Fight for your worth and adjust as necessary. Be picky. You aren't coming here to be miserable and run yourself into the drain. The lifestyle here is to live every day to the fullest, so make sure to wander, make sure to meet new people and be passionate. The student will know if you are fake. They want someone who has their best interests at hand. I would highly recommend Prague. This place has become my second home, and my students have become my family.


Cassondra is originally from New Mexico and took ITA's Online TEFL Course before moving to the Czech Republic to teach English in Prague.
Want to Learn More About Teaching English Abroad & Online?
Request a free brochure or call 773-634-9900 to speak with an expert advisor about all aspects of TEFL certification and teaching English abroad or online, including the hiring process, salaries, visas, TEFL class options, job placement assistance and more.
"I chose ITA because it was highly recommended. From the first moment of contact, I felt supported by my advisor and had no doubt that they would provide me all the information and help I needed."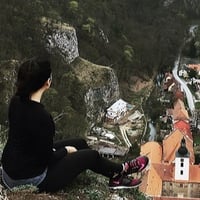 - Cassondra Lopez
Teaches English in the Czech Republic