teach english online
Teaching English Online from Pisco Elqui, Chile: Q&A with Leslie Mendez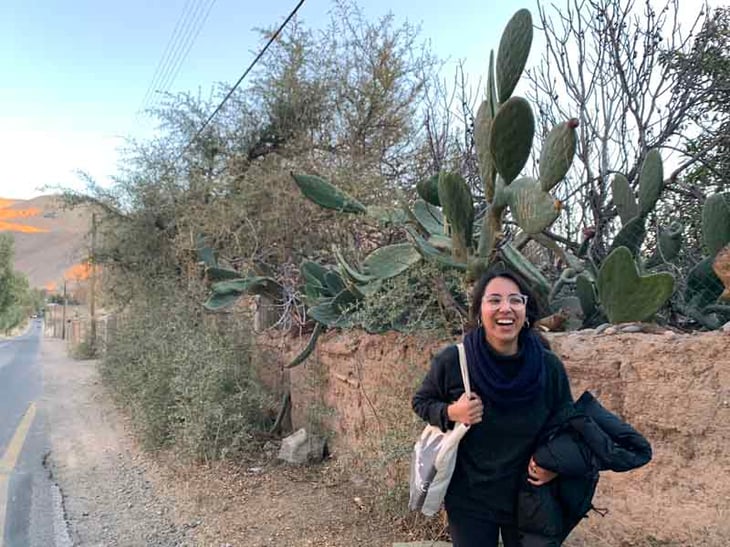 What is your citizenship?
USA
What city and state are you from?
Orange, CA, U.S.A
How old are you?
24
What is your education level?
Bachelor's Degree.
What sparked your interest in teaching English online?
I had moved to Pisco Elqui in early 2019 to teach English in person in schools in the Elqui Valley. Once COVID-19 hit, Beyond English transitioned into an Ed-Tech and being 100% online, so I took the opportunity to start teaching online and be able to keep living in Pisco Elqui.
Why did you decide to get TEFL certified and choose International TEFL Academy?
I wanted to move abroad after working in a marketing agency for a few months and learned that teaching abroad made it very possible. When I started my internet search, ITA came up and had incredible reviews (they weren't wrong!) and made the process so easy and stress-free.
Which TEFL certification course did you take?
I took the standard 11-week online TEFL course.
How did you like the course?
I loved it! The tasks were all very intentional & useful. I've used so many of the templates & lesson plans in actual classes. The practicum helped me get real experience before jumping into a classroom by myself.
How has your TEFL training helped you in your current teaching position?
ITA's TEFL training helped me learn how to make a lesson plan that wouldn't let me forget anything before a class. I've felt super prepared because of the organization skills that ITA tasks give students practice in. I work with young learners, so having training on the different developmental stages kids go through has been really helpful to know.
What company do you teach English online with?
Beyond English.
What are the qualifications required to be hired through your school?
Please briefly explain the application and hiring process for your school:
There's a 3-part process. First, there's an application online where you have to submit your CV, cover letter, Bachelor's Degree, reference letter & video pitch. Next, an initial interview. Third, a final interview.
Do you teach English online from home or abroad?
I TEO from abroad! I've been living in Pisco Elqui, Chile since I first moved to Chile to teach classes in person. When the pandemic struck, classes got moved online & I've been able to keep living here to teach.
Is the internet reliable in Chile?
YES! Having a backup has been crucial to being able to teach online. I live in a rural village in the Andes mountains, so I use my phone's hotspot & also have a router with a different company because we lose signal all the time. Usually one or the other works, but I definitely need to have both to make living here work.
How long have you been teaching online?
We transitioned to online classes in 2020 when the pandemic started.
How many hours on average a week do you teach online and what is your time commitment outside of teaching?
I teach about 15 hours a week & spend about 5 hours planning lessons & preparing for classes.
How much money do you make teaching online with your school?
My pay rate is $12.00 USD per class. Each class is 30 minutes so I make $24.00 per hour. I usually teach about 15 hours of class a week which amounts to approximately $1,500 USD a month.
Which age groups do you work with and what props/tools do you find most useful?
I work with kids, but other people in the company teach adults. With kids, realia around the house is super helpful whenever possible. Other than that, having good headphones and reliable internet is the most important when teaching English online. I also like having a notebook (either online or physical) to take notes during the class to be able to provide feedback & track their progress. The Beyond English (BE) team has an excellent internal bank of resources that make classes fun & easy to plan.
How do you consider cultural differences when teaching online? Does this influence your teaching style?
Absolutely, one of the major aspects of the BE classmates / BE curriculum is intercultural exchange. We learn a lot about Chilean culture through classes and teach our students about cultural customs that go along with our wide variety of English-speaking countries represented by our teaching staff.
How does your school review your performance? Are there rewards for having great reviews?
At Beyond English, we are big on growth mindset, not just with students but also with the team! I am encouraged to reach out if I feel I could use extra help in a certain class. I also have periodic classroom observations where I receive feedback on my growth as a teacher and performance in the classroom. These feedback sessions consist of three parts: 1) celebrating areas of growth, 2) identifying areas for improvement, and 3) working together to come up with effective strategies for improvement. I also have a performance review every 6 months where we take a step back and reflect on the bigger picture and review the progress I've made on the goals that I set for myself.
How has your ITA TEFL certification helped you with teaching English online?
I got my ITA TEFL certification before transitioning to teaching online, but a lot of the same things apply. Having a lesson plan is still super necessary for any class. It's also important to remember that behind a screen, it can feel very 2-dimensional, so adding movement, music, and realia to classes makes them more fun.
What is your favorite thing about teaching online?
I love the flexibility that TEO gives me. I'm able to live wherever I want & choose the hours that I prefer working while also doing meaningful work. Also, although our teachers live in different parts of the world, we feel connected & a sense of community through our game nights, check-ins, and staff meetings.
Would you recommend teaching English online?
Absolutely! TEO lets you practically pick your lifestyle. Especially now with the ongoing pandemic, I feel safe working from home while still meeting people & doing something I truly enjoy. If it weren't for TEO, I probably wouldn't be able to live in this beautiful village & have more time to do things I otherwise wouldn't because of commuting.
Please share with us some details about living in Pisco Elqui, Chile:
I live in the north of Chile in a tiny rural village in the Andes Mountains, so it's quite different from the capital, Santiago. There's no nightlife or metro or a variety of foods. I travel by bus (it comes every 30 min) and it takes about 2 and a half hours to get to the nearest city, La Serena. However, Pisco Elqui is very touristic, so I frequently meet people from all over the world!
In Pisco, it's easy to go for hikes, camping, bike riding, horseback riding, and my personal favorite: swimming in the rivers. The Valle del Elqui has some of the clearest skies in the world, so there are stargazing observatories. Also, Pisco Elqui is home to many distilleries & wineries, so first of all, we have the best grapes & second of all, those are fun touristic places to visit. I frequently travel to the nearest cities (which are on the coast!) La Serena & Coquimbo.
If it weren't for the pandemic, I'd be able to beach hop up north where the water is warmer, but it's still on my bucket list! Architecture is very old and houses are painted bright colors. Everything is within walking distance here. People are really friendly & very relaxed. There are multiple yoga studios, massage therapy, & reiki studios. There's also a community garden where people take their compost weekly. Since it's quite dry here, people are very eco-friendly & practice sustainable living. If you're a nature enthusiast & dream of living a cottage-core life, then Pisco is the place for you!
What are your monthly expenses?
My monthly expenses are about $665 USD, depending on if I'm traveling that month.
Rent - $350.00

Utilities - $25.00

Phone - $20.00

Groceries - $200.00

Other - $70.00

(Sometimes) Travel - $200.00
How would you describe your standard of living?
Money: I'm a big saver, but I also have the "treat yourself" mindset. I cook daily (because I love it & because I refuse to eat another fried empanada) which saves a lot of money that I prefer to save up to travel. I like staying in cute Airbnbs & eating out when I travel. I'm all for being a bit stingy throughout the month to be able to drink that overpriced restaurant wine stress-free.
Lifestyle: I've lived in a city my entire life, so moving here was a big change. I *love* the silence and waking up to stunning mountains daily. I love that I don't hear traffic, or lots of honking, or alarms. Pisco Elqui is super safe, so I feel comfortable here. The signal can be bad & the power goes out in bad weather, but overall, I have so much more time for myself here for personal growth. The community here is very eco-friendly and practices sustainability which is such a difference compared to bigger cities.
In your opinion, how much does someone need to earn in order to live comfortably?
I think anything over $1,000USD allows for saving & living comfortably.
In 2019, Leslie packed her bags, said goodbye to California, and hello to Pisco Elqui, Chile. She's been living in this picturesque rural village in the north of Chile for over two years and still can't get over how pretty the mountains look every day. Besides living her dream cottage-core life, picking grapes from the vines in her backyard, and teaching English online, she spends her days cooking authentic Mexican meals her mother taught her and watching The Office.
Want to Learn More About Teaching English Abroad & Online?
Request a free brochure or call 773-634-9900 to speak with an expert advisor about all aspects of TEFL certification and teaching English abroad or online, including the hiring process, salaries, visas, TEFL class options, job placement assistance and more.