Teaching English in Brussels, Belgium: Q&A with Leigh Hutchison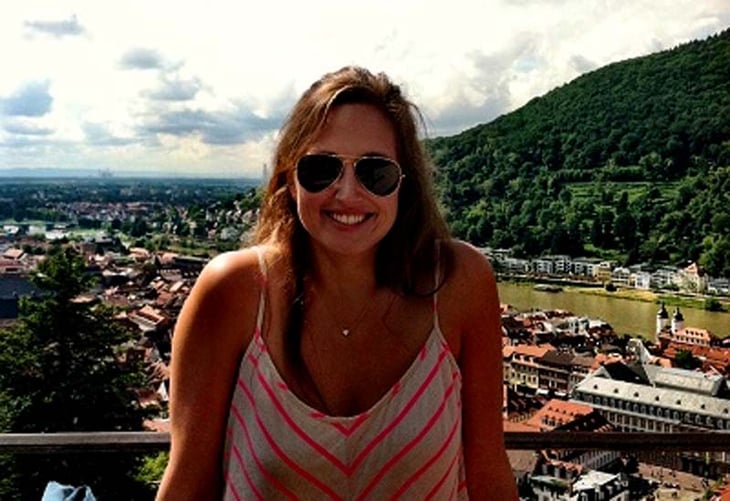 What is your citizenship?
United States
What city and state are you from?
Doylestown, PA
How old are you?
25
What is your education level and background?
Master's Degree or Higher
Have you traveled abroad in the past?
Studied abroad
If you have traveled abroad in the past, where have you been?
I had the opportunity to back pack Europe with my best friend. We traveled throughout Germany, Amsterdam, Prague, Vienna, Budapest, Istanbul, Venice, Southern France, Barcelona, and parts of Portugal!
If you have studied abroad in the past, where did you study?
Oxford, England.
What sparked your interest in going to teach English abroad?
I have always had a passion for teaching and love to travel... so why not do both? Teaching English as a Foreign Language and becoming TEFL certified seemed like the perfect way to expand my bachelor's degree in Elementary Education and provide me a great opportunity to enhance my teaching career.
What were some of your concerns before teaching abroad?
Finding a job was my main concern. I was also a bit worried about teaching English as a second language.
What did your friends and family think about you moving and teaching abroad?
Everyone was supportive and some a bit jealous! It's a "once in a lifetime opportunity" which my Dad says that I say a lot... but it's true! I couldn't have moved with out my family's support and they were excited for me.
Why did you decide to get TEFL certified and choose International TEFL Academy?
I decided to get certified with International TEFL Academy to become more confident in teaching English as a Second Language. With an education background, I had a general understanding of how to teach reading, but TEFL helped my resume and also gave me more resources for the classroom.
Which TEFL certification course did you take?
Online TEFL Class.
How did you like the course?
I took the Online TEFL course over the summer before my move to Belgium. I had a great instructor and the class was very manageable.
How has your TEFL training helped you in your current teaching position?
TEFL enhanced my background in teaching. It is also very well known so I believe it helped me land the job I currently have.
Which city and country did you decide to teach English in and why?
I teach English in Brussels, Belgium. I moved to Belgium with my boyfriend for his job. We live in Brugge and I commute to Brussels.
How long have you been in this country and how long do you plan to stay?
I have been in Belgium for over a year and we will leave this summer.
What school, company, or program are you working for?
I teach Primary 1 at Brussels International Catholic School: https://www.bicschool.be/.
How did you get your work visa? If you didn't get a work visa, please elaborate on working under the table without a work visa.
I actually applied for a "Cohabitation Visa", since my boyfriend is in the Navy and we aren't married this was the best way for me to get a Visa. With the Cohabitation Visa I am able to work. This took about 3 months and a LOT of paperwork. If I had a job before moving to Belgium at my school they could have provided me a work visa.
Tell us about your English teaching job!
I work at a bilingual international school. The school is Catholic, but you don't have to be Catholic to work there. The school has a pre-primary, primary, and secondary school. I work as a primary 1 teacher. I teach English, Math, Science, and Art (on Wednesdays). I only work on Tuesdays, every other Wednesday (half days), and Fridays. The other days are French days.
I work about 25 hours a week and make around 1000 euros a month. Unfortunately, the commute is so long (2 hours each way) that I can't work full time. If I did, I would be able to save more.
Belgians have a lot of holidays! We start the first Tuesday in September, there is a week for "Autumn Term" at the end of October, two weeks in December, one week in March, 2 and a half weeks in April, a few days in May, and we end the last Friday of June. The best part of my job is that my students are from all over the world. I have students from Bangladesh, Spain, Poland, India, Italy, France, Denmark, and more!
How did you find somewhere to live and what is it like? Do you have roommates?
My boyfriend and I found a place to live using a the website: https://www.immoweb.be/en . We also found a realtor to help at the end. We don't have any roommates.
Please explain the cultural aspects, public transportation, nightlife, social activities, food, expat community, dating scene, and travel opportunities in your country:
Belgium is known for their beer, chocolates, and waffles... and I have had my fair share of all of them! It's fun to try new beers and bars every weekend and to have a box of chocolates in your kitchen as a pick me up. Belgian food is heavy on the meat and potatoes but luckily Brugge has a diverse amount of restaurants. We love an Indian restaurant nearby.
Public transportation in Belgium is great, especially for my job. I ride my bike to the train station, take the an hour train to Brussels Central, and then take the metro to my school. My school pays for my transportation. Everything is accessible by train or bus in Belgium.
Belgium is the size of Maryland, but they have 3 national languages (Dutch, French and German). Brugge is in the Dutch speaking part of the country. Brugge does not have a huge expat community, like Brussels, but everyone speaks English. NATO and the EU are in Brussels so the expat community is very large.
It' s also very easy to travel from Brussels to anywhere in Europe! We try and go to a new city at least once a month.
What are your monthly expenses?
This section is a bit different for me because of my boyfriend's job. But overall things are more expensive here, especially in Brugge. A dinner for one person is about 20 euros with out a drink. You have to pay for water, so you might as well get a delicious beer!
Transportation is paid for by my school, but relatively cheap if you are under 26. I recommend buying a sim card from Mobile Vikings (10-15 euros depending on how much data/minutes you want). It's cheap and everything is done online.
Ryan air flies out of Brussels, which is great for cheap flights. We also use the website airbnb.com for cheaper apartments to stay in while traveling.
How would you describe your standard of living?
This is an interesting question, but I think I am living just fine!
In your opinion, how much does someone need to earn in order to live comfortably?
If you worked full time at my school, it would be enough to live comfortably!
What advice would you give someone planning or considering teaching abroad? Would you recommend teaching in your country?
I recommend teaching in Belgium, but living in Brussels or Ghent. Brugge is a beautiful city but not very 'young'. There are also more expats in Brussels and Gent, giving you more opportunities to meet people and join social groups.
After studying abroad in college, Leigh developed a love of travel - it was a plus that she already had a passion for teaching! Getting TEFL certified and teaching English abroad seemed like the perfect way for her to expand her bachelor's degree in Elementary Education and provide a great opportunity to enhance her teaching career. After taking ITA's Online TEFL Course, she moved to Brussels, Belgium to teach English to children at a bilingual international school.
Want to Learn More About Teaching English Abroad & Online?
Request a free brochure or call 773-634-9900 to speak with an expert advisor about all aspects of TEFL certification and teaching English abroad or online, including the hiring process, salaries, visas, TEFL class options, job placement assistance and more.