diversity abroad
Teaching English and Racism in Spain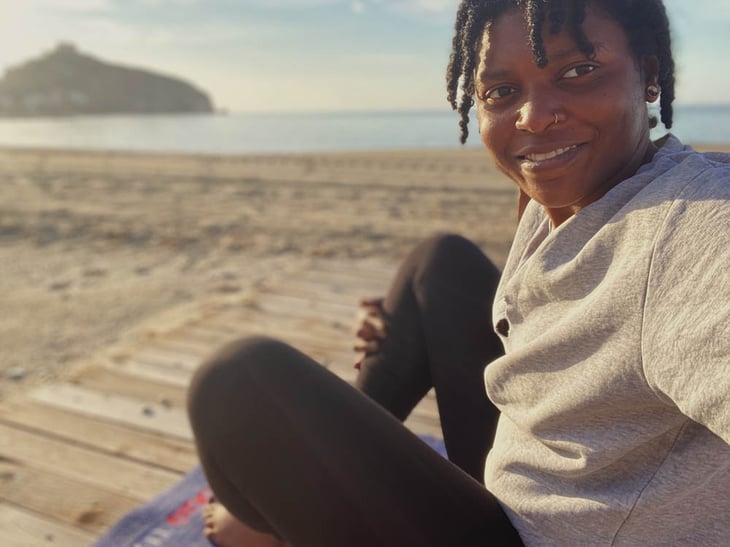 My name is Saskia, and I am a first-generation American. I was born in Stamford, Connecticut, and moved to Atlanta in 1996. I lived there for over twenty years before I moved abroad. Graduating from Kennesaw State University in 2015 with a Bachelor of Art in World History by studying abroad in Germany for two weeks made me want to see the world firsthand.
In the next two years, I traveled to four continents and almost twenty different countries around the world frequently alone. Still, I felt a longing. So, I decided I wanted to live abroad permanently or at least semi-permanently. I started my Google search and found that teaching English was one of the most popular ways to do this. In that same article, I came across the International TEFL Academy as a way to do it online.
By August of 2017, I completed my TEFL certification and was working online as a tutor. I had left my corporate job. The plan was to go to Spain in January 2018 through Workaway, I would apply for the North American Language Assistant Program in Spain that would start in October of that year. I was also working on my master's degree in International Relations from Troy University online.
After a first attempt at moving abroad in January 2018 did not work out, I decided to make another attempt at it in September 2018. The idea of leaving the USA was significant not only because I knew that most places like Spain had a better work-life balance but also the peace of mind of not having to deal with all the violence and racism going on in the USA.
On my second time in Spain, I had gone to the Southern region of Murcia, in a small town called Águilas. Águilas is right off the coast of the Mediterranean Sea, with a population of about 35,000 people. I chose Murcia because it was a lower cost of living with higher pay than I had seen in my time in Bilbao.
There were a lot of cultural changes amongst the regions as well. Bilbao seemed to have a more liberal and established structure than Murcia. The climate was also much more desert than the forests of Northern Spain. There was one thing that did seems roughly the same.
That was the existence of Black people in Spain. Most of the Black people I encountered in Spain were African immigrants. Many not having the documentation to work legally were selling toys and umbrellas on the streets to bring in money. A lot of times, getting stares of disgust by the Spanish.
So, there was no surprise when I arrived in Águilas, that people would often stare or make comments at their tables or to their friends when passing me. Some would hold their purses, and others would approach me to ask me where I was from, which I believe was because I wore my natural hair in an afro and have tattoos on my arm. I was even solicited for prostitution a few times by men of various ages.
If they were able to actually find the courage to speak to me and found out that I was American, they became a bit less apprehensive and more open. I called this passport privilege. Even when I went to my schools to turn in paperwork, I was often mistaken for being the French Language Assistant. Also, when I told them I was American, I was asked about my African lineage. One of the teachers I worked with, even openly admitted to me she did not like Moroccan children as they were the worst.
I had not heard much about the racism here because it does not get documented as thoroughly as the United States and other countries. Actually, Spain has some of the most relaxed laws on Hate Crimes in the world, along with the fact that most of the Black community here are undocumented and often want to fly under the radar.
By the end of my first year, I knew I could handle the racism and just enjoy the quality of life I was experiencing. I had health insurance for the first time in years and was able to go to get medical checkups for FREE. I also only have to work 15 hours a week, so I can focus on my self-improvement and create a business I had always dreamed of. So, I signed up for a second year in the program.
I want to jump ahead of the pack, so I reached out to my bilingual coordinators at both of my schools. I had an apartment already and was familiar with the city. I knew this year was going to be better than last year for sure, well at least less stressful. It was not. I had a lot of issues with renewing my visa and was afraid I would not continue in the program, but by December, that was all worked out.
The new year brought another experience with racism at my new school. Carnaval is a significant cultural event here in Spain, and the city of Águilas is one of the biggest centers of Carnaval. People dress up as the equivalent of Halloween in the United States. This was my second year, but I also knew that there was a common theme of wearing Blackface as a costume. I never experienced it directly as my schools last year but heard others stating they had.
So, it was, to my surprise, when the male teachers at one of my schools chose to dress up as African women. They stuff their chest and butts with pillows, painted their faces Brown, and wore costume African garb. The theme for the school this year was African, and that was the excuse they gave for dressing up as such.
I made it known I disapproved and did not want to be part of this. I thought that it was racist and made that known. The teachers claimed it was artistic and cultural. The teachers also claimed to mean no harm by it and said it was an honor. The teachers claimed Spanish people were tolerant and open, not racist at all. I felt this was not true because there was a lack of discussion of Afro-Spanish history in the country.
Spain had spent hundreds of years under the control of the Moors of North African and the Carthaginians. There was also the Transatlantic and Spanish mainland Slave Trade that brought many Africans to Spain and across its colonies. None of this was even remotely discussed. In fact, Africa was often referred to as if it were a country and not a continent.
Add to the fact that I am a woman; when I did speak, it was not well received. I had to deal with a bilingual coordinator, who was not very helpful and teachers that did not seem interested in my assistance on top of their own biased based on my race. I did not feel welcome.
What was I able to do to get passed this and what can you do if you encounter racism while teaching abroad:
If you think it was racist, it was, your feelings are valid.
Seek a support system that will listen to you and help you process these events/circumstances healthily.
React, but do not overact. Be vocal on how it makes you feel, then take a step back after you react you process your feelings and exam how you want to explore going forward. You have the right to your space and reaction.
It is not your responsibility, but you can choose to educate them by creating materials in the class about racism and highlighting BIPOC and POC's within their culture and outside of it.
Not all will be understanding or interested no matter how you approach it but stand your ground if it is something you genuinely do not like. People's receptions do not equal your worth, nor do you need to get them to see your worth.
Do not internalize other people's racism in any way.
I am heading into my third year here in Águilas, and despite the racism, I have experienced, trust me there is much more I could share, I continue to enjoy my time here. I have not let their opinions define me and have found that my presence is educating them and the children on how to be tolerant and accepting of all people despite their race or gender. I have also been given a sense of fulfillment by knowing that the few Black and Brown students I have seen me as a role model because they often do not have teachers that look like them. My business has now begun to focus on intersectional feminism through life coaching.
It's not about finding the perfect place to live; it's about being the best place within yourself. Racism and other forms of discrimination exist in every region and country of the world there is no escaping it. The internal work must be done not to internalize it so that you can have the strength to show up for yourself and have an impact.
Saskia Dure is 29 from Cartersville, GA with a BA in World History from Kennesaw State University. She worked in debt collections for 3 years before completing her TEFL certification through International TEFL Academy and moving to Spain to teach English.
Want to Learn More About Teaching English Abroad & Online?
Request a free brochure or call 773-634-9900 to speak with an expert advisor about all aspects of TEFL certification and teaching English abroad or online, including the hiring process, salaries, visas, TEFL class options, job placement assistance and more.