Please outline and specific requirements to teach english online with VIPKid?
VIPKid only accepts those from Canada and the US because their customers want the North American accent. You need a bachelors degree and experience with kids in some capacity. This experience can be teaching in a classroom, coaching, tutoring, being a nanny where you help the a kid with homework, Sunday school, or anything else like that.
Briefly explain the VIPKid application and interview process.
There are a few different options now.
1. Fill out the online application. Once you pass this, you will have either a recorded or live interview/demo. Next, you will teach a mock class(es) to experienced teachers that will mimic a student. After you pass this, you open your schedule and begin teaching.
2. Attend a Fast Pass event in your city, which allows you to pass the interview/demo stage. From here, you will teach mock class(es) and follow the same process.
Is there a minimum number of hours you have to work per week/month or is scheduling completely flexible and up to you?
There is no minimum hour requirement. You choose how much you want to teach.

How many hours a week do you teach English online?
I try to average around 13 hours per week.
What do you love about teaching English online as a side hustle with VIPKid?
I love the flexibility and how well it works with my current schedule. Since I have been teaching English online with VIPKid for 1.5 years, I have a great group of regular students that love to have fun and laugh while learning.
Lots of teach English online companies have students based in Asia. How do you make the vast difference in time zones between Asia and the USA work for you?
I live on the east coast, which I think is great for teaching in Asia. The peak hours are currently from 7-9am PT (6-8 when not on daylight savings). I work 4 days a week and usually have a full schedule working 6-9am PT. This allows me to get enough sleep without having to disrupt my sleep schedule too much.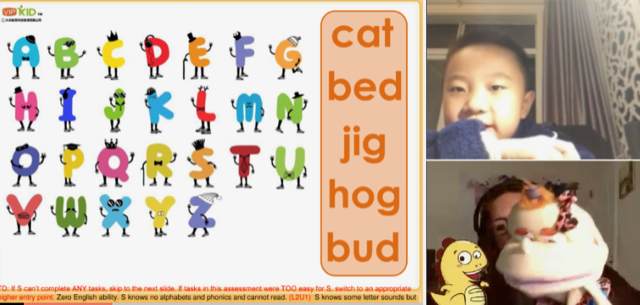 How much do typically make from teaching English online as a side-hustle?
This all depends on your qualifications. With VIPKid, you will make anywhere from $16-24 USD per hour I believe. My goal is to make $1000/month, which I have been able to do!
What do you use your side hustle earnings for?
I use it to support myself and pay rent/bills while in graduate school. I am doing this so I don't have to take out student loans while in school.
ADVICE FOR PROSPECTIVE ONLINE ESL TEACHERS
What advice would you give someone planning or considering to teach English online?
I love it but just know that with VIPKid, you are not guaranteed hours. Because of this, it can take some people a month or so to start filling up their schedule. I was lucky and got a full schedule quickly, but not everyone has this experience.
Would you recommend teaching English online as a side hustle?
DEFINITELY!!!
Finish this sentence: You should teach English online as a side hustle if you…
... want some extra income. I wouldn't be able to fully support myself with this as a full-time job, but for this point in my life, it is perfect!
Want to Learn More About Teaching English Abroad?
Request a free brochure or call 773-634-9900 to speak with an expert advisor about all aspects of TEFL certification and teaching English abroad or online, including the hiring process, salaries, visas, TEFL class options, job placement assistance and more.