teach english online
Teach English Online as a Side Hustle: Alumni Q&A with Kim Jackson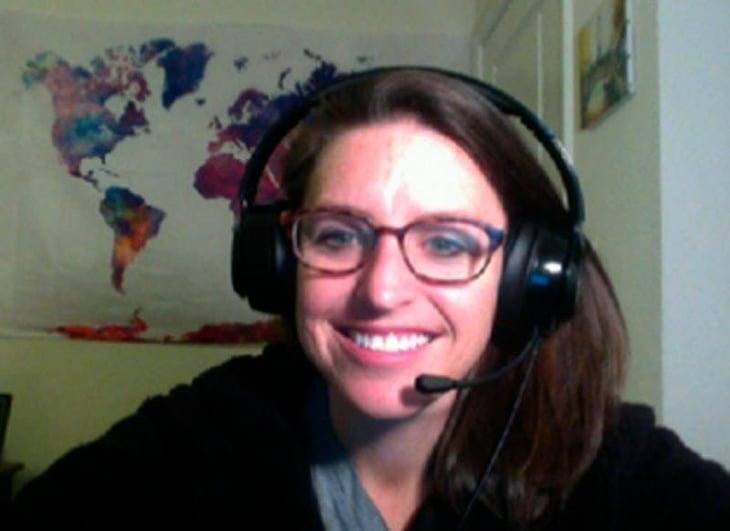 What is your citizenship?
I am a US citizen.
What city and state are you from?
Atlanta, GA.
What city and state within the USA do you teach English online from?
Athens, GA.
How old are you?
30.
What is your educational level and background?
Bachelor's Degree in Exercise Science.

Have you traveled abroad in the past? If so, where have you been?
Yes! I lived in Ecuador for one year, South Korea for one year, and spent three months traveling around SE Asia while teaching English online.
If you have studied abroad in the past, where did you study?
Cortona, Italy.
What sparked your interest in teaching English online?
I didn't know exactly where I wanted to live when I left South Korea and teaching English online gave me the freedom to move around at my own pace. I started teaching online thinking it would be a 6 month thing, and now I have been teaching with VIPKid for 1.5 years. This platform gives me the ability to pay my bills and support myself while being in grad school.
What were some of your concerns before teaching English online?
I was worried that the company wouldn't be respectable and was just wanting to make money. I didn't know if I would be able to get regular students and be able to work enough to support myself.
Why did you decide to get TEFL certified and choose International TEFL Academy?
I wanted to be as prepared as possible to enter the classroom. Since I didn't have a background in education, getting my TEFL certification would help me to learn what teachers learn in college.
Which TEFL certification course did you take?
I took the online TEFL course.
How did you like the online course?
The course really prepared me and helped me to understand the learning process for a student. I was able to think critically and be able to create activities that were achieving a specific aspect of language (reading, speaking, writing, or listening). I learned how to write a lesson plan and build on that to make consecutive lesson plans that were cohesive.
How has your TEFL training helped you with teaching English online?
The course gave me confidence in my abilities to teach a class. Obviously, the best way to gain confidence is through actual teaching but this course gave me the most knowledge one can possibly get through a classroom environment. I felt much more prepared and calm about starting my job than other friends that took cheap courses. The training also allowed me to start out at a higher salary than those without the training.
How did you learn about teaching English online?
I saw a Facebook ad about VIPKid and also had a friend that previously taught with the company. At the time, VIPKid was one of the only companies online.
Why did you decide to teach english online as a side hustle?
I wanted to be able to support myself while traveling around before moving back home. Making money instead of relying on savings allowed me to take 1 hour flights instead of having to sit on a 12 hour long bus ride.
What do you do when you're not teaching english online?
I am in graduate school.
Do you find it hard to juggle grad school with your side hustle of teaching English online?
I find that I get tired more often but I stick to a very strict bedtime, which helps give me the energy to wake up early and teach. I am very lucky that I can teach 2-3 hours in the morning and then go to class. The schedule is very flexible, so if I need a break, then I just don't open my schedule for a few days. Having control over my schedule helps to make this manageable.
What are the benefits of teaching English online as a side hustle?
I can't emphasize enough how important it is that I am 100% in control of my schedule. When I want to go on vacation, I simply don't open my schedule. If I need to make a little more money for the month, I can open my schedule and get short-notice classes, which pay a few dollars more.
Which company do you teach English online with?
VIPKid - Watch Kim talk about VIPKid in the video below!
Please outline and specific requirements to teach english online with VIPKid?
VIPKid only accepts those from Canada and the US because their customers want the North American accent. You need a bachelors degree and experience with kids in some capacity. This experience can be teaching in a classroom, coaching, tutoring, being a nanny where you help the a kid with homework, Sunday school, or anything else like that.
Briefly explain the VIPKid application and interview process.
There are a few different options now.
1. Fill out the online application. Once you pass this, you will have either a recorded or live interview/demo. Next, you will teach a mock class(es) to experienced teachers that will mimic a student. After you pass this, you open your schedule and begin teaching.
2. Attend a Fast Pass event in your city, which allows you to pass the interview/demo stage. From here, you will teach mock class(es) and follow the same process.
Is there a minimum number of hours you have to work per week/month or is scheduling completely flexible and up to you?
There is no minimum hour requirement. You choose how much you want to teach.
How many hours a week do you teach English online?
I try to average around 13 hours per week.
What do you love about teaching English online as a side hustle with VIPKid?
I love the flexibility and how well it works with my current schedule. Since I have been teaching English online with VIPKid for 1.5 years, I have a great group of regular students that love to have fun and laugh while learning.
Lots of teach English online companies have students based in Asia. How do you make the vast difference in time zones between Asia and the USA work for you?
I live on the east coast, which I think is great for teaching in Asia. The peak hours are currently from 7-9am PT (6-8 when not on daylight savings). I work 4 days a week and usually have a full schedule working 6-9am PT. This allows me to get enough sleep without having to disrupt my sleep schedule too much.
How much do typically make from teaching English online as a side-hustle?
This all depends on your qualifications. With VIPKid, you will make anywhere from $16-24 USD per hour I believe. My goal is to make $1000/month, which I have been able to do!
What do you use your side hustle earnings for?
I use it to support myself and pay rent/bills while in graduate school. I am doing this so I don't have to take out student loans while in school.
What advice would you give someone planning or considering to teach English online?
I love it but just know that with VIPKid, you are not guaranteed hours. Because of this, it can take some people a month or so to start filling up their schedule. I was lucky and got a full schedule quickly, but not everyone has this experience.
Would you recommend teaching English online as a side hustle?
DEFINITELY!!!
Finish this sentence: You should teach English online as a side hustle if you…
... want some extra income. I wouldn't be able to fully support myself with this as a full-time job, but for this point in my life, it is perfect!


Kim fell in love with traveling during a study abroad trip to Italy during college. After graduation, she wanted to travel the world but needed to find a way to support herself financially while traveling. When she discovered teaching English abroad, she knew this was the perfect opportunity! Kim took ITA's Online TEFL Course before moving to Quito, Ecuador to teach business English to adults.
Want to Learn More About Teaching English Abroad & Online?
Request a free brochure or call 773-634-9900 to speak with an expert advisor about all aspects of TEFL certification and teaching English abroad or online, including the hiring process, salaries, visas, TEFL class options, job placement assistance and more.