Middle Eastern Meals: Dining Adventures with Katie Ayers in the U.A.E.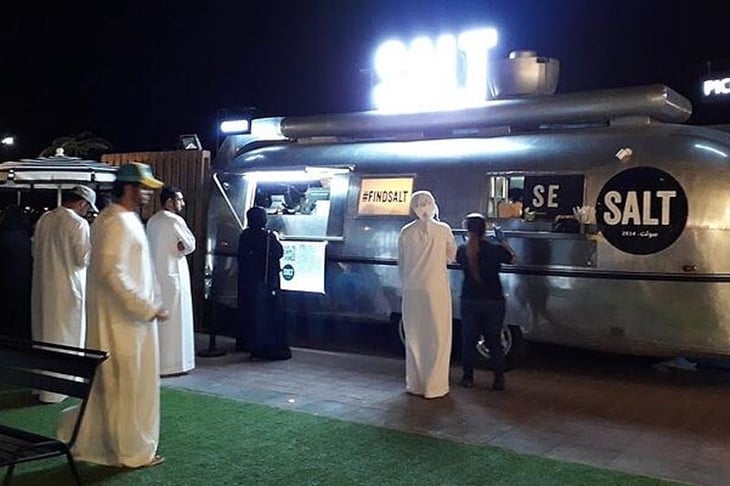 When traveling, the only solidified plan I make before leaving is where to eat. My Pinterest travel board is a glorified international food board and I am constantly in search of my favorite meal to date.
One of my favorite meals happens to come from my current home. After doing extensive research on where to eat in Ras al Khaimah, trying a variety of food and compiling my top 5 must eats I'm ready to convince people to travel here based on the food alone. If I convince you, and you make your way up to the northernmost Emirate, don't leave before you hit at least 2 of these spots.
5th on the list: Tarboush Al Basha (translation from Arabic)
A typical light or fast food meal here is a shawarma or falafel wrap. This place has the best in town. I order 2 or 3 each time I go (because apparently gluttony isn't a deadly sin I'm concerned about breaking). The shawarma is either beef or chicken and it is cooked on a rod that spins around until the meat is shaved off to order. I exclusively order the chicken, in combination with the garlic sauce it is smothered with, it's mouth watering. Falafel wraps have some pickled vegetables and other goodies with delicious sauce to tie it all together. It's 10 times better than you're thinking, I promise. If you visit me, I'll pick you up with wraps in the car.
A fun fact, the UAE in general isn't equipped with drive throughs so if you want an order brought to your car because it's 110 degrees at 10 am, you pull up to the restaurant and honk your horn. A menu is brought to your car and one payment later, so is your food. The first time I experienced the honking I was a bit taken aback, but it's standard here. You can even do it and the smaller local grocery shops. Anything you want is one honk away.
Number 4 goes to: Thunder Road
An Italian restaurant in the middle of the desert. A large part of the joy I feel when eating at Thunder Road is the decor is kitschy and charming. Think route 66 in the USA meets authentic Italian with t-shirts spray painted onto the wall. There's a table with kinky boots for legs and a motorcycle in the back that is "one of a kind." The owners are true Italians and make you feel at home.
The pasta portions are bigger than American sized, the pizza is unique and the tomahawk steak is reasonably priced. What keeps me coming back is the bread, it's hard to find good Italian bread in RAK, but this bread with some olive oil and basil I'd be happy eating all day and night. There are a few dishes I don't love but there are enough to keep this firmly in the 4th spot. The only serious downfall is they charge for takeaway, and you always need takeaway.
Number 3 on the list is Bedyafina (translation from Arabic)
This little "hole in the wall" I stumbled upon during one of my weekly visits to Feras Sweet (more on this later). It's a Lebanese sandwich shop owned by what can only be described as the nicest man on Earth. He has meticulously planned each sandwich so the flavor profile is balanced and jam packed with taste. This is another place I can't leave without at least 2 sandwiches in my bag, but for here, it's because I can't choose, my favorite sandwich is every single sandwich on the menu. My top two are Sujuk (Lebanese sausage and halloumi - think squeaky Wisconsin cheese meets a frier) with whatever toppings the lovely man includes and they put olive oil and zatar on the bread after it's toasted, yum. Zatar is a Mediterranean herb that I love, (shocking another food I love). This is my favorite meal to have when I'm headed out at night to an outdoor cafe to watch football, drink tea and smokeshisha.
2nd on the list is: Hanoi
I bet you guessed the cuisine type, this little Vietnamese hotspot is frequented by me, well, frequently. It's almost ridiculously reasonably priced. It's a family business, we've watched the little boy grow from a newborn. The Pho here is admittedly, not the best I've ever had but everything else I've eaten is fresh and satisfying. The Bun Dau is my usual dish. The tofu is the best I've ever had in my life (I was a vegetarian for years, and am an anomaly who loves tofu), they also include a peanut sauce that really brings the whole dish together. The spring rolls are homemade and slightly different every time, so it's always an adventure. Hanoi brings out the nicest people in RAK (that's why you can find me there - insert large grin).
The number one place to visit is: Karam al Sham
Karam al Sham means "The Generosity of Syria." When I know we are headed here for dinner I dance the whole way. The problem is I actually love everything on the 10 page menu. Our standard order (also known as one of my favorite meals to date) is as follows: Lentil Soup (lentil and lemon, it's literally all you need), falafel (the best and different than any falafel you can get in the US), eggplant, hummus and salad.
We also get mixed grill when meat is needed. These are all classic dishes for the region. A typical drink is lemon and mint, it's the best here. The family who own this restaurant make you feel welcome and like you're part of the family before you leave. I bring all of my visitors to try the cuisine of Syria when they come to visit, so when are you coming?
Another fun fact: It's typical to see people eating with their hands here, so when you head to Karam al Sham be ready to use your hands more than you use your fork.
A few honorable mentions that didn't quite make the top 5 cut are:
K Pop Chicken: Typical Korean street food.
The Bay: A bar, delicious food and one of the few places you can have an alcoholic beverage with your food!
Muse and BBC: Other food/bars - I'm including them under my friends encouragement, I think they're overpriced and not that good.
Tucano: A coffee shop where I'm writing this, and where there's a book exchange!
Bombay Darbar: Indian, cheap and delicious, like ¼ the price of Chicago Indian food!
Izumi: Sushi.
Voltage Burger: Self explanatory.
Bee Sweet: Cakes and cupcakes - honestly the only ones I like in the whole Emirate.
Feras Sweet: This amazing bakery has Kanafeh traditionally prepared like they do in the street of Nabulus, Palestine. It's cheese for dessert, you have to try it.
Our choices in RAK are limited, but when it's good - it's GREAT.
A Seattle native who's heart is in Chicago, Katie holds an elementary education degree from Loyola Chicago. Since earning her TEFL certification from International TEFL Academy she first taught English abroad in Mexico before heading to the Middle East to seek new adventures in Ras al Khaimah, United Arab Emirates (U.A.E.). While teaching in the U.A.E. she also served as an ITA Alumni Ambassador, publishing numerous articles and videos about her experience teaching English in the heart of the Middle East.
Want to Learn More About Teaching English Abroad & Online?
Request a free brochure or call 773-634-9900 to speak with an expert advisor about all aspects of TEFL certification and teaching English abroad or online, including the hiring process, salaries, visas, TEFL class options, job placement assistance and more.