lgbtq+
LGBTQ&A: Teaching English in Prague, Czech Republic with Zoë Sapienza
ITA alumnus Zoë talks about her experience teaching English in Prague as a member of the LGBTQIA+ community for ITA Pride Week!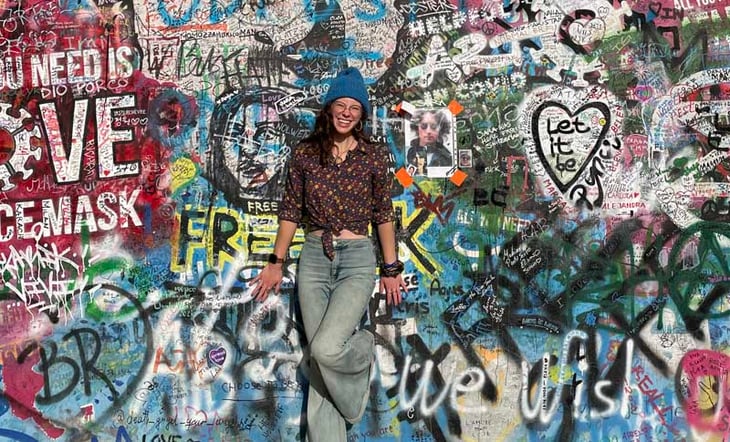 What is your citizenship?
USA
Where are you from?
Akron, Ohio USA
How old are you?
27
What is your education level and background?
Bachelor's Degree.
Have you traveled abroad in the past?
Yes, France, Italy, New Zealand, Jamaica, Scotland... and a bunch of other places now that I've moved to Europe!
Please tell us a little bit about yourself!
I am 27 and love theatre and art-making. Fashion is super important to me too and I love to play around with clothes and accessories. I am a hippie who loves animals and the sea. Save the coral! I love to draw for fun and be in nature. Hiking, kayaking, swimming, just laying in the grass, I'm all for it.
What sparked your interest in teaching English abroad?
I've always wanted to move abroad and I know I am a great teacher so I finally just did it.
What city and country did you decide to teach English in?
I decided to teach English in Prague, Czech Republic.
What did your friends and family think about you moving and teaching abroad?
They were mostly fully supportive and excited. My parents were a little concerned about healthcare and logistical things. But they were so excited for me and really helped me get over here. They gave me my TEFL course to me as a birthday gift!
What were some of your concerns about teaching abroad?
Honestly, no. I just kind of picked a place and tried it. It all went pretty fast. I will say that I wish I had looked more into this because I was missing a queer community like I had/have back in Chicago.
Please give your thoughts on dating abroad.
I do use apps. I'm on Hinge and Bumble. It's more challenging because people don't always stick around for the long haul. People are always visiting and traveling so it can be hard for me to find someone who is around for more than a few weeks. Which is cool too if that's what you're looking for!
Was there anything about being a member of the LGBTQ+ community abroad that was unexpected?
Now that I think about it, no. But I got so used to my group of friends back in the States that I was almost shocked to realize that people aren't as expressive and forward with their identity as I was used to. I still find myself missing the outward expression and freedom that people in Chicago show and take joy and pride in. The Czech Republic used to be a Communist country not too long ago, so I was reminded that they are just starting the journey of being out in public.
Did being a member of the LGBTQ+ community have an impact on where you decided to teach English?
No.
Did you come out while living abroad? If so, how did your host country and experience influence that decision?
Nope. I came out last summer!
Tell us about finding your community abroad.
The first few months abroad were really isolating and hard for me. I came over alone and without a built-in community of a class or school setting. But once I met my old roommate who is also queer, and she introduced me to her friends, I began to find my community of people who were also queer or supportive. Then honestly about a month ago we found an LGBTQIA+ bar and that was very exciting for us!
What are some of your most memorable experiences teaching English abroad?
Realizing that I am strong and capable and can have a blast traveling alone. Going to Carnivale in Venice and Milan Fashion Week. Which also happened to be the weekend that the war started. So I protested in Milan which was indescribable. Going on a walk in Prague at night and feeling at home. And truthfully all the nights I've been out with friends are incredibly important to me.
About a month into my time there, I found a group of three students waiting for me outside the teacher's lounge. They presented me with a somewhat formal invitation to come to their class photo session so I could be included. I was very moved by this small but kind and inclusive gesture.
Did you have any difficult conversations abroad about being a member of the LGBTQ+ community?
As a teacher, I always try to incorporate LGBTQIA language into the classroom. Like using books with queer characters, explaining the pronoun 'they', and talking about trans people. I've had lots of conversations with either fellow teachers or even friends who disagree with this because it's either putting ideas into their heads or is too confusing when the kids are learning English. Like using they would be too hard. Which I completely disagree with and have seen positive results in my classrooms because I actively do this. Also, I call people out if they misgender someone and sometimes my reaction of "do better" isn't taken well. No skin off my back, I will still do these things, but it has to lead to some uncomfortable conversations.
Did you find that locals had any stereotypes? Or did you have any stereotypes about locals?
In terms of the queer community? No.
Were there any cultural boundaries you found to be different than your home country?
I found that locals do not touch and hug very much or smile in public. Once you know them, yes. But I miss the constant physical touch that I'm used to in the States. Once someone asked if I was American. I said yes. She responded, "I thought so because you smiled and touched my coworker's arm."
What are your thoughts on safety in your host country abroad, as a member of the LGBTQ+ community?
I feel very safe. Especially coming from the US with all the gun violence, I don't have any of that fear here. I am privileged that I am straight passing as well.
Have you participated in any Pride celebrations abroad?
No, but Pride is coming up so I hope so!
Have you had any weird or funny questions from locals?
Someone asked me if going to a lesbian bar was a good way to have a threesome.
Do you have any advice for other members of the LGBTQIA+ community wanting to move abroad to teach English?
Be aware that it might take you a minute to find a queer community, and it will probably still be a little different than the community you are used to. Not as expressive and outward. But, safety does not seem to be an issue and people are very kind
Anything else you'd like to share?
Once I started meeting people I realized there were lots of queer people, it just took a little while to find them!
---
Additional LGBTQ+ Resources:
ITA LGBTQ+ Video Library - Interviews and Instagram Takeovers from LGBTQ+ alumni sharing their experiences of teaching English abroad.
ITA LGBTQ+ Blog Hub - Read stories, Q&A's, and more from LGBTQ+ alumni all around the world.
Hailing from Akron, Ohio, Zoë moved to Chicago to study theater and remained living there for eight years. After spending five years being a preschool and daycare teacher, she decided to quit her job and move to Prague, Czech Republic in 2021. Zoë now teaches in an English-speaking preschool and also teaches one-on-one classes as well.
Want to Learn More About Teaching English Abroad & Online?
Request a free brochure or call 773-634-9900 to speak with an expert advisor about all aspects of TEFL certification and teaching English abroad or online, including the hiring process, salaries, visas, TEFL class options, job placement assistance and more.