teach english online
How to Overcome the Struggles of Traveling & Teaching Online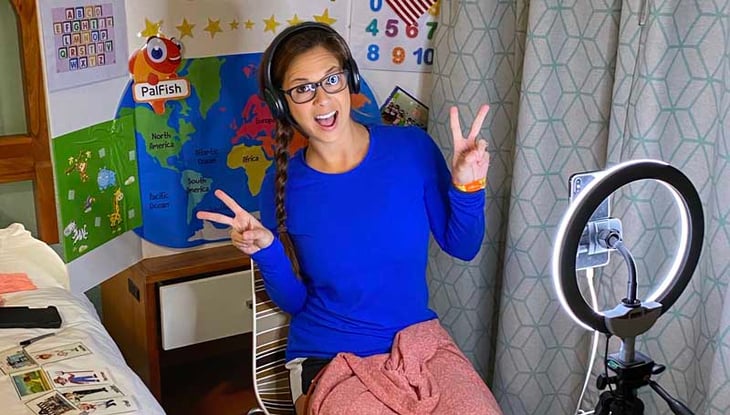 There are some obvious perks to being an online ESL teacher. For starters, my "teacher's uniform" consists of a royal blue t-shirt, sweatpants, and a dab of lipstick. My classroom is typically no more than a few steps from my bed, and I decide when I wake up in the morning. I get to spend a few hours each day with a student from across the globe, guiding them in their language learning journey and forming lasting relationships along the way. Oh, and did I mention I do this from a new city or country every couple of months?
The benefits of teaching English online are immense, and the opportunities it offers are life-changing. After completing International TEFL Academy's online TEFL course, I moved to Cambodia where I taught at an international school. Unfortunately, COVID-19 hit, schools closed, and that's when my online teaching career began. Teaching online has allowed me to live and work in four different countries and countless cities over the last ten months. I've had unforgettable experiences, made friends with people all over the world, and most importantly, started a career that I love.
Now, it would be misleading not to mention the challenges that can accompany this nomadic lifestyle. While teaching online does allow you to work from anywhere, there are some occupational hazards I've run into along the way. There are typical travel mishaps such as canceled flights and lost debit cards, but we online teachers have a few more things to consider when planning our adventures.
1. Internet Connection and Speed
Let's dive right into the biggest struggle, the "mac daddy" of struggles, internet connection. Whether you live the urban life in Tokyo or wander the rainforests of Brazil, ensuring your accommodations are equipped with strong, fast, and reliable internet will always be your biggest concern and often your most significant stress.
Many things can go wrong in your virtual classroom if your internet speeds aren't up to par. You might appear blurry to the student, the screen could freeze, or there could be audio or video issues. A poor internet connection means a poor learning experience. This can cause a student not to book future classes or an employer to reprimand you, typically by docking pay, decreasing bookings, or even being fired if it's an ongoing problem.
So, how can you move around and ensure you have great internet all the time? The truth is, you can't. But you can be prepared. In the last ten months, I've had my share of unreliable internet, lots of stress, and even some mild panicking. Here's how I handle it:
Inquire with your hosts before booking. If you use Airbnb or another site with messaging capabilities, simply ask them to check the speeds before you commit. Sometimes this isn't possible, but it doesn't hurt to check. Regardless, when you arrive, check the speeds. ALWAYS.BE.CHECKING.THE.SPEEDS! There is a free app, SpeedTest, that will tell you the upload and download speed and the ping and jitter rate. I feel most comfortable teaching with a minimum of 20mpbs download, 10mpbs upload, and ping and jitter below 20.


Have two to four available internet connections. My ideal number is four - cellular data, a wireless router, and two different WiFi networks.



Hotspot WiFi - This is what I rely on most, and it's easy and affordable to get in many countries. You just need a portable hotspot, a local SIM card, a data plan, and BOOM! Internet access anywhere! I purchased a compact hotspot device in Croatia for $60 and paid $30 a month for unlimited data. I used the same device in Montenegro, bought a local SIM card, and paid just $20 for monthly data.
Accommodation's WiFi - I have found that relying solely on your accommodations WiFi is not the best idea. Typically, they will have a basic plan and average to poor speeds. Sometimes they have one router for four apartments, and you could be on the opposite side of the building. Occasionally you get lucky, and the router and modem are in your apartment. This can help the signal, but it's also where having a wireless router comes in handy.
Wireless Router - I travel with a small, wireless router in case the modem isn't fast enough. If there are ports to connect it, the device will link to our personal router. This is both more secure and typically faster than the owner's WiFi.
Cellular Data - This is my last resort. Cellular data is what you rely on if all other connections aren't working, and unless you have a local SIM card, it's not always an option. However, there have been times my other connections weren't working and I was glad to have cellular data as a backup.
It may seem a bit excessive, but if you plan to move around often, I cannot stress enough how important it is to make sure you always have options for connecting to the internet.
2. Your Classroom
If you are traveling and teaching, your classroom must be small, easy to set up and break down, and easily transported. When I first started teaching online, I was in the states. I had a tri-fold poster (think science fair) as my backdrop and more stuffed animals than a claw machine. Once I started to travel, I realized that I would need to downsize. This won't be as challenging if you teach adults or older children, but if you work with young learners, like me, you will have to be smart about choosing what props you will take.
All of my classroom supplies fit in a carry-on-sized suitcase, and I've got the packing down to a science; everything has its place. You don't need too many things to be an engaging ESL teacher, but there are some essentials:
Backdrop - I use an underwater-themed shower curtain that I cut into a large square. It folds up compact and flat and uses up very little space in my luggage. I use painter's tape to fix it to the wall, and I'm ready to go. Bonus, the kids love it.
Ipad/Phone Stand - I work for Palfish, and you can only teach on a phone or tablet. I taught on my phone for about a month before I started to think I might go blind from all the squinting and straining. Switching to my iPad was life-changing! You could always improvise, as I have, but I've found the $20 investment for the stand has been well worth it. Each place you stay will have different pieces of furniture to set your things on, and not all are the same height or width. I've taught on dining room tables, chairs, and boxes, and having an adjustable stand makes things so much quicker and easier to set up.
Ring Light - I'll get more into this later on, but for now, let's just say that exceptional lighting is the most important thing you will need to teach and travel, next to the internet.
Props - I have about five small stuffed animals, a couple of action figures, cars and balls, and about 1000 flashcards. I separate my flashcards by category, keep them in zip lock bags, and have one jumbo zip lock to keep all the individual ones in. You could easily get away with less than this, but having a small selection is a great way to keep the students engaged and have fun during the lessons.
3. Setting Up Your Classroom
Ideally, you can scope out your classrooms' location before you arrive just by looking at pictures of the space. Unfortunately, sometimes images are deceiving, and you might find yourself scrambling to find a spot to set up once you arrive. There are some critical things to consider when choosing a location for your classroom:
Space - Is there room for your backdrop, a place for you to sit, and a stand for your laptop or device? The great thing about teaching is that you don't need a lot of space. I have taught in a closet, used luggage as an iPad stand, and a step stool as a chair... there's room for creativity, and at times it's necessary!
Electrical Outlets - Remember the ring light? That "light saver" is going to need a place to plug in, and the cords are not very long! Your laptop or tablet will probably need to be plugged in at some point too. Take it from me; you don't want to set up your entire classroom only to realize there are no outlets nearby, or they don't work. Always make sure you have a working outlet close by before you set up.
Noise - One week you may be living in the countryside, surrounded by sounds of chirping birds and gentle streams. The following week you could be in the heart of a city, plagued by endless sirens and construction. You'll probably have better luck with the WiFi in the city, but oh, that noise can be a problem
Like the importance of having strong internet, having a quiet teaching space is imperative. Excessive noise will disrupt your class and lead to a poor experience for your student and possible repercussions for you
On the flip side, it is likely you will have neighbors. I bet those neighbors won't be too fond of hearing you belt out "The Wheels on the Bus" at 6 am. Or your partner who's sleeping in the next room, they probably aren't interested in hearing you talk in silly voices and entertain distracted students for hours
Some things are simply out of our control, but if you follow these suggestions, you can minimize the chances of unwanted noises interrupting your class and your neighbor's sleep.
If you have a neighbor to one side, try to set up your classroom on a non-shared wall. This will allow plenty of space between you and them and hopefully, lessen the songs and chants they may hear. If you have residents on both sides, the layouts are probably all the same. Pick a side of the house that is least likely to share a wall with a neighbor's bedroom. After all, no one wants to be woken up by strangers screaming B, B BANANA?

Try to set up in a room that is farthest from the main road. If you are in a bustling city and you hear the commotion outside, your students can hear it too. When focusing on things like speaking and listening, you and the student should be able to hear each other clearly and without distractions.
Use headphones. Noise-canceling headphones are a great way to block out noise on both ends. If you have other people in the house and cannot have complete silence, this is a great way to decrease the sounds your student can hear. It also enables you to hear the student much clearer if they are in a noisy area.
Lighting - Fluorescent, incandescent, halogen, LED, bright, dim, soft, natural... have you ever thought so intensely about lighting? Perhaps not, but you will once your online teaching career begins!
From the time you first apply to teach on an online platform, your lighting is being assessed. Employers require that you have bright but not too bright lighting, and you won't make it past the first interview if it's not just right
Moreover, teaching online requires creativity and strong teaching skills to keep students engaged. Using realia, TPR, body movements, and gestures are great ways to captivate students, but if they struggle to see you clearly, all your efforts are ineffective.
Here are my tips to ensure you have the best lighting for every class:

Set up in a room with lots of natural light if possible. If not, try to find sources of light that use a fluorescent bulb or produce a similar bright, white light. Perhaps the best light is from the lamp in the living room, but the best space is in the bedroom - switch the bulbs! Be observant and get creative!
Use a ring light. My ring light is my saving grace when I find myself somewhere with less than perfect lighting. The ring light has multiple brightness and color settings, which allows me to adjust based on my environment. Remember that closet I taught in? The only light I had was the ring light, and it was some of the best light I've had the pleasure to teach in. It also comes with an adjustable tripod, so sometimes I have it on a table or chair, and other times it's standing on the floor. It's versatile and always fixes any lighting issues I have.
4. Time Zones
This may or may not be an issue depending on your travel plans, but if you decide to travel to different parts of the world, changing time zones can be a big struggle. For example, I teach students from China. When I started, I was in the US, making China 12 hours ahead. Then I moved to Croatia, and it was 6 hours ahead. I'm now back in the US, and I'm considering going to Central America, where it would put China 14 hours ahead of me!
This is a major consideration when trying to move around. It affects how many hours you can work, and in turn, your income. When I moved to Croatia, I was able to work more hours, as the time difference worked in my favor, but upon returning to the US, I had less availability and had to cut back on my hours. Another thing you have to consider is your reputation as well as your students' best interest. I have found that when I make a connection with a student, and they enjoy our lessons, I become their official teacher and see them multiple times a week. If I were to move to a time zone that made it so I could not continue teaching them, I would have to close that time in my schedule, and they would have to find a new teacher. This reflects poorly on your reliability. If you are constantly changing your schedule, potential students and employers are less likely to book classes with you.
So, how can you still live your dream of gallivanting across the globe while maintaining your students? Here are some things to consider:

What is more important, traveling to a country in a vastly different time zone or keeping your hours and students consistent? This question will influence your destination choices, and your answer will vary at different times in your life. If you want to keep your schedule, you may find yourself researching a place you hadn't thought of just because it's in the same time zone. That is how I ended up spending an unforgettable month in Montenegro, somewhere that I had never considered visiting. A few months later, I had to make the opposite decision. I decided to return to the states, and going home was more important than staying in my current time zone. I had to reduce my availability and, unfortunately, lost a few students. Although it's not always an easy decision, teaching online offers you the ability to make those choices.
Be flexible. That is one of the great things about teaching online; it allows so much flexibility. I love the change in work hours as much as I love the change in countries. If you can be flexible and adapt your teaching hours to work around your destinations - there isn't anywhere you can't go!
As you can see, there are some struggles and additional considerations when teaching online and traveling. From staying connected to finding the ideal classroom location, traveling teachers must always be creative and have options. But if you keep it simple and prepare for the challenges, your efforts will reward you with lasting memories of a life filled with adventures from around the world, and your only struggle will be wondering why you didn't start sooner.
S​arah Sanscrainte is a passionate ESL teacher and travel writer. She has worked at an international school in Siem Reap, Cambodia, and has taught online to adults and children. Sarah is an avid traveler, and her adventures have taken her across four continents and nineteen countries. You can follow her travels @sarahthewanderess on Instagram.
Want to Learn More About Teaching English Abroad & Online?
Request a free brochure or call 773-634-9900 to speak with an expert advisor about all aspects of TEFL certification and teaching English abroad or online, including the hiring process, salaries, visas, TEFL class options, job placement assistance and more.