lgbtq+
How Teaching in Korea Helped Me Come Out (or Led Me To Come Out)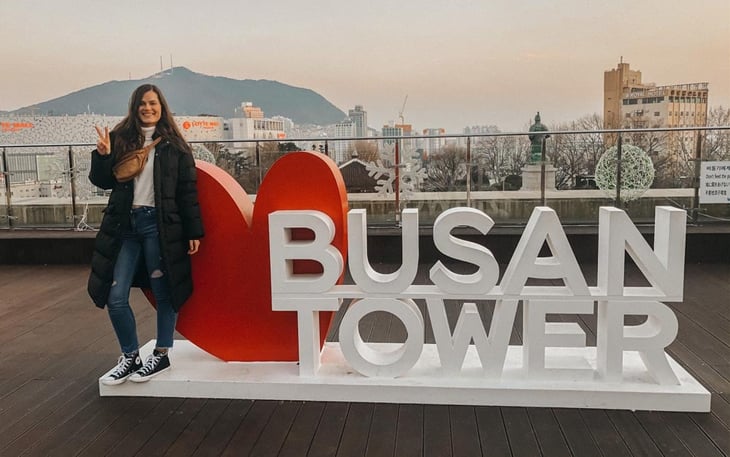 Teaching in Korea changed my life but maybe not in the way you're expecting. One things for sure: if I didn't go to Korea, I'm not sure when I would have come out as gay. Sometimes you're put in situations that are unfitting, uncomfortable, and not-so-fun. Those are growth opportunities and lead you closer to your purpose. Signs to pivot and change directions in your life.
Let me explain.
I left for Busan, South Korea on August 15, 2019. I was excited. I really had no idea what to expect. I had never been to Korea, let alone Asia. I had traveled Latin America for the past 5 years on and off and wanted something different. Something stable. Something more "normal." I thought I was ready to give up the backpacker life and start making real money.
A few of my cousins have taught abroad. It had been on my radar for years. The more my family asked me when I would settle down, the more I thought about teaching abroad. I would never claim that I went to Korea for my family or even for my boyfriend at the time. I was ready for a new challenge, but I had no idea what the universe had in store.
Moving to Busan, Korea
My ex partner and I left to start our lives together in Korea. I would be teaching and he would be finding work online.
When I arrived in Korea, I knew almost immediately it wasn't for me. Something didn't feel right. I rode on the airport bus to my new apartment and I thought, I don't know if I've made the right decision.
I settled into my apartment. I was pleasantly surprised by the spaciousness and the beautiful view of Busan. Busan was gorgeous, but I couldn't shake the feeling that something wasn't right. A staff member at my school took me to go meet my new co-workers. My co-workers were nice, the school was nice, everything was nice.
I started work immediately upon arrival. After a 18-hour commute from Chicago to Busan, I showered and reported to my first day on the job. Within the first hour at my new school, I heard whispers from my coworkers. Red flags that everything wasn't so nice. The school was bought out by a new company, communication was rough, and I got the sense that my co-workers were unhappy. But, I remained positive. I signed my life over for a year, I better make the most out of it.
After about a week and a half of training, I started teaching. I was given two kindergarten classes in the morning and multiple elementary classes in the afternoon. I had little teaching experience, but I loved it. The kids were adorable and drove me crazy some days, but I liked the challenge. I brainstormed games, we sang and danced, and I grew a connection with my students pretty early on. My co-workers were awesome. My partner and I hung out with them on the weekends and we got settled in for the most part.
Having Second Thoughts
About three months in, I knew teaching wasn't for me. I wasn't happy. I loved the kids, but my school was not a good fit. I'm not going to waste my breath listing all the things that weren't ideal, because honestly, I think it's irreverent. The universe was showing me a clear message that I kept trying to ignore.
I wrote in my journal over and over: I'm not happy. This job isn't for me. My relationship isn't working. Am I gay?
My closest friend in Busan was an American girl. We just clicked although we were quite opposite. She's conservative and Christian. I'm well, a hippie liberal spiritual vegan. We respected each other's differences and formed a close friendship. I asked her questions about her religion and she tried vegan food for the first time in her life. Months into our friendship, I came out to her as queer. She responded rather quickly that she accepted me for who I was but my sexual desires were a sin. I know she didn't mean any harm and trust me, I've heard that phrase before but never from a close friend. I felt vulnerable. She loved me regardless, but she didn't want to hear anything about that part of me.
In Korea, I didn't have a community of LGBTQ+ people like I had in Chicago and growing up (note: I had been out as bisexual for 3+ years). I started to feel the pressure from hiding multiple sides of myself. I felt like I could not be my authentic self in more ways than one.
From the outside, I had everything I ever needed. A good paying teaching job, a cute apartment, I was working abroad (something I'd always wanted to do), and yet, I still wasn't happy.
Sometimes it takes meeting everything you don't want to realize what you do want.
The global pandemic hit, my relationship crumbled, and I was stuck in a job that I didn't like. My partner left Korea. I had one of those moments where time freezes and you think to yourself, what am I doing with my life? Who am I living for? Who am I?
I felt as though I was living for someone else.
The thing about travel is that it pushes you far outside your comfort zone. It forces you to analyze yourself, your passions, and look at what you really love and want out of life.
I went to Korea wanting to pay off my credit card debt, save my relationship, be stable, live abroad, and see if teaching abroad was for me. The thing about life is that you don't get to choose your lessons. The universe had a different plan for me. Yes, I saved some money, traveled around Korea, and found a love for children. But, it resulted in a monumental pivot. A chapter of my life ended.
I didn't choose to leave Korea. I thought I would stick it out. But, then my mom got sick and after 8 months, I was forced to leave everything behind.
I will repeat myself over and over and say that everything happens for a reason.
Coming Out
I came out to my parents and close friends shortly after leaving Korea. It was one of the hardest things I've ever had to do. Not because I didn't think they would accept me. But because, by telling them I also had to fully accept myself.
I'm grateful for my experience in South Korea and I still recommend teaching in Korea regardless of my personal experience. I think if you have a push to do something, there's a reason. Follow that push. You never know where it'll lead.
(Gay) Tips for Moving to Korea
For my LGBTQ+ babes reading this, I wish I did a few things differently while transitioning in Korea. Here are a few things I wish someone told me before coming to Korea (and a few bonus tips):
Find a LGBTQ+ community in Korea. It may not be as easy as back home, but it's here. Tinder is a great way to find queer friends (or lovers)
Join the FB group Queer and Trans English-speakers in Korea for events and information
Homosexuality is still a bit taboo in Korea. South Korea is less progressive than the US (for example). Although same-sex sexual activity is legal and harassment towards LGBTQ+ people is illegal, gay marriage is still illegal in Korea. There is a pride parade in Seoul, Daegu, Busan, and a few other small cities. Check the FB group for local events.
Go on ALL THE HIKES! Korea is BEAUTIFUL especially from the tops of mountains.
You are never stuck. Never kill yourself for a job. Don't bring work home. And don't forget to have some fun (lots of fun***).
I'd like to end by saying sexuality is fluid. It is okay to change your mind as you discover different parts of yourself. Labels are for you and not for anyone else. You don't owe anyone a label. You don't have to come out to anyone or the internet if you don't want to. Just know that, the truth will set you free. When you lean into your authenticity and truth, the universe will be there to guide you. Best of luck on your journey. If you want to chat/have questions about South Korea, Busan, or queer things - don't hesitate to reach out!
---
Additional LGBTQ+ Resources:
ITA LGBTQ+ Video Library - Interviews and Instagram Takeovers from LGBTQ+ alumni sharing their experiences of teaching English abroad.
ITA LGBTQ+ Blog Hub - Read stories, Q&A's, and more from LGBTQ+ alumni all around the world.
Courtney is a travel writer and content creator from Chicago, USA. In 2014, she quit her 9-5 to travel the world and hasn't stopped since. She runs her travel blog, Courtney The Explorer which helps curious souls explore the world on a budget. Courtney has a passion for solo travel, long-term trips, and story-telling (aka sharing all her travel fails in an attempt to help and inspire other travelers). After recently returning home from teaching English in Korea, she currently quarantine-ing with her mother in the suburbs of Chicago planning her next adventure. Find her on Instagram at @courtneytheexplorer.
Want to Learn More About Teaching English Abroad & Online?
Request a free brochure or call 773-634-9900 to speak with an expert advisor about all aspects of TEFL certification and teaching English abroad or online, including the hiring process, salaries, visas, TEFL class options, job placement assistance and more.