How Not To Take A Group Selfie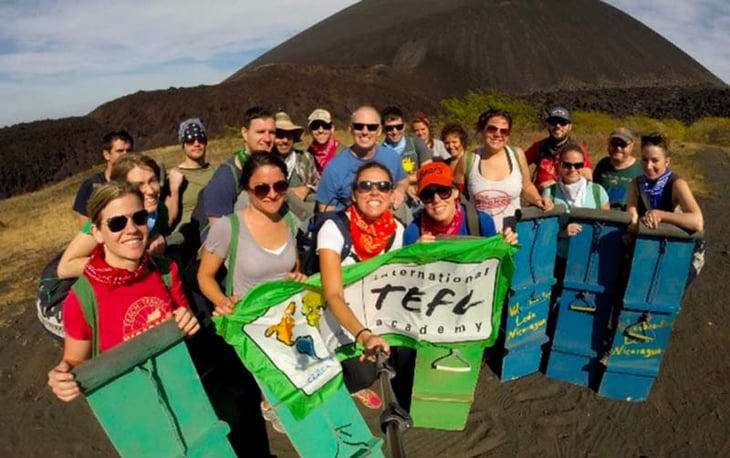 This is it. You're teaching English abroad having the best time of your life. You're finally living your dream of teaching and traveling. Here you are, hanging out with your local friends exploring the spectacular limestone islands of Ha Long Bay in Vietnam, walking down the beachfront of Puerto Vallerta in Mexico or having fun at this high-end tapas bar in Barcelona, Spain. "Let's take a selfie!", you think, as you want to immortalize the moment and get that little piece of souvenir to bring back home tease your friends back home on Instagram (who are we kidding?). Great! Although you might want to read this first if you don't want to make the same mistakes as we did.
We will never pretend to be selfie experts. We've taken enough bad group selfie pictures, however, (as you'll see in the examples below), that we can au contraire tell you what common mistakes to avoid so you don't ruin your shot like we did!*
*Any resemblance to actual selfie mistakes is purely coincidental ;).
1. Don't look at the screen, look at the camera lens
I like impromptu photos but come on. What were we thinking?
2. Don't be blurry (or too drunk)
#NoFilter needed.
3. Don't use your arm (unless it's 5 feet long)
We can't emphasize on this enough when taking a group selfie: use a selfie stick! Your face is literally 3 times the size of everyone else's, John!
4. Don't close your eyes
5. Don't overdo it
There's no need. Really.
6. Don't be too dark
Jessie must like her selfies like she likes her coffee roast... Dark.
7. Don't be too bright either
Dark or bright, either way, beware of bad lighting. This photo was taken at historic Fenway Park in Boston, but you'd never know because half the photo is completely over-exposed. Yay, go... sports!
8. Don't pick the windiest spot
Or do. That one's really funny!
9. Don't be in a rush
Love the spirit. But take your time, Matt!
10. Don't create unnecessary chaos
This is what happens when you're standing on a cliff with no coordination. 1 selfie stick, 1 photographer. That's all it takes.
11. Don't shoot vertically
Yep, hard to fit 3 people - let alone a full group - in a vertical pic, Ian.
12. Don't get photobombed
Getting photobombed does not make it a group pic, Matt!
13. Just don't
Just don't.
14. Don't give up!
We've received really cool pictures from ITA alumni who are teaching English around the world. Here are some great group selfie examples that they've taken while teaching abroad!
ITA alumna Maia Martin & friends in South Korea.
ITA alumna Christina Bates & friends in Madrid, Spain.
I teased her earlier but ITA alumna and now ITA advisor Jessie Smith is one of our greatest selfie takers!
Bottom line: What do you need to take a good group selfie?
Some friends (can't take a group pic of yourself, can you?).
A good selfie stick (or a really, really long arm).
A good smartphone camera, or a GoPro camera.

Your friends' attention.

Shoot your selfie HORIZONTALLY.
Get a good background! ("I really like that shady grey wall in the background"- said no one ever).
Be in focus.
Beware of the light.
Take several shots in a row (to be sure to capture that one great photo).
Have fun taking great pics!
A passionate traveler from Brittany, France, Stephane has always been eager to explore the world. He lived in 4 different countries and traveled to 16 more. Professionally, Stephane cut his chops in the diplomatic world working on the press relations & social media team at the Canadian Embassy in Paris before relocating to Chicago where he now oversees video & alumni relations at International TEFL Academy. He is also a primary organizer of ITA's ground-breaking Teach Abroad Film Festival.
Want to Learn More About Teaching English Abroad & Online?
Request a free brochure or call 773-634-9900 to speak with an expert advisor about all aspects of TEFL certification and teaching English abroad or online, including the hiring process, salaries, visas, TEFL class options, job placement assistance and more.