40+ teachers
Teaching English in Guadalajara, Mexico - Alumni Q&A with Mark Pipkin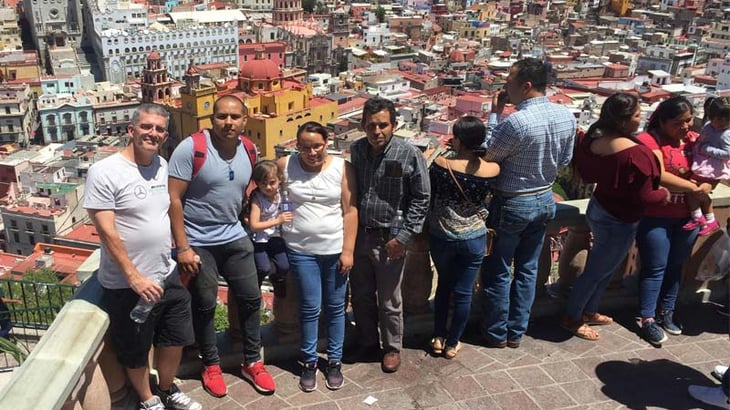 What is your citizenship?
United States
How old are you?
50
Where are you originally from?
Atlanta, Georgia.
What is your education level and background?
Bachelor's Degree.
Have you traveled abroad in the past?
Yes, I've been to Saudi Arabia, Japan, Italy, Spain, Greece, Israel, and Tunisia.
What sparked your interest in teaching English abroad?
I wanted to give my life a bit of a shake-up, and the idea of traveling and living in another country was very interesting me.
What were some of your concerns before teaching abroad?
Where do I want to go? Will I enjoy teaching? Will I be a good teacher? Will I make enough money to survive?
What did you friends and family thing about you moving abroad?
Some thought I was crazy, but in the end, everyone was supportive.
TEFL CLASS INFORMATION
Why did you decide to get TEFL certified and choose International TEFL Academy?
In the end, the challenge of teaching English in a foreign country was something I wanted to try.
Which TEFL certification course did you take?
I took the in-person TEFL class in Puerto Vallarta, Mexico.
How did you like the course?
It was challenging, and a lot of fun. The Instructor was very knowledgeable, and I enjoyed the projects and homework we were assigned. It included 10 hours of student teaching, so we left with a good idea of what we'd be experiencing in the classroom.
How did you find the technological aspects of the course?
There wasn't any problem with technology. There weren't any projects that couldn't be done on an average laptop computer.
How has your TEFL training helped you in your current teaching position?
It made me a lot less anxious about trying to teach a new language to a group of people whom I could hardly communicate with verbally.
TEACHING ABROAD
Which city and country did you decide to teach English in?
I moved to Guadalajara, Mexico in 2018. I've been here for about a year and a half and I'm enjoying my time here.
Why did you decide to teach English in this location?
Originally, I was planning to teach somewhere in South America, but I really enjoyed my time in Puerto Vallarta. After the class finished, I decided to stay in Mexico.
What school, company, or program are you working for?
I work for Vallarta International Academy in Guadalajara, Mexico.
Did you secure this position in advance of arriving??
I had an in-person interview for my job - the hiring season runs pretty much all year, except for the summer months. During the summer, the language centers do less business because most people are saving time & money for vacation.
Did you experience any ageism during your job hunt and interview process?
Absolutely not. There are some language centers that don't like to take chances on older teachers, but others will.
What kind of visa did you enter on?
Work visa.
Please provide a summary of the visa process that you went through.
The company had to apply for the work visa, while I waited about 6 weeks. Once they received the green light, I had to make an appointment at my local Mexican consulate. I was interviewed, and they adjusted my passport to allow me entry into Mexico.
What are the qualifications that your school requires for their teachers?
A TEFL Certification.
What is the best way to apply for a job there?
Via email.
Tell us about your English teaching job.
I teach about 25 hours a week, including some Saturdays. I do have to travel to some classes, but the bus system in Guadalajara is pretty good. The pay rate is enough to live in Guadalajara without having to pinch pennies. Of course, that depends on your individual lifestyle.
LIFESTYLE INFORMATION
Please explain your countries cultural aspects, public transportation, nightlife, social activities, food, expat community, dating scene, travel opportunities, etc.
There are a lot of great things in Guadalajara, Mexico! Jalisco is the birth place of Tequila and Mariachi music, there are many historical places within driving distance for a day trip, and the food it great! I'm not much of a nightlife person, but others I know who are say good things about it.
What are your monthly expenses?
I spend about $600 a month, and I live pretty well. You won't be able to afford a penthouse apartment, but you can find decent living conditions in the neighborhoods close by. Utilities are like $20 a month, including gas, electric & internet. My cell phone plan is about $30 a month. You'll find taco stands & restaurants all over the city that are very inexpensive. You can get pretty much anywhere you want by bus, and it'll only cost between 35 & 40 cents per route.
Tell us about your living situation.
I was lucky to find a fellow teacher who needed a roommate. However, there are plenty of people who will be happy to help in any way they can. I'm renting a 2-bedroom apartment with a friend for $2300 pesos a month, which is about $130 in USD.
How would you describe your standard of living?
I've actually been able to save a couple of hundred dollars each month, without the need to pinch pennies all of the time.
How do you handle insurance and healthcare abroad?
My job provides social security, so I can get health care if I need it. If not, there are some hospitals in the area where you can get an appointment for around $90 pesos (5 dollars). You'll wait a long time there, but it is inexpensive, and the care is good.
What advice would you give other mature teachers planning or considering teaching abroad?
My advice would be to go for it! What have you got to lose? If you don't, you'll regret it later for sure.
Founded in 2010, International TEFL Academy is a world leader in TEFL certification for teaching English abroad & teaching English online. ITA offers accredited TEFL certification courses online & in 20+ locations worldwide and has received multiple awards & widespread recognition as one of the best TEFL schools in the world. ITA provides all students and graduates with lifetime job search guidance. ITA has certified more than 40,000 English teachers and our graduates are currently teaching in 80 countries worldwide.
Want to Learn More About Teaching English Abroad & Online?
Request a free brochure or call 773-634-9900 to speak with an expert advisor about all aspects of TEFL certification and teaching English abroad or online, including the hiring process, salaries, visas, TEFL class options, job placement assistance and more.