Teaching English in Prague, Czech Republic: Q&A with Tanner LeTourneau
ITA alumnus, Tanner LeTourneau, discusses his life as an English teacher in Prague, the teaching company he started, his cost of living, and more!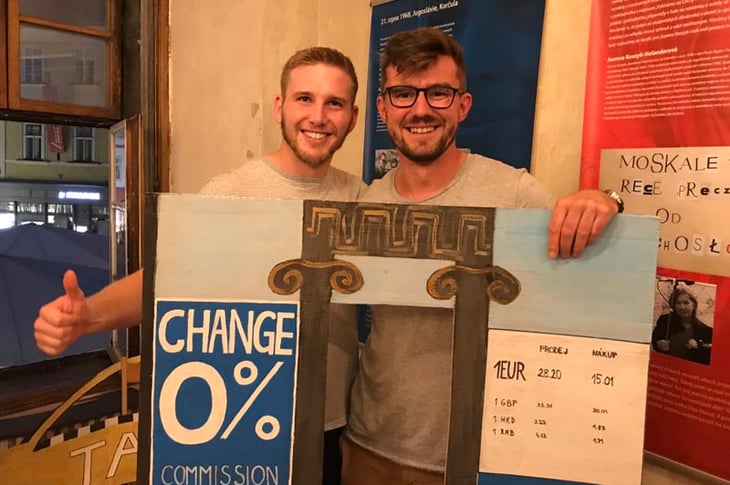 What is your citizenship?
United States
What city and state are you from?
Oconomowoc, Wisconsin USA
How old are you?
28
What is your education level and background?
Master's Degree or higher.
Have you traveled abroad in the past?
I've traveled to Mexico, Dominican Republic, Spain, Denmark, Sweden, Belgium, Germany, England, Scotland, Ireland, Croatia, Poland, and Italy.
What sparked your interest in going to teach English abroad?
I've always loved languages and love the opportunities they open. If my job can be to help others live their dreams through English, then that's a pretty good job for me! Getting to learn more about myself, traveling, and eating tasty foods also motivated me a bit.
What were some of your concerns before teaching abroad?
Mainly the visa process, both getting one and maintaining it. Beyond that, making sure I pay taxes properly in a foreign country was a concern as well... I wouldn't have wanted any tax-related visa problems.
What did your friends and family think about you moving and teaching abroad?
Most everybody was supportive and excited for me. Some were concerned about me not coming back, and those concerns might still be valid!
Why did you decide to get TEFL certified and choose International TEFL Academy?
I got TEFL certified because I knew it would get my foot in the door in the English teaching world and I chose ITA because I could see they were a reputable company and had great reviews. The ability to complete the course online was also a plus as I was a college student at the time (back in 2015).
Which TEFL certification course did you take?
I took the 11-Week Online TEFL Course.
How did you like the course?
The course was a great intro to English teaching. My instructor was great and responsive and the online tasks were beneficial. I did my practicum at a place where a lot of refugees and new immigrants came and that was both fun and rewarding. It was nice to get to try out all the things I learned in the TEFL course in real life.
How has your TEFL training helped you in your current teaching position?
Well, it played a big part in me getting my current teaching position! That combined with my degree in linguistics. It also gave me some knowledge related to classroom management that helps now as my classes range from 1 student to 20 or so students. The TEFL training that included making my own materials also started me out toward having my own library of lessons and courses as well as helped me get a job as a methodologist creating content for the language school I work at.
Where did you decide to teach and why did you choose this location?
I teach English in Prague, Czech Republic. Technically 2016 in Puebla, Mexico, but that was relatively short-term. I officially moved to Europe in 2018. I've been here just over 3 years and I have no plans to leave soon. My original plan was to stay 2 years and leave but I ended up enjoying my life here too much to leave so soon. I wanted to learn a Slavic language so I made a list of countries and chose the Czech Republic because of the language, the history, the culture, and... the beer.
What school, company, or program are you working for?
I currently work for three. The majority of my work is my own brand, Lingaia, with private students. After that, I have a part-time job at a high school called Zatlanka and an even more part-time job for a language school called James Cook Languages.
During which months does your school typically hire?
The high school hires most in the summer and the language school hires year-round.
Did you secure this position in advance of arriving?
Yes, I had a Skype interview with James Cook Languages about 8 months before flying here..
What kind of visa did you enter on and what was the visa process like?
I started on a tourist visa for three months, then applied for and got a working visa. This wasn't too bad as I hired Visa Guru to help me out. I just needed to have my documents in order. I had to provide proof of accommodation, bank account, proof of funds, the evidence I wasn't a criminal, etc., etc. I applied and had to go on a short trip to Belgium to have my interview at the Czech embassy there. After that, it was a waiting game for my application to be accepted. Once accepted, I was good to go for one year and the renewal process was even easier as I didn't have to leave the country to do that. I renewed and got a 2-year visa which expires this year. Having a person or company help me out was a game-changer as Czech government offices have a bit of a reputation of being difficult for foreigners.
What are the qualifications that your school requires for teachers?
Bachelor's Degree and a TEFL certification.
What is the best way to apply?
Online at this website.
Tell us about your English teaching job!
I'll start with the best, my brand Lingaia. I create and teach personalized courses for a variety of students. I have 2 part-time jobs, one at a high school and one at a language school. It's nice and keeps me on my toes as I do different things for each. At the high school, I teach CAE prep classes as well as history and literature. At the language school, I teach business English and help create specialized 1-2 day courses. When teaching full-time in the Czech Republic, you can expect a salary of anything between 25,000czk-60,000czk depending on your experience and qualifications. If you pair that with good budgeting, there's no reason you can't save a couple of thousand crowns each month!
Please explain the cultural aspects, public transportation, nightlife, social activities, food, expat community, dating scene, travel opportunities, etc...
Cultural aspects? The Czech Republic is chock full of culture. People value all kinds of arts and there is always something going on somewhere. It doesn't matter if it's theater, galleries, film, music, or whatever, there's always something for you to see or do. People value the outdoors and good beer.
Public transportation here is excellent and on time just about always. You always have something to choose from 24/7 be it trams, buses, the metro, or trains. I have 0 complaints about the nightlife and social activities available. It seems like no matter what day of the week it is, there is always a themed club or dance, an art exhibition, a comedy show, karaoke night, and more.
If we talk about food, there's a plethora of cuisines and restaurants to try here but if you want Czech food... I hope you like meat, potatoes, and minimal vegetables on your plate! The expat community is very supportive and helpful. I will add that the whole 6 degrees of separation is more like 2-3 degrees here though as the community is quite close and highly concentrated in certain neighborhoods of Prague (Vinohrady and Zizkov in particular). Prague also has a healthy dating scene, with plenty of nightlife and activities available, there's no shortage of places you can go to meet people. It's also a very cool city for people of all ages so I'd imagine the dating scene is nice for all age groups.
The Czech Republic is a great place to live if you want a lot of travel opportunities. It being in central Europe means you can get to just about any other European country with a relatively short and cheap flight and the country is so well connected with trains and buses that travel within the Czech Republic is also pretty easy and cheap. I usually try to go on at least 1 trip per month or instead 1 more expensive trip every 2-3 months. As a final note, I think that Prague, in particular, is a great place to try something new. There are groups for almost everything here and the atmosphere is very friendly and inviting. Prague being one of the safest cities in the world also helps quite a bit!
What are your monthly expenses?
My rent is $460/month and I usually budget around $250 per month on groceries and eating out. My gym membership and phone bill (plenty of data) are both $36/month. I usually buy an annual public transport pass for $170 (about $14/month). For travel, depending on if I'm going somewhere in the Czech Republic or outside it, I usually budget $100 (in the Czech Republic) - 200 (outside it) for everything related to that trip. I also have to pay my social taxes and health insurance which amount to roughly $230/month. Last but not least, I of course have my combination of online subscriptions to sites like Netflix, Spotify, etc. so I try to stay under $40/month in subscriptions.
How did you find somewhere to live?
At first, I stayed in an Airbnb but then moved in with a friend when he told me he had an open room. There are some websites to find flats but Facebook is huge and it's how I found my current place where I've been for 2 years and will be for 1 more! The flat is in a great location, near the city center, and is in pretty good condition. I currently have 2 random roommates, one new and one who's been living here just a bit longer than me. Next year I'll be looking to move to either my own place or to have a flat with one of my friends.
How would you describe your standard of living?
I would say I have a slightly above average standard of living for somebody teaching in Prague. I don't worry too much about saving money, having an emergency fund, traveling, or going out as often as I do. That said, I still try to budget and keep an eye on my expenses.
In your opinion, how much does someone need to earn in order to live comfortably?
The golden question! This depends on you. If you're comfortable living with roommates and can budget your money, then $1,200 per month should be okay. Although if you're like me and want to travel more often, take special classes, and don't want to be as worried about money, then $1600-$2300 is more what I'd recommend shooting for.
What advice would you give someone planning or considering teaching abroad? Would you recommend teaching in your country?
My first piece of advice... do it! I've been here 3+ years and in all this time I've never met somebody who said, "I really regret that time I moved and lived in a foreign country!" Even if it isn't the long-term lifestyle you want, it is a special life experience you might not get if you don't go for it soon. I would 100% recommend teaching in the Czech Republic. I've come to call the Czech Republic a trap because you don't realize just how nice it is until you come here. Then your original 'stay for 2 years' plan becomes a 'stay and not leave anytime soon' plan!
Tanner LeTourneau is a 28-year-old from Oconomowoc, Wisconsin with a Master's in Linguistics. He worked through grad school as an ESL teacher and personal trainer before catching a flight to the Czech Republic to teach English. Now that he's there, he's pursuing new hobbies and loving life.
Want to Learn More About Teaching English Abroad & Online?
Request a free brochure or call 773-634-9900 to speak with an expert advisor about all aspects of TEFL certification and teaching English abroad or online, including the hiring process, salaries, visas, TEFL class options, job placement assistance and more.
"I chose ITA because it was highly recommended. From the first moment of contact, I felt supported by my advisor and had no doubt that they would provide me all the information and help I needed."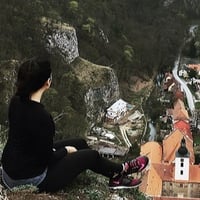 - Cassondra Lopez
Teaches English in the Czech Republic