Teaching English in Prague, Czech Republic: Q&A with Griffen Rice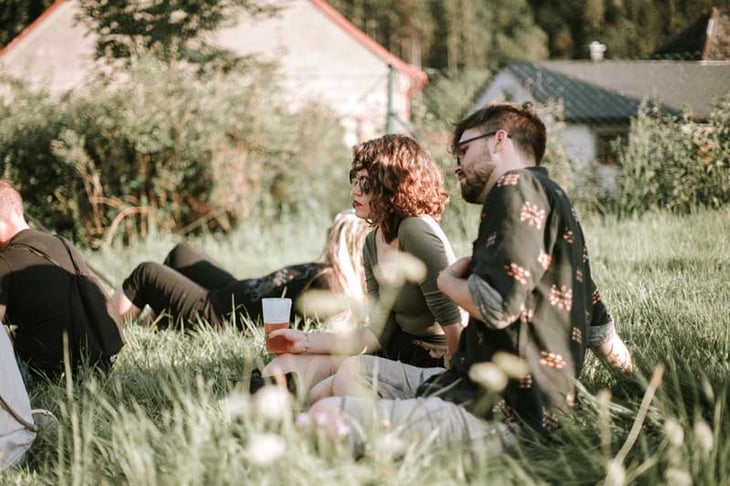 What is your citizenship?
United States
What city and state are you from?
Austin, Texas, USA
How old are you?
29
What is your education level and background?
Master's Degree or higher.
Have you traveled abroad in the past?
I've traveled to China, Mexico, and Israel.
What sparked your interest in going to teach English abroad?
I wanted to learn the language and not sit at a desk 40 hours a week
What were some of your concerns before teaching abroad?
The aim of my life. I got 2 Masters degrees and didn't use them.
What did your friends and family think about you moving and teaching abroad?
Incredibly supportive. My mom wants me back now, but we talk every week and scheme about how I can split my time more evenly.
Why did you decide to get TEFL certified and choose International TEFL Academy?
My Czech teacher's son went through International TEFL and recommended it
Which TEFL certification course did you take?
I took the 11-Week Online TEFL Course.
How did you like the course?
I had some been a teaching assistant in graduate school and a tutor in college so I had a good foundation, but the class gave me the resources to do the work on my own.
How has your TEFL training helped you in your current teaching position?
I still use the lesson planning methods.
Where did you decide to teach and why did you choose this location?
I've been teaching English in Prague, Czech Republic since 2018. This is my third year, but I spent about five months in Croatia figuring out visa stuff. I don't know how long I will be here because my partner is Czech. She's open to Austin, but it's an ongoing discussion.
As I stated earlier, I had been learning the language for about two years so I wanted to really try. I also liked the country's central location. Berlin is 4 hours away, Vienna and Bratislava are 3. Most flights to European capitals are under $200 USD round trip.
What school, company, or program are you working for?
I started at an elementary school and after a semester, moved to a high school. I will again be moving to a middle school this fall. Additionally, I teach English online to Chinese students and I have about 6 hours of private lessons with kids ranging from 2-17.
During which months does your school typically hire?
My school, always. Prague schools in general though, before the beginning of the semesters so August and December
Did you secure this position in advance of arriving?
No. I had about 4 interviews lined up within a week of me landing in Prague. I had 3 offers within a week.
How did you interview for this position?
It was an in-person interview.
What kind of visa did you enter on and what was the visa process like?
Haha, this answer is complicated for me. I started on a tourist visa and got a work visa, but right as I got the work visa, I switched jobs. Through a mixture of personal ignorance and spite from my former employer, I messed up and became illegal. I even spent a day in jail. I left the Schengen area while my tourist visa reset. By the time I returned, I had started dating my partner and now I have the golden ticket: a 5-year family visa.
What are the qualifications that your school requires for teachers?
Bachelor's Degree and a TEFL certification.
What is the best way to apply?
Connections help when applying; like America, networking is important.
Tell us about your English teaching job!
I'm going to write my typical day before Corona. I would have 20 lessons per week, each 45 minutes. I taught every grade (15-19 year olds) so each year either had 4 or 5 English lessons per week. I'm allowed to leave campus if my day was over, so I did a lot of my lesson planning at home. I made about 35,000 CZK (~$1,600 USD) before tax and was able to save about 8,000 per month (~$350 USD), though this varies for a lot of Americans here. I know some who make more and save less and vice-versa. Vacation-wise, you get 3 days off around Halloween for their independence day, 2 weeks for Christmas, 1 week for spring break, and 4 weeks for summer. Next school year, I will make 48,000 CZK (~$2,200 USD) before taxes and will be living quite comfortably.
Please explain the cultural aspects, public transportation, nightlife, social activities, food, expat community, dating scene, travel opportunities, etc...
As a former city planner, I am quite captivated over Prague's public transportation. The yearly pay, which includes metro, tram, and bus cost 150 dollars. It's clean, fast, and well connected. The city is also incredibly green and there's a town of mixed used buildings, which means you're always within walking distance of whatever you need. The city is also incredibly beautiful; I would argue more so than Paris or Rome.
Personally, I hate Czech food. It mostly consist of heavy meats in sauces with little seasoning. There are a lot of interesting baked hoods though and Czechs like to put plums and poppy seeds on everything. Additionally, the city has tons of international food to offer so I can get Indian, Japanese, or Italian whenever I have the hankering. I'm also vegetarian and have no problems feeding myself when I go out. Though some Europeans seem to think fish isn't meat.
The expat community is incredibly strong, roughly 15% of the population of Prague is foreign born and most speak English. I'm play soccer every Friday with some guys and the gang includes Norway, Italian, Israel, Argentina, England, and Spain.
The dating scene here is like most big cities. I would say one of the most noticeable differences is that there is still a small stigma around dating apps, though it's quickly disappearing and that Slavic guys and girls tend to like more traditional gender roles. If you're on a third date, then you're a couple. Obviously there are many exceptions to this and you can "date like an American", whatever that means, without any problems.
What are your monthly expenses?
Rent with utilities included = $380 USD
Food for my partner and myself = $200
Social activities pre-covid = $200
Transportation = $15-20
Travel = $200
I would say I live frugally though. I have friends all over Europe so I rarely pay for accommodation when I travel.
How did you find somewhere to live?
My first year, I lived with a bunch of American teachers. We were completely ripped-off. Prague has a tight housing market and having an address is essential for your visa so I kind of haphazardly rushed into it. The second year wasn't much better, but this year is amazing. Granted, I think a lot of that was due to having a Czech partner. There are a lot of foreigner "taxes" here. For those who don't have my resources, it's typical to use a site called bezreality or even Facebook Marketplace.
How would you describe your standard of living?
My first year, I was hustling and having some trouble. Now, I would consider myself upper-middle class by Czech standards. I would say I am quite comfortable and satisfied.
In your opinion, how much does someone need to earn in order to live comfortably?
30,000 CZK ($1,400 USD) in Prague, $25,000 ($1,150 USD) outside of Prague.
What advice would you give someone planning or considering teaching abroad? Would you recommend teaching in your country?
It's going to be hard. I almost gave up and went back home after three months. In the years that I've been gone, I've missed weddings, my grandmother and former roommate died, my cousin had their first child. I miss making jokes based on cultural references. Despite that, I'm incredibly happy. I don't have a lot of the financial precariousness I had in America. I have healthcare. I'm making new friends, learning a new language. I got a dog!!! and I met the love of my life. It takes patience to build a life.
I would recommend the Czech Republic. I think this country has incredible potential, not that it isn't already a top-notch place, but I would say that the people can sometimes be cold. The youth on the other hand are incredibly clever and open-minded. I think the Czech Republic will be the place to be in 20 years, so get here now and get ahead of the curve.
Griffen Rice is a 29-year-old from Austin, Texas with a BA in Philosophy and BS in Economics from the University of North Texas as well as Masters in Public Administration and City & Regional Planning. He started studying Czech in graduate school to reconnect with some of his roots and moved to Prague in August of 2018 to teach English.
Want to Learn More About Teaching English Abroad & Online?
Request a free brochure or call 773-634-9900 to speak with an expert advisor about all aspects of TEFL certification and teaching English abroad or online, including the hiring process, salaries, visas, TEFL class options, job placement assistance and more.