Ambassador City Fact Sheet: Santiago, Chile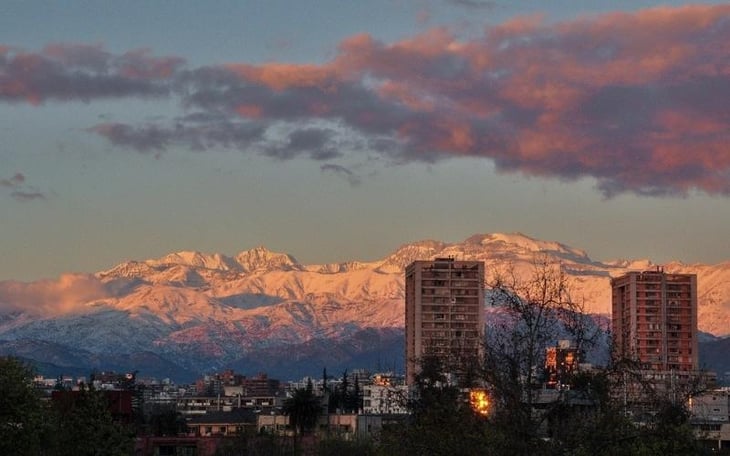 To help our students and graduates make a smooth transition to their new lives teaching English abroad, we've enlisted our ITA Ambassadors to provide us with insider facts and tips for making the most of life in major cities around the globe like Santiago, Chile.
Whether it's finding an English-speaking doctor, opening a bank account, or simply finding a supermarket where you can find the odd comfort food from home (peanut butter!), our ambassadors have actionable on-the-ground-tips to help you feel at home in your new home city. Please note that things change and we will do our best to keep these "Fact Sheets" updated over time and that current and future ambassadors will continue to provide the most accurate and up-to-date information possible.


Name: Camille Gix
City: Santiago
Country: Chile
Visa Type: "Visa Temporaria" - Temporary Resident Visa dependent on a work contract




Where can you find North American comfort items like peanut butter in Santiago?
The Santa Isabel Supermarket sells reasonably priced peanut butter (a must for me)!
Lider is a very helpful chain store. It is literally the Walmart of Chile. They have anything you could ever imagine, food, appliances, clothes, teaching supplies, anything! Another great option is Jumbo, also a giant "everything you need" type of store. One thing a lot of people wonder about as far as health food is sweet potatoes. At the fresh outdoor market called "La Vega" you can buy a product called Camote, which is a purple sweet potato and cooks and tastes very similar.
Personally, I'm a big sourdough bread gal too, I love having good quality bread in the kitchen. Finding good bread in a grocery store is very difficult, but there is a great bakery that makes sourdough bread near the center and Providencia neighborhood called Gabilondo. I would definitely recommend this if you are a bread fan, like myself.

Transportation - how do people get around town?
The metro is the most efficient and most used way to get around the city. It's quite crowded during rush hour, but it's fast and goes to most of the major areas of the city. There are also city buses, which are a bit slower.
I would recommend when in need of a taxi, to opt for Uber instead. Uber is more reliable here. The taxis don't have pricing regulation and tend to charge "gringo" prices. Uber gives you the rate based on the apps algorithm so it's a better bet in those situations.

Please recommend up to 3 hospitals/doctors in Santiago for English speakers
Clinica Alemana has been recommended as a hospital for English speakers. Fair warning though, not everybody speaks English! The majority do not. There are some English speaking nurses and doctors, but a basic level of Spanish will still be needed.
Carla Ducci is an incredible English speaking psychotherapist. She lived much of her life in the U.S. and speaks like a native. She is wonderful and I would highly recommend her for anyone needing help adjusting to the new culture or change.
Please share your recommendations for beauty supply stores, hairdressers, barbers, etc in Santiago
I use a hair dresser very irregularly, however they are everywhere. There are several up in the Las Condes neighborhood, off of the Tobalaba metro that advertise that they're English speaking hairdressers, so if that is something you need, I would recommend that area. Generally Las Condes is the best area to go to if you need your services in English. Not everywhere will have English speaking employees, but it's a better bet than other areas.
For beauty supplies, Chile has a lot of the same chains as the United States. I am a big fan of Lush, which luckily can be found in several locations around Santiago. For the ladies with really dry hair like myself, Santiago is a really dry city with nearly zero humidity, so I would recommend a Lush (or any brand) hair mask once a week to keep those ends healthy!
Malls like Costanera Center and Portal Ñuñoa are great U.S.-style malls with a lot of familiar stores that you can get clothing, makeup, shampoo and conditioner, or anything else you may need.

If you've opened a bank account, please list the name and location of your bank
Unfortunately, you are not able to open a bank account before you get a residency visa. If you want a bank before you arrive in Chile that you can use, you can open an account with Scotiabank. It's a Canadian bank, with international privileges and have recently become one of the bigger banks here in Chile.

Please list restaurants you enjoy eating at in Santiago
As a really big fan of Italian food, there is a restaurant next to one of the big malls in the comuna called ñuñoa - it is called La Fabbrica. It's a super cute old building with incredibly authentic pizza and pitchers of sangria. On Thursday nights it doubles as a jazz club. It's only one block off of the green line of the metro.
For a relatively cheap night out, in Santiago Centro, there is New Horizon Comida India. It has really delicious Indian food and anything can be made vegetarian. The paneer (or chicken) made with butter sauce is great, as is the mango lassis. It's very small but worth it!
If you are looking for a great place for dessert, head to Emporio la Rosa in Barrio Lastarria in Santiago Centro. It's an old and famous spot with amazing handmade ice cream. Flavors change around, my current favorite though is either Lemon Basil Ginger or Cookies Dulces.
Head to patio Bellavista in Providencia for a variety of restaurants with any kind of food you could imagine. Try completos, a traditional Chilean dish, which is basically a hot dog with mayonnaise and avocado. Another Chilean classic is Chorillanas, which are decked out French fries, with cheese, onions, meat, and eggs. At Patio Bellavista, you can also find places that will make them vegetarian, which I loved!

Please list places you enjoy visiting during your free time in Santiago
Patio Bellavista: Good for a drink, busy and fun at 9pm onwards most nights.
Barrio Lastarria: This is my number one favorite place to hang out pretty much any night of the week, but especially later on like Wednesday through Friday. They have a great arts and crafts fair going most evenings with great trinkets, books, jewelry, paintings, etc. There are also a lot of good happy hour restaurants in the area.
GAM: This is a cultural museum located in the center - they always have free exhibits and galleries or performances running, so if you ever want a cool cultural experience, go and watch art students show their stuff for free! Or you can just hang out there and relax.

What resources did you use to find permanent housing in Santiago?
Finding housing in Chile can be a challenge due to the strict restrictions many people place on foreigners. Many Chileans will not rent to someone if they haven't been living in Chile for more than a year. There are ways, but often the cheapest options are in far away locations, nowhere near the metro, or unbelievably tiny.
I personally was looking for a private apartment with my boyfriend, so we used the resources HomeUrbano and Contact Chile. These two websites specialize in furnished apartments for foreigners. We found a great spacious and furnished studio apartment right in the center, two blocks from the metro. We had to pay a commission fee for using the website, but it was worth it for us for the location and convenience.
If you are interested in renting a room or finding roommates to live with, there is a Facebook page called: Roommate and Flat Finder Santiago, or the website Comparto Departamento to find Chileans or foreigners looking to rent rooms or share their homes.
Have you found an expat community in Santiago? How?
Discover Chile is one of the most helpful resources for expats and English speakers on Facebook. You can ask any question you could ever have about food, housing, events, medical, advice, travel or anything - and people from the community generally respond within minutes!
Try meetup.com! It has niche groups of other people trying to meet people with similar interests. Whether it's crafts, dancing, sports, hiking, anything! You can find groups of people who do what you love.
Please list any additional information/resources you think will be useful for those interested in teaching English in Santiago
SKY Airlines is a regional airline based out of Santiago. They have amazing deals on round trip tickets within the country which makes traveling on weekend and holidays much easier, since Chile is a very long country.
SOSAFE is a good app to download. It provides safety tips and live updates about what is happening in the city.
Founded in 2010, International TEFL Academy is a world leader in TEFL certification for teaching English abroad & teaching English online. ITA offers accredited TEFL certification courses online & in 20+ locations worldwide and has received multiple awards & widespread recognition as one of the best TEFL schools in the world. ITA provides all students and graduates with lifetime job search guidance. ITA has certified more than 40,000 English teachers and our graduates are currently teaching in 80 countries worldwide.
Want to Learn More About Teaching English Abroad & Online?
Request a free brochure or call 773-634-9900 to speak with an expert advisor about all aspects of TEFL certification and teaching English abroad or online, including the hiring process, salaries, visas, TEFL class options, job placement assistance and more.