ITA Alumni Charity Highlight: Hand to Hand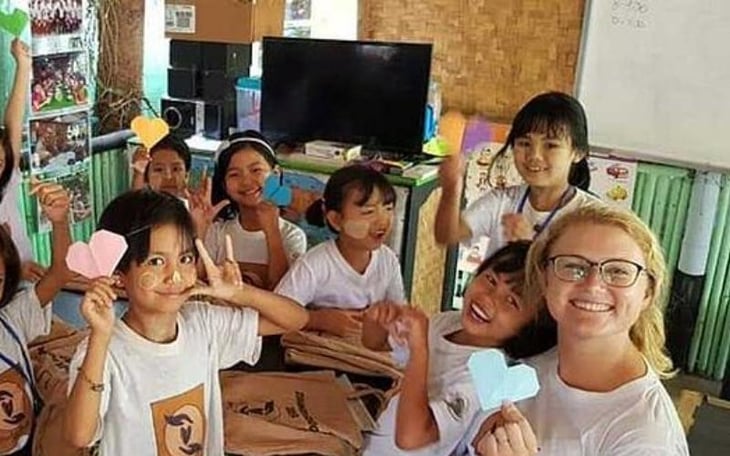 At ITA, giving back is who we are. For our 10th Anniversary, we've asked ITA students to pitch us an organization that means a lot to them. Over 20 submissions later, 3 finalists had the opportunity to pitch their Charity live to the ITA staff for a chance to win $2,000, $1,000 or $750 donated to the cause they support.
We invite you to learn more about the organizations they are involved with, and to donate to their causes as well.
Below is ITA's alumna Charlotte Cathey's Charity pick, Hand to Hand, who won the third prize of $750 donated to their causes.
Read more: ITA's Charitable Initiatives.
Hand to Hand | Charlotte Cathey
Tell us what this Charity does.
This organization provides free summer school classes to local children in the village of Nyaungshwe. They accept English-speaking volunteers and emphasize English learning and practice. They also lean heavily on environmental education and how the children can implement sustainable, responsible habits in their homes and community. Hand to Hand also provides local students in need with school uniforms and supplies for the academic school year.
The good deeds go on! Sue, the leader of the charity, cooks daily for the local monks, has been cooking for essential workers in 2020, and for those in the community who are hungry as well. She runs a restaurant named Bamboo Delight and a percentage of all her proceeds goes to this effort. Above the restaurant is a library with many English books that the local children are encouraged to check out and read.
Why are you nominating this Charity?
I am nominating this charity because it both promotes learning English as a Second Language, free of charge, AND benefits the entire community. The children not only learn English, they learn to interact comfortably and confidently with foreigners in a safe and loving environment. The environmental education is also extremely beneficial. They are the future of Myanmar, and the values they are learning will directly impact their village and their role as Burmese citizens as they grow.
Myanmar has a fledgling tourism industry that is sure to boom in the future and they will be the ones around to see/ navigate it, and hopefully to profit from it in some capacity. This certainly equips them with the ability to do so. And the immediate effects are those of joy, accepting, safety, and learning for the kids, as well as charity, sustenance, and kindness for those in need in the community at large.
Why is this Charity important to you?
People often ask me what was my favorite country that I visited, and the answer (often to their surprise) is Myanmar. The reason is largely because of my time spent in Nyuangshwe working with this charity. I fell in love with every single one of those kids. They were so sweet and bright and earnest.
They brought me jasmine and other local flowers and tucked them into my hair. They greeted me with hugs and excitement. I taught them outdoors in the dead of the summer heat in a wall-less bamboo hut and they always tried their hardest. After half a day of classes, most everyone hung back and we would spend another hour dancing. Every time I hear one of their favorite songs, the memory brings tears to my eyes. Sue in her generosity is awe-inspiring.
Never have I met someone so selfless and with so great a capacity to love. The community realizes how lucky they are to have her. Local people who knew I was volunteering there as a teacher treated me with kindness and respect. I felt a connection with that village that I didn't experience in any other place that I traveled to. It inspired me to volunteer more as I traveled; to give back to the places I was visiting rather than going just for myself. I would love to return to Myanmar and spend the entirety of my trip/ full length of my tourist visa simply living and teaching there with them.
The experience was priceless and will stay with me forever.
Interested in supporting Hand to Hand? Check out their website to get involved just like ITA alumna Charlotte Cathey!
Read more: ITA's Charitable Initiatives.
Founded in 2010, International TEFL Academy is a world leader in TEFL certification for teaching English abroad & teaching English online. ITA offers accredited TEFL certification courses online & in 21 locations worldwide and has received multiple awards & widespread recognition as one of the best TEFL schools in the world. ITA provides all students and graduates with lifetime job search guidance. ITA has certified more than 35,000 English teachers and our graduates are currently teaching in 80 countries worldwide.
Want to Learn More About Teaching English Abroad & Online?
Request a free brochure or call 773-634-9900 to speak with an expert advisor about all aspects of TEFL certification and teaching English abroad or online, including the hiring process, salaries, visas, TEFL class options, job placement assistance and more.