must read
A Survival Guide for Moving Abroad to Teach English in the UAE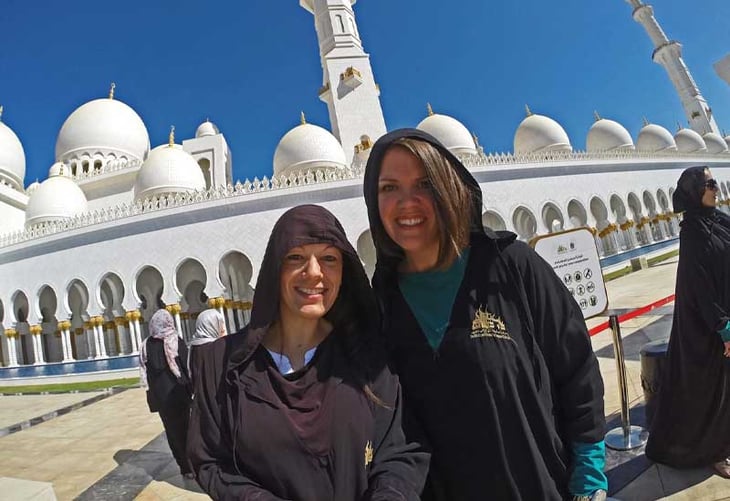 So you're moving to the United Arab Emirates… now what?
Here are my best tips on how to survive your cross-the-globe move (and some for your family who may be freaking out more than you):
Must buy:
Before you come, here are some of my suggestions of what you should buy. For your home, an Apple TV or Firestick (preferably with a VPN on it - not that I'm promoting a VPN, they're not allowed so why would I do that? Do it.)
Any sort of environment friendly goods (reusable bags/straws/etc - they're not super popular here).
Some books, books are pretty darn expensive here but there are some book exchange places - however, you have to have a book to exchange.
For your classroom, I can't emphasize this enough, EXPO whiteboard markers. You will NOT regret dropping 50 dollars on Expo markers before coming out here, I promise. I'd also swing by the Target $1 section to grab some cute but cheap decorations.
When you get here you'll probably be walking into a blank canvas apartment, I suggest Pan Emirates, Home Centre and Maisons Du Monde to get some reasonably priced decorations or items to make your house feel homey.
For groceries you have tons of options, as of late I've been getting mine from Kibsons, an online grocery delivery place, Spinney's and Choithrams are expat friendly spots. Carrefour and Lulu are generic spots but are sort of like a Meijers or Target in the sense that you can get groceries, appliances, toys, classroom supplies, etc. Al Aswaq is like an Aldi shop. Hot tip - for cereal like Cinnamon Toast Crunch or Honey Nut Cheerios go to Lulu!
Most alcohol if you live in the northern Emirates (Dubai and up) you'll buy at Barracuda (go here for Don Julio, Fireball and tons of more specific options) or the Cellar in Ras al Khaimah if you live close. If you live in Abu Dhabi you'll have your own liquor stores, woo hoo!
For classroom stuff I'd go to one of the hypermarkets like Bollywood 24 hours or Ramez Hypermarket. They have tons of supplies for pretty cheap, think dollar store. There are book stores which ironically sell no books, but they do have lots of craft and school supplies.
I'd also seriously suggest buying your own car. I've paid the price of 2 cars in car rentals since I've been here, and if I had bought a car initially I would be able to sell it and make some money back. Cars aren't that expensive, and if I was staying longer than one more year (my plan is to move in 2019), I would be buying one.
Must do:
I've said it before, but I'll say it again, Dubai is home of the world record lifestyle. You can literally do anything. You want to go skiing? Done, play with monkeys? No problem, stand at the top of the tallest building? Okay! Sky dive? Yea, it's Tuesday, of course! Stay at a 7 star hotel? Who doesn't want to do that!
I'm not really a world record person so I'm going to give you some suggestions that you won't necessarily find on a top 10 list on TripAdvisor.
My favorite thing, and how I fell in love with Dubai was going to Bur Dubai (old Dubai). This is where you will find the Souq's (markets). But the best part is taking a Dhow (the old traditional fishing boat) across the river for 1 dirham! That's like 30 cents. You can also rent out a dhow and go on a tour of the river, do this! They might even let you drive.
I really suggest going to Jumierah Mosque in Dubai. Here you can take an hour long crash course in worshipping and all things Islam. I think it's really important to learn about the religion you are surrounded by. The Sheikh Zayed Mosque in Abu Dhabi is awe inspiring but you won't learn much about Islam on this tour.
Visit Alserkal Avenue. This area is essentially the arts district of Dubai. There are yummy food options, a record shop, art galleries, and a program of performances (which is available on their website). There are classes, workshops, lectures, classes. It's great and I plan on spending more time there this year. I've seen an incredible stand up comedy show there and the Palestinian film festival has a great showing in the district.
Come up to Ras Al Khaimah and spend a day at the resort. You can hang out at the Waldorf Astoria or Cove Rotana for the day. Swim in the pool and the gulf. Participate in watersports and eat your heart out. While in RAK go for a hike or on a zipline adventure!
Swing by Global Village to get some honey from Yemen and tea from India or any fun gifts from around the world. It costs like 15 dirhams to get in and you can see shows, eat delicious international food and buy hot sauce from Mexico, score!
Go quadding! Rent a quad with your friends and see how beautiful open sand really is.
Head to a local cafe and drink tea, smoke shisha, watch a football (soccer) match and play card games with the locals.

Must know:
The UAE is incredibly safe probably safer than at home.
Your social media, Whatsapp, etc. can be monitored. It's important to be careful about what you say about the Emirates. Try to keep your posts about all things local positive. Avoid profanity.
Local culture has very much accepted Western culture, but be respectful. You're not actually going to get in trouble for wearing booty shorts, but you can.
If you're like me and a groupie level fan of all things Christmas, you'll get your fix in the desert! It's kind of incredible how much Christmas is out here, it makes me too happy to question it.
Ladies, there are gynecologists available.
You cannot, I repeat CANNOT, get pregnant if you're not married. If you do find out you're having a little bambino, I suggest breaking your contract and heading home.
The healthcare system is pretty good. I've had some terrible doctor experiences out here, but I can say that about the US too.
Skype is blocked.
Shipping out here from the US is expensive. If your family or friends are going to send you something, they should use a flat rate box, it'll still cost about 75 USD, but maybe you'll be lucky to get a few boxes :)
For your online shopping pleasure you have a few options - I use desert cart the most, it's close to Amazon but it's definitely more expensive. Souq is also an option, the issue here is other venders sell through Souq so sometimes you don't get what you thought was coming.
The school year runs from the end of August to beginning of July. You'll get a 2 week spring break and 3 week winter break. Some schools in Dubai and Abu Dhabi also have mid term breaks (I don't, sigh). The work week is Sunday to Thursday and one day will include an early release for students and a PD day for teachers.
Your salary is tax free and your housing will probably be free. You can make up to $65,000 abroad before the US taxes your expat income. You'll likely be signing a 3 year contract. You will get a trip home each summer. US tax law says that you have to be in your claimed country for 330 days or you're not technically an expat. So I only stay home for a month in the summer.
Most importantly, it'll be a shock to your system, you'll be far from home, but it's worth the move! Plus you'll have your ITA family to keep you going!
A Seattle native who's heart is in Chicago, Katie holds an elementary education degree from Loyola Chicago. Since earning her TEFL certification from International TEFL Academy she first taught English abroad in Mexico before heading to the Middle East to seek new adventures in Ras al Khaimah, United Arab Emirates (U.A.E.). While teaching in the U.A.E. she also served as an ITA Alumni Ambassador, publishing numerous articles and videos about her experience teaching English in the heart of the Middle East.
Want to Learn More About Teaching English Abroad & Online?
Request a free brochure or call 773-634-9900 to speak with an expert advisor about all aspects of TEFL certification and teaching English abroad or online, including the hiring process, salaries, visas, TEFL class options, job placement assistance and more.