Top 10 Phone Apps for Living and Traveling Abroad in 2022
Need help finding the best travel applications on your phone? Check out our list of best apps for traveling abroad in 2022.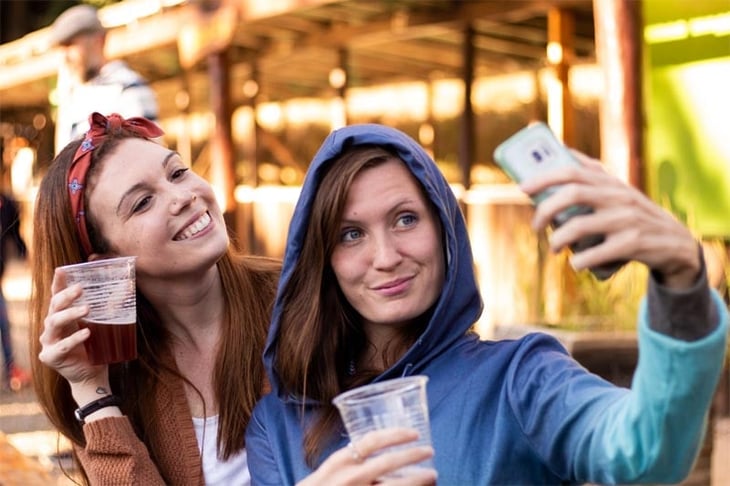 After living abroad twice and traveling to several countries in between, you'd think I'd be "fluent" in traveling abroad. WRONG. There is nothing more rewarding than international travel, but it can still be overwhelming at times. One thing that's always helped me is having the right technology to use in a pinch. Trust me, our parents would have loved to have an iPhone while in Madrid or an Android in Malaysia.
Here are some of the best international travel apps that could save you time planning, or help you out in a hurry abroad:
Currency
Instagram
Google Flights
Airbnb
What's App
Rome2Rio
Kakao
Google Translate
Hostelworld
Google Maps
Currency
Ever found yourself spending $5 on something like an apple because you literally had no idea what the conversion rate was? I'm seriously guilty of this travel mishap. The best thing to do is to have a currency converter app, like Currency, downloaded in advance. I like the Currency App the most, because it works in offline mode, meaning you don't need an internet connection to use it! Perfect for wandering through markets or buying local goodies at a roadside stand.
Instagram
Alright, so you've definitely heard of this one. But don't underestimate the power of Instagram as a travel app. Inspire your friends to come visit you by posting sunset pics and cold beers with the locals. Instagram is perfect for the travel nomad, since you can take photos on your camera and upload them when you find an internet hotspot! You'll have visitors sleeping on your couch within weeks. Need some inspiration? Check us out at @intteflacademy for some ideas! #nofilter
Google Flights
A personal favorite for pre-travel planning, Google Flights one-ups other costs comparing travel sites. The app offers all kinds of innovative technology. From alerting you when prices are about to go up or monitoring costs for you for a specific day, Google Flights takes all the work out of "looking for flights." It is, in my opinion, one of the best apps for moving abroad.
Airbnb
Totally changing the game when it comes to affordable accommodations, Airbnb is hands down one of the best apps for living abroad. Since it's a "peer-to-peer" business model, you rent short-term lodging from individuals. If you're planning a short weekend trip on a break from teaching to Malaysia or Milan, Airbnb is a great money-saving tool to know about. Book easily through the mobile app as late as the day of! Trust me, when travel plans change unexpectedly Airbnb is key to have. I know from experience.
What's App
If you have friends harassing you about "how you're going to stay in touch" and that you'll "never talk to them again," What's App is the perfect solution. It's an internet based texting solution, and the perfect way to communicate with friends and family without paying for an international plan. You can do everything from text to video-calling. Plus, it's a great way to talk with your new friends abroad!
Rome2Rio
Like you might guess from the name, Rome2Rio is a go-to for transportation planning. Just input two locations and the app will tell you every mix of trains, planes and automobiles needed to take you! I can say from first hand experience that Rome2Rio has helped me cut down on travel time and make the most of my trips abroad.
Kakao
Similar to What's App, Kakao is literally taking over communication in Asia. Used by 93% of smartphone users in South Korea, if you're planning on teaching in Asia you should probably download this now. The best part of about Kakao? You can share photos, your location and videos with your contacts without logging into a wi-fi network.
Google Translate
Ok, this one is pretty much self-explanatory. I don't think I would have made it a week in Argentina without the help of a simple translator app. I personally think Google Translate is the best with over 90 languages. If you're already feeling anxious about how to ask for directions in Seoul or for the best fruit stand in San Jose, Google Translate will be there to save you. Fair warning: translating is translating… you might just ask for something unexpected.
Hostelworld
Welcome to hostel wonderland! All you need to do is tap in your dates and behold, dozens of hostels are available at your fingertips. The best part is seeing the rating of former users about their specific experiences. Hostelworld puts percentages next to hostel choices to ensure you're picking a top-rated place to rest your head. No bed bugs here!
Google Maps
Am I on a roll with Google? Maybe, but more Google Apps = a happier nomad. For me, walking 6 miles on a random Saturday is the absolute best way to see a new city (or discover more of an old one). Just like any place, having a general idea of where one is going is typically a bright idea. If you find yourself leaving class with no idea where you're meeting your friend for an afternoon beer, you'll be thanking yourself for downloading Google Maps.
Honorable Mentions
These 5 additional international travel apps are also worth considering:
Hopper:
Great for predictive airfare. Check out this app to find out the best days to buy your flight.
Pocket Money:
Who doesn't need to keep track of their finances... especially when there is an exchange rate involved!
iMetro:
In a rush? IMetro helps you find the closest subway station to your location so you can get to your destination in a hurry!
AroundMe:
This app is so helpful to the lazy traveler. If you need a quick recommendation on restaurants or bars nearby, check it out!
WeatherBug:
Honestly, dressing for the weather is a huge determiner of how your day is going to go. Get WeatherBug and don't be the one wearing a tank top in Russia in January.
Read further: Essential travel resources
A native of a one-stoplight town in Louisiana, Lauren packed a bag after graduating from college and traveled extensively throughout Asia before moving to South America to teach English in Argentina. There, she taught primarily business professionals and took advantage of her free time to explore Latin America.
Want to Learn More About Teaching English Abroad & Online?
Request a free brochure or call 773-634-9900 to speak with an expert advisor about all aspects of TEFL certification and teaching English abroad or online, including the hiring process, salaries, visas, TEFL class options, job placement assistance and more.