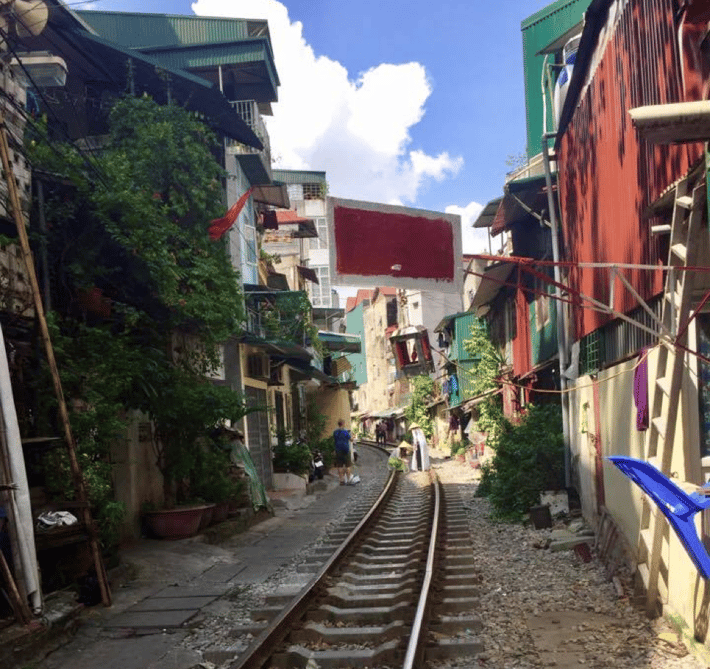 Our ITA Alumni Ambassadors are living in some of the world's greatest cities. We asked them to hit the streets and give us an inside look at their favorite neighborhoods to hang out and spend an afternoon. From the best coffee shops and restaurants, to the more off the beaten path hidden gems, our Alumni Ambassadors are on the ground abroad & ready to spill their tips!
---

This part of the Old Quarter doesn't always get quite as much of attention as sections lined with all the bars - but it is definitely worth discovering. You can walk along the tracks (very carefully and paying attention to trains!) and experience a different-feeling Hanoi.
Homes, some restaurants, and very strong, delicious rice wine can be found just feet away from these train tracks. The very popular food street is located nearby, as well as many hotpot places that come alive at night. Near this section of track there are many shops selling lights and lamps that transform the area after sunset.
During the day Hanoi can be quiet - people are busy working, taking a midday nap, or just simply avoiding the heat and the sun. This can make it a great time for exploring unique areas like this one.
Take me back to the Alumni Ambassador Corner
---
Abby has never been one to sit still - If she isn't traveling you can find her working several odd jobs to feed her traveling funds. Abby really wanted to move somewhere she didn't know much about, so decided she was going to land in Ho Chi Minh City and work her way north and stay where ever was the best fit. She hit it off with Hanoi right away and decided it was a good city to start her new teaching adventure.