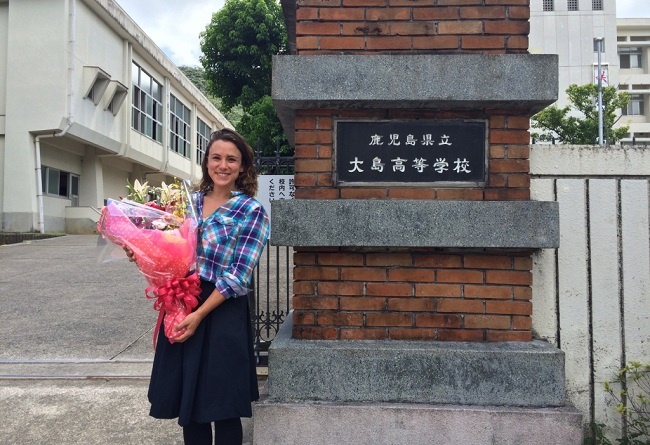 By: Becca Simas
I am a born-and-bred New Englander. The only region in America where you can drive through six states in one day and never pass an exit sign that doesn't have a Dunkin Donuts. I grew up loving clam chowder and watching the leaves change colors every October. I was born in Rhode Island, grew up in Connecticut, spent winters skiing in Vermont, and moved to Massachusetts after college. I love where I grew up, and I'm proud to call New England my home. I've always been a restless soul, though, and I longed to travel. Besides a family vacation to Portugal, and a week-long volunteer trip to Nicaragua in grad school, I had never traveled outside of North America. After 27 years of calling New England my home, it was time to make a change. I requested information from the International TEFL Academy, and with in a few hours, I was chatting away with Jeff, my representative, about the magic of teaching abroad. I was sold. I signed up for the online TEFL class, and within two months of earning my certification, I was ready to move halfway across the world to Japan.
It's been three years since I chose Japan as my destination, but I still remember the months of anticipation before I left to teach abroad. When I would go on my morning runs through the tree-lined park near my apartment in Boston, I would imagine the trees were cherry blossoms. I ate sushi at least three times a week and obsessed over reading blogs about teaching abroad in Japan.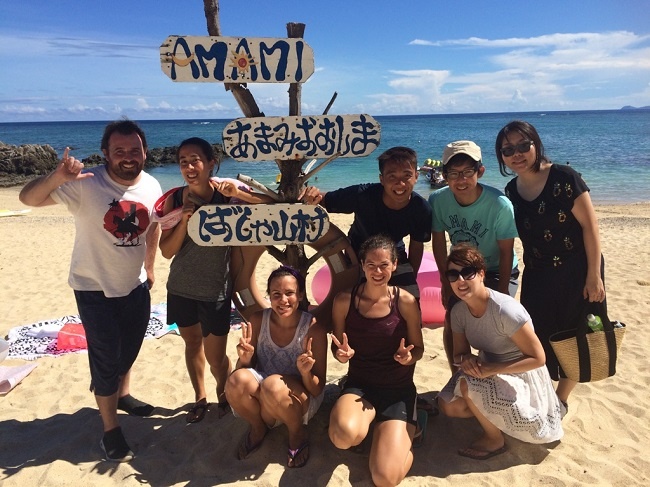 When I first entered my school's address into Google Maps; it dropped a pin the middle of the Pacific Ocean. I thought maybe I had spelt something wrong, but it turns out that Amami Oshima meant Amami Island. I had said in my interview that I would be happy being placed anywhere in Japan, but I didn't think I would end up on a remote southern island more than 200 miles away from the rest of the country.
On August 3rd, 2016, I finally arrived on the beautiful and remote southern island, Amami Oshima, in Kagoshima prefecture. I had three Japanese English teachers waiting to greet me when I arrived at the Amami Airport. I emerged with my luggage in tow and stumbled over the Japanese introduction I had practiced obsessively on my flight from Tokyo and bowed nervously. "Welcome to the islands!" one of the teachers said in return. Instead of bowing back, she opened her arms and welcomed me with a big hug. That unexpected and warm welcoming told me everything--I was going to love teaching on Amami Island.
A year later, I cried harder at the Amami Airport hugging my friends and teachers for the last time than I did saying goodbye to my parents at Logan Airport. Even one of the students I helped with her English speech practice had shown up to see me off. I always knew I would be going back home to New England, but that meant I would never live on the beautiful subtropical island of Amami ever again. I was only in Japan for one year, but it was the best year of my life. I made the most of my life on Amami. I tried scuba diving for the first time, completed a sea kayak half marathon, camped in a forest of cedar trees, and even danced front and center in a hula performance with a group of my students.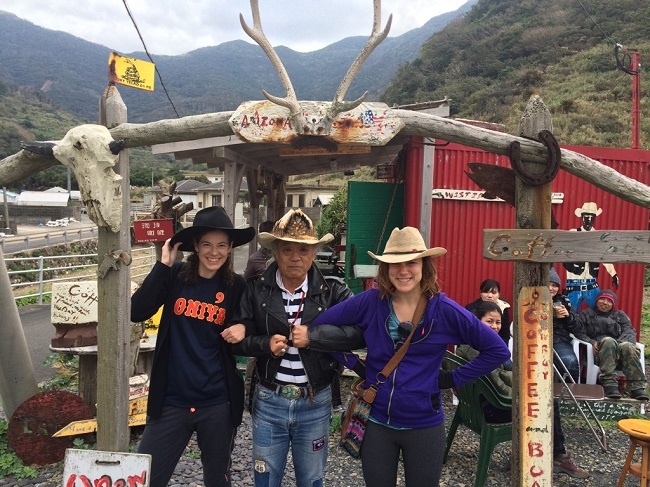 The sky was cloudless and perfectly blue the morning I left, so I was able to see everyone waving from the roof of the tiny airport as my plane soared off. I wiped my eyes, reclined my seat, and settled in for my long journey from southern Japan to Boston. I bit into a shiro anpan bun–still warm inside–my friend Yui had made it fresh for me at her bakery that morning. After 47 hours, four planes, three connections, and one Delta computer system failure later, I made my great return to Boston around 10 pm on Tuesday, August 9th, 2016. And just like that, my exhilarating and life changing year abroad was over. Back to reality.
I had less than a week to get over my jet lag before I started a brand new job as an education and career advisor at the International Learning Center for adult immigrants and refugees in Boston. I really lucked out with finding work after teaching abroad. I was actually offered the job at 4 am Japan time over a WhatsApp call. I was so grateful I would be coming home to a job where I would still be working with students. My Japanese students deeply inspired me to continue teaching English after I returned home.
As you can imagine, advising new immigrants and refugees about college in the U.S. was entirely different than teaching English to a classroom full of genki Japanese high schoolers. Back on Amami, all I had to do was tell my students I listened to Taylor Swift, and they would go wild. My students would ask me questions about my favorite foods and whether or not I had a boyfriend back home in America. But now, my students were asking me questions like, "Will I have to go back home if Trump gets elected?" Or, "How can I get a scholarship to pay for school?"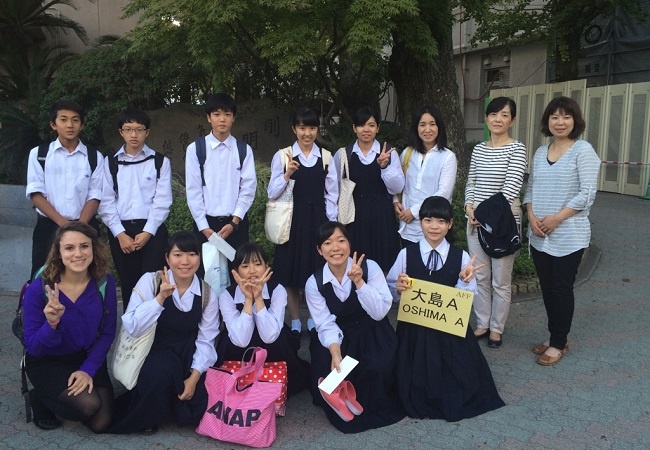 I've helped students from countries all over the globe–Colombia, Nepal, Haiti, El Salvador, Iraq, Iran, Morocco, Somalia, Turkey, Venezuela, and more. I've taught my students how to fill out FAFSA forms, how to write a cover letter, and even where to go in Boston with their most sensitive immigration questions. I am in love with the effect that I get to make on my students' lives every day, no matter how small. If I didn't have my experience teaching abroad in Japan–to live far away from home and struggle through a foreign language–I wouldn't be able to empathize with my students the way I can now. I've even met some other people who are working on their teaching practicum for their TEFL certificate from the International TEFL Academy.
My first few months back in Boston were tough–I missed who I was in Japan. I worried I wouldn't enjoy my new work environment as much as I did on Amami. My new job was right next to a 7-Eleven, and I refused to go in for about two months because I knew there weren't going to be any onigiris (riceballs) waiting for me. But like everything in life, it just took time for me to adjust to being back home again. I've reconnected with old friends and made new ones at work, but best of all–I have strong bonds with my two young nieces and nephew–they actually know who I am now instead of just as "Auntie Bee who lives in A-Pan!" (Js are hard for little ones.) And as for the parts of myself from Amami, I've found small yet meaningful ways to keep the spirit of my year abroad alive and well. I joined a local alumni group of teachers who have taught in Japan, have traveled to see some of the friends I met while abroad, and I have kept working on scrapbooks with mementos from my time on Amami.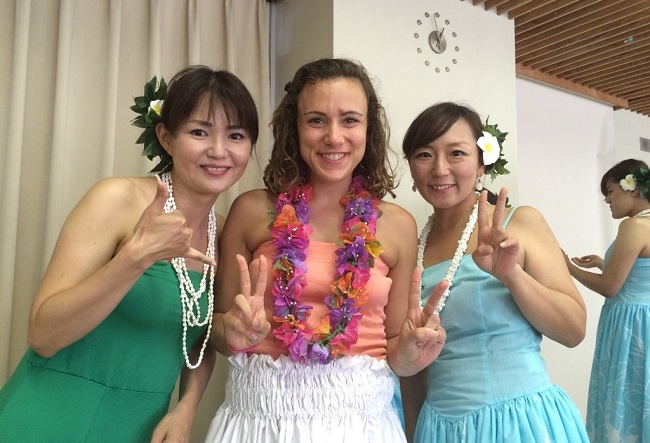 It's been great being back home and rebuilding a community for myself in New England again. But in Japan, every day was a new adventure. I said yes to everything (except chicken sashimi). Living abroad for a year taught me to take risks even if it leaves the future uncertain.
So that's why in September, I'm taking a huge leap and moving across the country to start a new job as an Admissions Representative at a university in Southern California. It's going to take time for me to adjust and feel settled in my new home, but those of us who have a traveler's heart–taking risks is how we grow and thrive.
Becca Simas spent one amazing year teaching English on a subtropical island in Japan from 2015-2016. She hasn't stopped having fun since returning back to her life in Boston though. She just celebrated her 30th birthday in Spain this past June, and soon will be moving out to Southern California for a brand new adventure. You can follow her story at beccamayhem.com & read her article I Teach English in Japan (But I Don't Speak Japanese!)