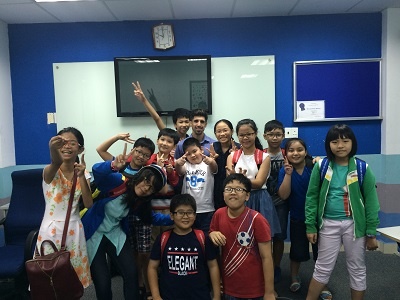 Teaching English in Vietnam: The Land of Endless Summer
By: Matthew Cardoza
A Thirst for Travel and the English Teaching Solution
For me, money was one of the biggest roadblocks to long-term travel. By teaching English, I was able to finance my travels and experience a culture very different from my own.
My name is Matthew Cardoza and I am a 24 year-old college graduate from Springfield, Missouri. I graduated in December 2014 and knew immediately that I wanted to go out into the world and explore. During college I had the opportunity to study abroad in Morocco, and ever since that semester, all I've wanted to do was go out and visit another corner of the globe.
Through extensive research on how best to travel with little money, I came across teaching English abroad and eventually International TEFL Academy. My decision was made. Teaching English and living in another country was the adventure I was looking for. I registered for the Online TEFL Class and completed my practicum hours at my university's international center.
I changed my mind multiple times. One morning I would wake up and tell my parents that South Korea was where I would go. The next day it would be Thailand, then Malaysia, Taiwan, and finally Vietnam.
One day I woke up and I knew it. Vietnam was my final choice.
With all documents finalized and bags packed, I embarked for Ho Chi Minh City (Saigon), Vietnam, while leaving the coolness of fall behind me for what would be a land of endless summer.
Teaching Opportunities in Vietnam
I landed in Saigon (officially known now as Ho Chi Minh City) without a job, permanent housing, or any friends. It was a little frightening, but I was excited for the challenge.
It took me about three weeks to find a school that was right for me. I interviewed at numerous schools and sat through demo lessons and teacher shadowing opportunities where I watched and interacted with students of all ages. Soon I made a decision and agreed to a part-time contract with American Academy (AMA).
I worked 15-20 hours a week. During the week I worked in small groups with children of all ages and for a short spurt worked with IELTs students looking to study abroad. On the weekends I taught a class of about 16 twelve year-olds who I would remain with through the duration of my time at AMA.
I was very nervous at first, but I soon became accustomed to the expectations and became a good teacher. I think I surprised myself at first, but after talking with other teachers on staff and other expats in the city, I became more confident in my abilities.
In addition to working at AMA, I was presented with a couple of other unique teaching opportunities that I came to really enjoy. I tutored the daughters of the Vietnamese family I was staying with and later on met a few college students who I was able to help tutor and prepare for the IELTs test they were going to take. Outside of AMA, I really enjoyed these alternative teaching opportunities.
Riding a Motorbike and Daily Life in Saigon
Saigon is a city unlike any other. It's huge (8 million), always hot, and buzzing with activity. The city is experiencing rapid development, but still retains some of its historic charm from three different eras: historic Vietnam, the French colonial period, and the war time against the Americans.
By day the streets are crowded with street food vendors, banana carts, wet markets, dogs and chickens, and an overflow of people. When the sun settles and the neon lights begin to glow, you can find a variety of activities going on from serene walks along the river to glitzy rooftop bars, and yes, even more delicious street food vendors. There is a definite energy that permeates throughout the city.
The present energy and pace of life can be difficult for foreigners to adjust to. For most visitors the first two obstacles both concern transportation. You quickly learn how to cross the street amid a sea of motorbikes and then if you are brave enough (or teaching English!), then you will get a motorbike yourself and dive headfirst into the most chaotic driving conditions in the world.
If the city becomes too much to handle, then there are some great ways to escape the madness. Saigon is filled with an extreme amount of cafes and coffee shops tucked away in numerous buildings and decorated in the most interesting of ways. They are a great respite from the heat, noise, and people. What's also great is that Saigon is only two to four hours away from the river towns of Ben Tre and Can Tho in the Mekong Delta, five hours to the beach resort town of Mui Ne, and six hours to Phnom Penh, Cambodia.

Reflections from the Experience
There were many days where I could not believe what I was doing. Whether it was riding a motorbike home in a driving rainstorm, eating street food nearly every day in the hot sun, or witnessing the legacy of war in a fiercely proud country: living in Vietnam was the biggest adventure of my life so far.
I learned that I can get by on my own and that challenge is to be embraced. I can do it and so can you. People's ambitions and lives are similar all over the world. Living and working in another country helps break stereotypes and helps to form bonds that will result in life-long friends that will stretch beyond country borders.

This experience teaching English in Vietnam will always stay with me. To anybody unsure whether to go for it, don't be afraid. You are more resourceful than you might think. The only way to find this out is to take the plunge. Thank you International TEFL Academy for being the catalyst for my adventure. I wish all those considering it good luck and happy travels!
Matthew is 24 years old from Springfield, Missouri where he obtained his B.S. in Political Science from Missouri State University. After his Vietnam adventure, he's looking to pursue a career in journalism or public policy and then travel some more!
Want to Learn More about Teaching English Abroad?
Fill out a contact form or call us at 773-634-9900 to speak to a trained advisor about all aspects of job opportunities for teaching English abroad & TEFL certification.
More Resources for Teaching English in Vietnam:
Founded in 2010, International TEFL Academy is a world leader in TEFL certification for teaching English abroad & teaching English online. ITA offers accredited TEFL certification classes online & in 25 locations worldwide and has received multiple awards & widespread recognition as one of the best TEFL schools in the world. ITA provides all students and graduates with lifetime job search guidance. ITA has certified more than 25,000 English teachers and our graduates are currently teaching in 80 countries worldwide.
Want to Learn More About Teaching English Abroad?
Request a free brochure or call 773-634-9900 to speak with an expert advisor about all aspects of TEFL certification and teaching English abroad or online, including the hiring process, salaries, visas, TEFL class options, job placement assistance and more.