Discover the Hidden Gem of Asia while Teaching English in Cambodia
Live and Teach English in the
Mystical Land of Angkor Wat: Cambodia

By Gabriela Fernandez
From its ancient history, rich culture, and lush jungles to tropical beaches, exquisite cuisine and fantastic Khmer heritage, Cambodia undoubtedly ranks as a must-see destination for those living and traveling in Asia! While much of Asia has launched into an ultra-modern age of super technology and uber-advanced infrastructure, Cambodia still retains a strong sense of old Asian charm that will take you back to an era of days gone by.
Cambodia is a also a great job market for those looking to teach English in this alluring part of the world. In recent years, hundreds of language schools throughout the country have begun to employ thousands of foreign English teachers. Pay is modest compared to what may be earned in highly developed Asian countries like Korea and Japan, but teaching English in Cambodia is a perfect for fit for many as it is one destination in Asia where teachers are not required to hold a four-year degree or to be a native English speaker. In addition age restrictions are minimal.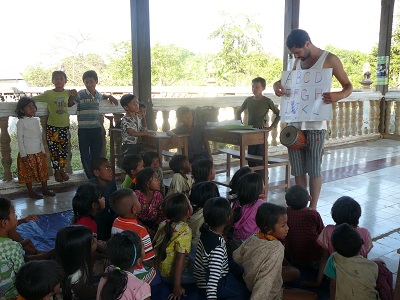 Phnom Penh
Known for its faded colonial charm and bustling street life, Phnom Penh is the capital of Cambodia; if you travel by plane you will probably arrive here. Once in town, head to the Royal Palace and the National Museum. Visit the Wat Phnom, a 700 year-old temple built upon a 100 feet high artificial hill. If you are in the mood to spend your 'riels,' shop at the Phsar Thom Thmei, the old Central Market that dates to 1937. Here you can shop and barter for all types of goods from jewelry and fabrics to foods and traditional handicrafts.

Eat as a local
The fact that Cambodian or "Khmer cuisine" is not as well-known as its cousins from Thailand, Vietnam, Japan or China, should not lead you to believe that it isn't a food lover's dream. Highlighting fantastically fresh herbs and produce, amazing seafood and pungent spices, Cambodian food embodies a fantastic array of flavors, colors and aromas from lemongrass to coconut to fresh river prawns and amazing fruits you probably didn't even know existed. In addition, great food is everywhere and it's cheap. Here you can eat a world class meal cooked on a street corner for less than a dollar, chow down with the locals in the neighborhood market or sample some of most sophisticated restaurants in Asia. Many dishes are served in large portions, so be ready to eat a lot while spending little!
One of the most famous dishes is Ba sach chrouk - pork and rice that is served early in the morning all over Cambodia and is considered one of the most delicious meals. Another highlight is "fish amok," an exotic fish mousse made with fresh coconut milk and a Khmer curry made from turmeric root, shallots, galangal, fingerroot, lemongrass and Chinese ginger. Other highlights include a vast selection of noodle dishes and fried fresh crab! You gotta try it!

Take a Khmer cooking class
If you discover that Cambodian cuisine captures your fancy, why not take it home to your own kitchen by learning the basic skills and techniques of Khmer cuisine in a cooking class!!! Classes are given all over the country and can be a great way to learn more about Cambodian culture and to meet locals and other foreigners as well.

Floating Villages
The Mekong River is the backbone of life in much of Cambodia and all along this mighty waterway, Cambodians have lived for centuries in traditional floating villages. These aren't just a few huts here and there, but full-fledged communities, including schools, markets, churches, pig farms and even basketball courts! Most are built on tall bamboo stilts to accommodate the annual floodwaters, which can rise up to 10 meters during the wet season. In such communities cars, buses and motorcyles are replaced by boats of all shapes and sizes, from one-person rowboats to ferries that serve as public taxis. The most famous village is Chong Khneas on Tonlé Sap Lake, the largest freshwater lake in Southeast Asia, where the smaller Kampong Phluk and Kampong Khleang villages can also be found.

Koh Rong & the Beaches of Cambodia
While neighboring Thailand is more famous and attracts the bulk of tourists, Cambodia offers a stunning array of idyllic tropical beaches and islands, many of which remain underdeveloped, making them charming and splendid places to visit. With its dreamlike white sand beaches and turquoise waters, Koh Rong is the star of the Cambodian Islands! Here you can enjoy snorkeling, diving, trekking, or get a great massage as you lay down on the beach and sip down a tropical drink!

Angkor Wat
Few destinations on earth capture the imagination of travelers like the massive Hindu temple of Angkor Wat. Ensconced in the jungles of northwestern Cambodia, this magical and astonishing place was constructed by the Hindu Khmer King Suryavarman II in the 12th century and is considered the largest religious complex in the world. It is believed that more than 4,000 elephants and 380,000 men were employed over more than 30 years to build this vast temple, which stands as a testament to the power of the Khmer civilization that dominated the region for centuries.


Angkor Wat itself was built as a state temple and personal mausoelum for the king and represents the heaven on the earth. The vast complex also includes Bayon Temple, which will make you hallucinate with its multitude of stone faces, and Tha Prohm, entwined with towering trees. Here you can spend days or even weeks wandering and exploring, letting your imagination flow as you discover each temple, and marvel at its colors, figures, and carved faces that seem to speak to you from a long bygone time. Sunrise, in particular, is a magical time at Angkor Wat as is the evening when glowing sunset give way to deep sky, beautiful moons and an endless array of stars.

As you can see, Cambodia offers countless treasures of sites to see and experience. The best way to truly experience this fantastic nation in the heart of Southeast Asia is to live in Cambodia for a year or two and get paid as an English teacher. You will be surprised how easy and affordable it is to travel around not only Cambodia, but the entire region of Southeast Asia!
Want to learn more about TEFL certification to teaching English in this magnificent country?
Check out this Cambodia country profile and read about TEFL certification options to receive the qualification you need, including International TEFL Academy's state-of-the-art Online TEFL Class and the four-week TEFL Class in Cambodia.
Related Content

About the Author - A Chilean and a former resident of Seoul, Korea, Gabriela Fernandez is a passionate traveler, journalist, writer and political scientist with extensive international experience working as a broadcaster, writer and actress for television channels, radio stations and magazines across the globe. With a Master's Degree in International Development & Cooperation, she has explored cultures and cuisines the world over while traveling to 6 continents, more than 20 countries and hundreds of cities worldwide. (You can see her in "Angkor" and "eat as a local" pictures).
Founded in 2010, International TEFL Academy is a world leader in TEFL certification for teaching English abroad & teaching English online. ITA offers accredited TEFL certification classes online & in 25 locations worldwide and has received multiple awards & widespread recognition as one of the best TEFL schools in the world. ITA provides all students and graduates with lifetime job search guidance. ITA has certified more than 25,000 English teachers and our graduates are currently teaching in 80 countries worldwide.
Want to Learn More About Teaching English Abroad?
Request a free brochure or call 773-634-9900 to speak with an expert advisor about all aspects of TEFL certification and teaching English abroad or online, including the hiring process, salaries, visas, TEFL class options, job placement assistance and more.