The public buses run throughout town, although I've never used one simply due to time constraints. There's an app called Tripgo which is apparently pretty helpful for those interested.
→ A motorbike taxi will generally cost anywhere from $0.50 to $4 USD.
→ A car will usually cost about $5 to $10 USD.
→ The buses cost $0.30.
Please recommend up to 3 hospitals/doctors in Ho Chi Minh City for English speakers
City International Hospital
3 Street 17A, Binh Tri Dong B Ward, Binh Tan District
www.cih.com.vn
Franco Vietnam Hospital - FV Hospital
6 Nguyen Luang Bang Street, District 7
www.fvhospital.com
Franco Vietnam Saigon Clinic
Third Floor, Bitexco Financial Tower, 2 Hai Trieu Street, District www.fvhospital.com/saigon-clinic
Victoria International Healthcare
79 Dien Bien Phu, Da Kao, District 1
www.victoriavn.com


Please share your recommendations for beauty supply stores, hairdressers, barbers, etc in Ho Chi Minh City
There are quite a few salons that are loved throughout the city, but I'm partial to ACE London, located in the heart of District 1. It's definitely a bit on the pricey side, and while I haven't had color done there, it's been an awesome experience getting my hair cut there.
As far as beauty supply stores go, there are plenty of Korean skincare shops around. I'm a big fan of Innisfree as it was my favorite when I lived in Korea and helps my skin stay blemish free despite the pollution. All of the products are 100 percent natural as well. If that's not your cup of tea, a popular spot to get basic beauty goods is Guardian; there are a few scattered throughout town.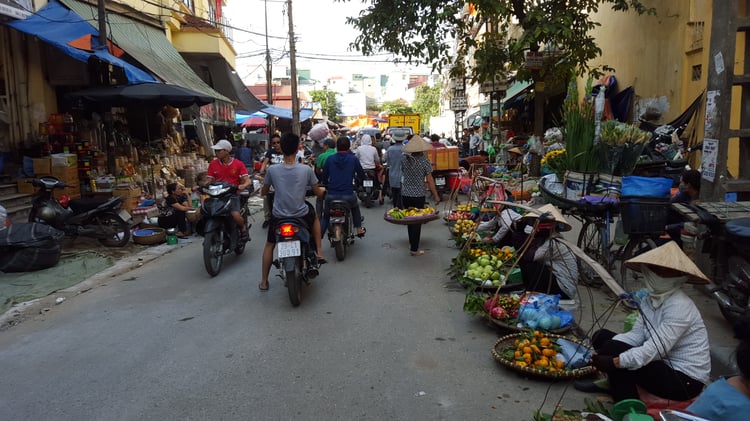 If you've opened a bank account, please list the name and location of your bank
I bank with Vietcombank and Timo. Vietnamese banks do not allow for cash deposit. However, Timo - a relatively new bank - is the only institution that allows it. It's a great option for those who are looking to pick up a few hours here and there under the table, or do not have a proper work contract.
In order to open up a bank account in Vietnam, you must have a valid work contract.
Vietcombank
Ground floor of Yoco Building, 41 Nguyen Thi Minh Khai , Ben Nghe Ward,
District 1
Timo Hangout
194D-E Pasteur Street, Ward 6, District 3

What restaurants do you enjoy eating at in Ho Chi Minh City?
Ciao Bella serves the best Italian food in town; guests are served free limoncello shots at the end of each meal.
An Cafe is a bit pricey for Vietnamese fare, but it is located in the heart of District 2, after all. It has some of the best vegetarian banh xeo I've ever eaten.
Saigon Outcast offers free meals every Wednesday; women are also able to use the climbing wall for free.
The Binh Thanh Street Food Market is a bit touristy, but I don't mind that I guess, as I live here! The space consists of a variety of food stalls, each serving food from varying nations such as Thailand, South Korea and India. While there are more expensive options, there are plenty of options for those on a budget, too. Bands play here on Friday nights.
Five Oysters has an excellent rooftop and serves some pretty wonderful Vietnamese fare. The big beers here are cheaper than a lot of the bars down the road, so start with dinner and drinks here first before making your way deeper onto Bui Vien.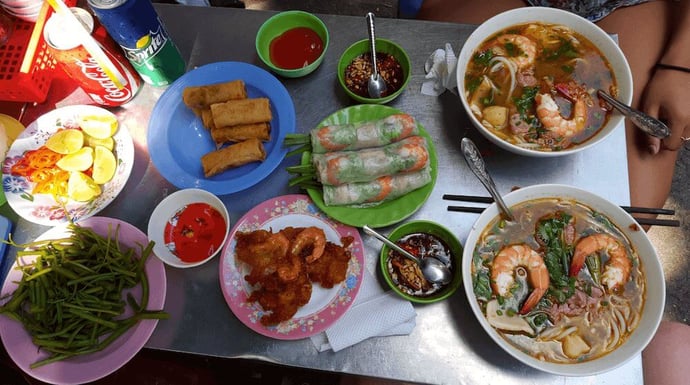 What places do you enjoy visiting during your free time in Ho Chi Minh City?
I really enjoy relaxing at Van Thanh Swimming Pool in the Binh Thanh District in between classes or on days when I only teach one class. It's a quiet haven away from the hectic buzz of the city. Avoid this place like the plague on the weekends, as it gets packed.
I'm a sucker for a good cocktail, and Snuffbox doesn't disappoint. This speakeasy-style bar is a bit difficult to find (duh, it's a speakeasy!) but it's totally worth it once you're in. The romantic vibes are great for a date or a posh night out with friends. Women can enjoy free-flow drinks on select cocktails every Tuesday from 8-10 PM.
While I love all the breweries in town, I'm partial to Heart of Darkness as I love their food options and it hosts a killer pub quiz on Thursday nights.
Indika Saigon is a really chill spot where I love to hang. It's home to a number of events each week, such as wine and vegan cheese night or free-flow drinks. There's no refuge from mother nature in this place, so don't go if it's raining.
Crescent Park in District 7 is a nice and quiet escape from the rest of the city. It's a perfect spot to set up a picnic and people watch. It's also part of a great running route for those keen on keeping fit.


What resources did you use to find permanent housing in Ho Chi Minh City?
My partner and I found our first flat through a Saigon housing group on Facebook and our second (and current) apartment through Craigslist. Read more about how Laura found housing in Ho Chi Minh City, Vietnam.
Here are some links to relevant Facebook groups:
→ Houseshare / Flatshare / Room For Rent in Saigon
→ Apartments, houses, villas, office for Expats in Saigon
→ Shared Apartment/ Room/ House/ Condo/ Villas Rental In Saigon (Vietnam)
→ Room/Apartment/House for RENT in Saigon (HCM)
→ Housing/Apartments for rent in Saigon - Vietnam


Have you found an expat community in Ho Chi Minh City? How?
Yes, I have. I am fortunate to work for a company that employs about 250 expats - many of us within the same building. Since we only work Monday through Friday, we often go to the bar next to our office for a few beers after work every Friday. This situation was paramount to finding friendships when we first moved to Saigon. I'm pretty lucky!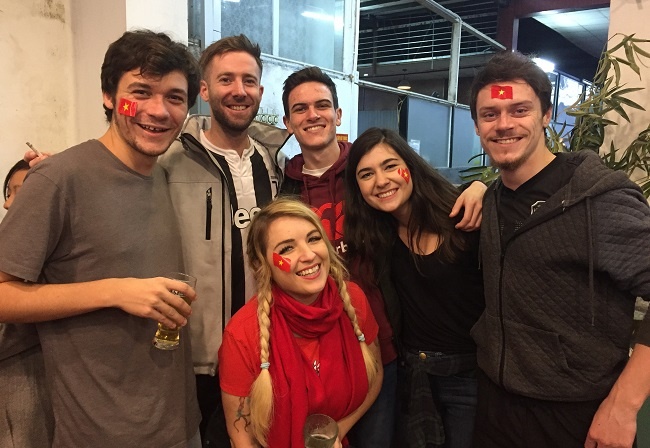 ---
More Vietnam Info:

Want to Learn More About Teaching English Abroad?
Request a free brochure or call 773-634-9900 to speak with an expert advisor about all aspects of TEFL certification and teaching English abroad or online, including the hiring process, salaries, visas, TEFL class options, job placement assistance and more.