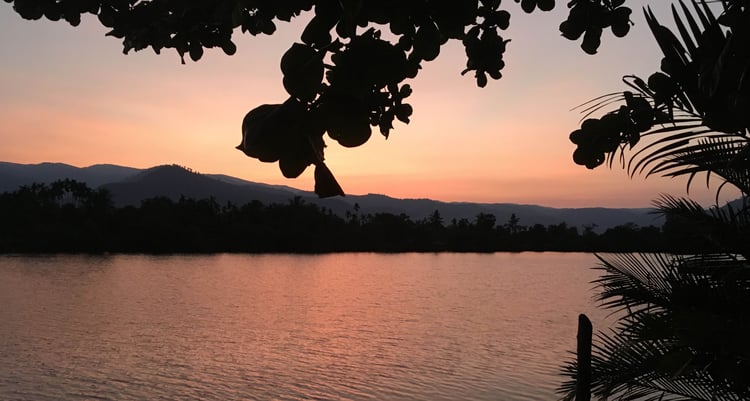 By Kate John
Phnom Penh is a great city to live in, but it does have some drawbacks. It is really lacking in green space and natural areas. So every once and a while it is really nice to escape the concrete jungle and get away. When that time comes, one of Josh and my favorite weekend vacations spots is Kampot. It's a smaller city south of the Capitol, known for its laid back atmosphere, pepper plantations, and access to a national park.
Here's some details on how to get out of town and into a hammock by the river in no time.
How to get there: There are a ton of options for travel in Cambodia, all with varying degrees of comfort. We have tried out a few, and decided our preferred method is by bus. The buses here are cheap, and easy to book. Websites like CamboTicket can give you a listing of bus lines that run to Kampot on the day you want to go, and you can choose a time and price that work for you. We've read some reviews of people getting kicked off their bus because the online tickets they booked were not viewed as valid by the company on the day of travel. This is something you can super easily avoid. Just don't book online, instead call the company and reserve tickets to pay upon arrival. Then you'll just pay when you arrive at the bus station. Less risk of computer error, credit card snafus, and general confusion.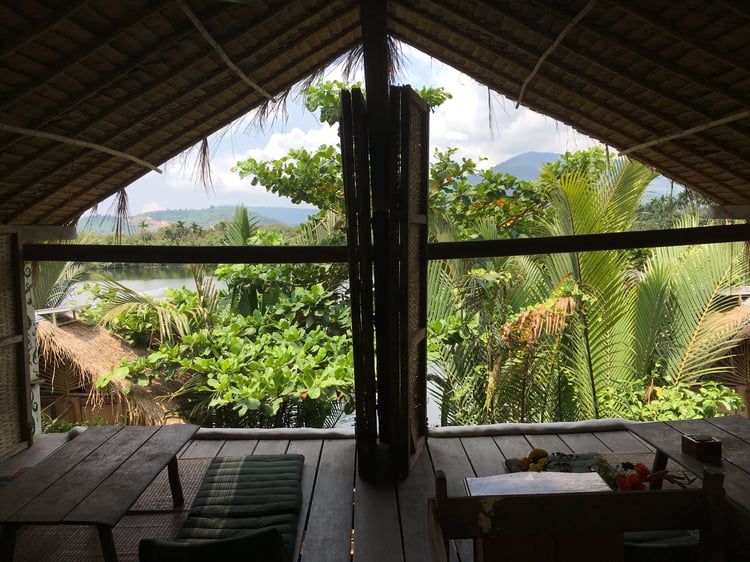 If going on a bus doesn't sound like your cup of tea, then you can always book a private taxi. Where a bus ticket will run you something like $9, a taxi is likely to be more like $40. The taxis are usually just a person in a van or a car that drives you where you are headed. This can be great if the bus times don't work for you, or if you want some more comfort. And the price evens out if you split a ride with some friends. We usually opt for the bus because we don't like to coordinate with three or four other people to agree on a timeframe, it makes our vacation more stressful. Some people do drive there on a moto, but I'd warn against this. It's about a 3 hour drive, and that's a long time stuck on a scooter.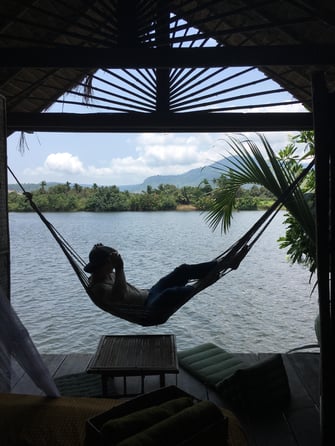 Accommodations: Once you're in Kampot you'll need somewhere to stay. There is no shortage of wonderful places to stay. The first time Josh and I went to Kampot we decided to stay in one of the bungalow style guesthouses. It was amazing. We went during the wet season, so had the opportunity to fall asleep to the sound of rain on the roof of our adorable hut. That was pretty magical.
There are any number of places to stay along the river, some like Naga House have more of a party vibe, while others like Eden Eco Village are more yogi relaxation oriented. There are plenty of places to stay in the city itself, Airbnbs, hostels, or hotels. Other trips we have taken to Kampot we have chosen to stay in a hotel. They are closer to the city center, so there is more choice for restaurants and bars, which we enjoy. The food in Kampot is really fresh and nice, so it's always enjoyable to get a variety. Also, we like taking advantage of the air conditioning. Whichever you choose, you're going to have a good time. There really isn't a bad choice.
Activities: So you're all settled in to your home away from home, now what? There is plenty to do in Kampot! For a small town, it really does have a lot to offer. Preah Monivong Bokor National Park is close by with beautiful natural areas, and historical sites. There's also many caves in the area, because of the limestone hills that are easily carved into caverns. These are interesting to see, some house shrines, some are popular rock climbing, others still are tragic historic sites from the Khmer Rouge era.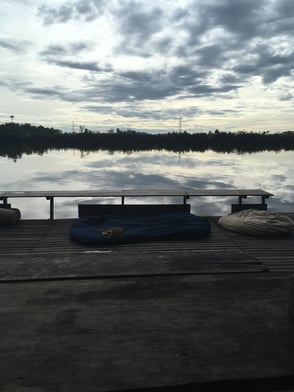 For the culinarily inclined, there are many pepper plantations nearby, as well as salt fields, that are open for visiting. There are plenty of activities along the river too; swimming, boat trips, and kayaking. Or if you want to get a little farther away, you can go visit the banyan tree groves, or the lovely seaside city of Kep, on day trips. Guesthouses usually offer to organize these trips for you, or you are welcome to rent a moto and go on your own. There are also a lot of yoga retreat type accomodations available, for those interested in unwinding. If you're a woman, I highly recommend the Banteay Srey Project Spa, a woman's only day spa and NGO. A great place to get a massage and contribute to a good cause.
So when the city life starts getting to you, get away to Kampot. It's an easy weekend trip, and really helps you see a different side of Cambodia. Kick back, relax, and let the river take your stress away.

After volunteering for a year in the Denver Public School System, Kate felt like she needed a change. Her and her boyfriend both got TEFL certified and set off on an adventure of a lifetime in the Kingdom of Wonder. Kate is one of ITA's Writing & Content Ambassadors.
---
Want to Learn More about Teaching English Abroad?
If you are excited about teaching English from either the comfort of your own home or anywhere in the world, contact us about TEFL certification options and get ready for a great adventure!
Related Resources: