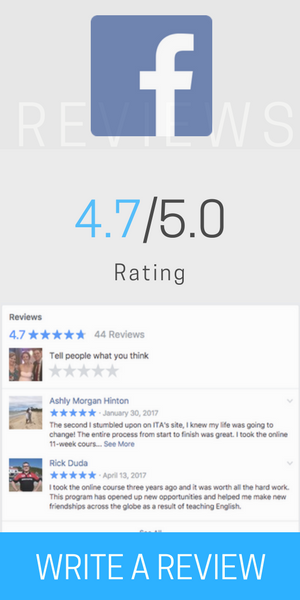 Here are some topics people ask:
Pre-enrollment information: How did your Admissions Advisor assist you to understand your options of teaching abroad and picking a TEFL class? Did those expectations meet the reality of our assistance and the reality of finding a job? Was the ITA website accurate and did it help you in your decision-making process?
TEFL Class: How was your instructor, the class, did you learn how the skills to work as a foreign language teacher?
If you took an online class, how would you rate the format, videos, webinars, student and instructor interaction, & the student teaching practicum?
Job Assistance: Did ITA provide resources and information? If you spoke with a job search guidance advisor or attended a job search workshop, how helpful was our staff to you?
Alumni Connections: How are we facilitating alumni connections and networking through Facebook Groups. How interactive is our Alumni Department in keeping you engaged and involved with contests, paying for articles, Q&A's, Videos, and sending out surveys of your experience?
Write a Review on Facebook Here
Thank you for sharing your story!