Teaching English in
Thailand
Teaching English in Thailand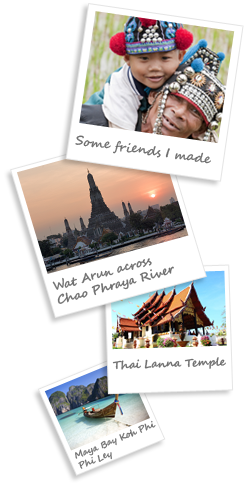 With a TEFL certification and a four-year degree, you can find jobs teaching English in Thailand during the peak hiring seasons in May and November. Thailand is an enormous and fast growing market for teaching English abroad. Jobs teaching Engish in Thailand are found primarily in private language schools for both children and adults. Within recent years, however, the demand in Thailand's public school system for English language teachers with a TEFL certification has expanded considerably.
While most job interviews for teaching English in Thailand are conducted in person, some are completed in advance over the phone and via e-mail. English instructors in Thailand are typically responsible for airfare and housing expenses. Most teachers live in apartments recently vacated by previous teachers, and many room with coworkers. Contracts typically last 5-12 months with jobs available to teach business professionals as well as children.
A generous salary affords those teaching English in Thailand the opportunity to live a comfortable lifestyle, while saving 250–300 USD per month. The Thai Baht is valued at about one third of the US Dollar- foreigners have considerable purchasing power while in the country. English language schools in Thailand offer approximately 20 to 25 hours of work per week, allowing for plenty of time to travel and explore. A four-year bachelor's degree and a TEFL certification are typically required to teach English in Thailand. Major cities for teaching English in Thailand include Bangkok, Chiang Mai, Phuket, and Pattaya.
Staff Articles about Teaching English in Thailand:

Alumni groups:
Want to see the ITA Alumni Facebook group in Thailand?
Check their discussions, sharing of tips and information.
Feedback from our TEFL class alumni who are now teaching English in Thailand:
Q&As - Teaching English in Thailand:
Alumni Articles - Teaching English Abroad:
Blogs - Teaching English in Thailand:


Video: Check out Stephan's experience teaching in Chiang Mai Thaiand
Requirements to Teach English in Thailand



Education: BA/BS is required; TEFL TESOL Certification is required and students can obtain certification in any of our Worldwide TEFL locations or by taking the Online TEFL Class.



Citizenship Requirements: USA, Canada, UK, Ireland, Austalia, New Zealand, South Africa, others with fluent speaking ability and 12 years education in a native English speaking country


Typical hiring process: Face to face interview in Thailand for most schools, some schools will interview in advance over phone


Average teaching hours per week: 20–25 hours of classroom plus extra prep time


Types of students: Business professionals, children in public schools and private language schools
Cost of living per month: $500 - 750 USD (17,500 - 26,000 THB)


Average monthly pay: $850 - 1,000 USD (30,000 - 35,000 THB) Can save $150 - 250 USD/Mo


Start-up cost: $750 - 1,100 USD (26,000 - 38,000 THB)


Potential to save or break even: Save $150–250 USD/month


Accommodation/housing benefits paid: No, recommendations provided


Flight reimbursement: No



Interesting Facts About Life in Thailand

Nearly 95% of Thai citizens practice Buddhism.


The world's largest reclining Buddha is located in Bangkok.


Thailand is the only Southeast Asian country that has never been colonized, despite heavy European pressure.


Thai cuisine is one of the most famous in the world, consisting of a blend of 5 fundamental tastes: sour, sweet, spicy, salty, and bitter.


Thailand is the world's largest exporter of rice.
Teaching English in Thailand. . .
From the bustling streets of Bangkok to the mystic city of Chang Mai, Thailand embodies both the past and the future of Southeast Asia. Travelers feel immediately welcomed upon arriving in Thailand- so much so that it is often referred to as "The Land of Smiles." Thai cuisine is in a class of its own, and the average meal costs about as much as a can of soda in the U.S. Explore Buddhist pagodas, relax in open-air pubs, meander through colorful floating markets, and (if you're daring) dine on some barbequed crickets or spiders from a streetside vendor.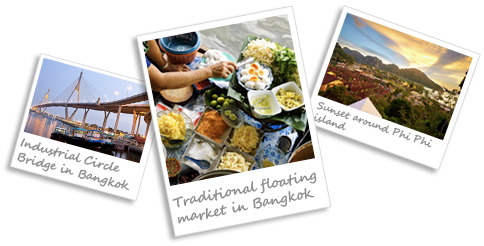 Contact International TEFL Academy today to speak with an advisor to find out about our online course, multiple on-site TEFL classes or request a brochure to learn about TEFL training courses and a comparison of the most popular countries to teach English.